It takes lot of time restore the scattered home accessories into a mannered way. Shelves and rack do a great job to store well the domestic stuff like books, paper rolls and other types of documentation. Whether you are trying to get a rack setup or planning a DIY storage shelving pallet wood can be availed remarkably to stay on a budget. In this DIY pallet project we have redone a rustic pallet skid into this beautiful storage shelving plan which takes good care of your paper stuff.
Pallet wood is extra endured in nature and is much reachable to get, these both reason makes it a really special type of wood which everyone can avail. This whole setup of DIY pallet bookshelf can be placed vertically against any wall or get it mounted for more charming view. This DIY pallet idea is cost friendly, easy to build and provides appreciable storage space so do make it copied. You just need to do some alteration in original rustic skid of pallet and you are just done!!
Supplies:
Measuring Tape
Pry Bar
Hand Hammer
Nails
White Paint
Paint Brush
Circular Saw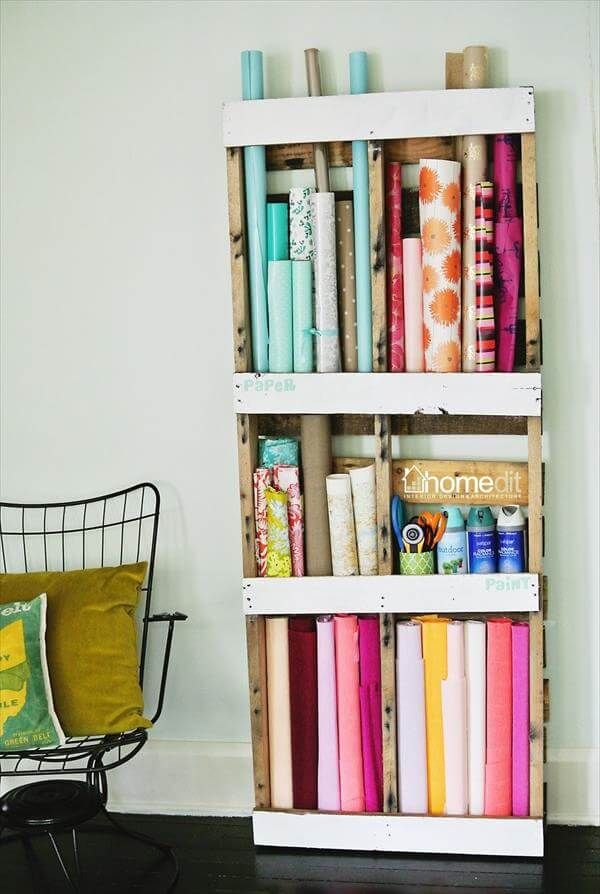 This shelving project is just much easy to customize, you can make multiple storage sections if you like to do so using the individual pallet pieces as separators. This handmade pallet storage plan is really honest in behavior and has a heavy duty nature.
Now we will tell you that how we did it!!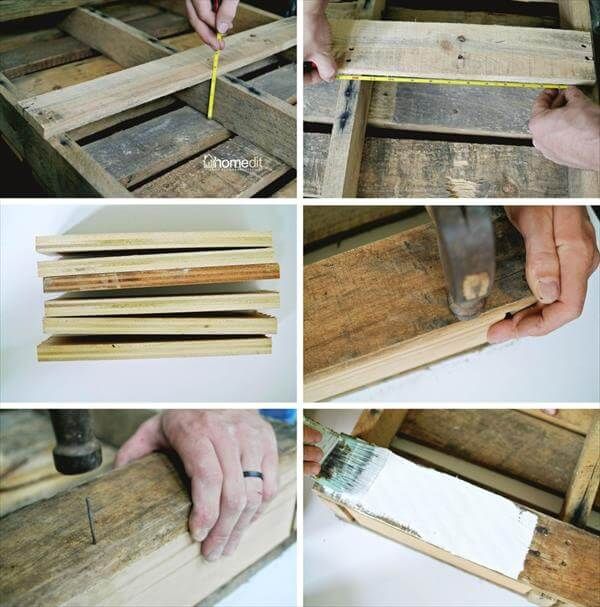 First thing you need to do is to take the exact measurements. Exact measurements save both time and wood so be wise and sharp while taking out the measurements.
After planning the required storage sections we removed the extra planks using the pry bar and hammer tool. These plucked up planks have again been used to create the dividing wall between the storage portions and shelves.
Once you planned the required length and width of you design now its time to get it assembled. We have used the nails to get the durably assembled structure.
We just a beautified yet rustic preview of our shelving scheme so we got the front planks painted in white for a charming view. Use the paint brush for the painting process.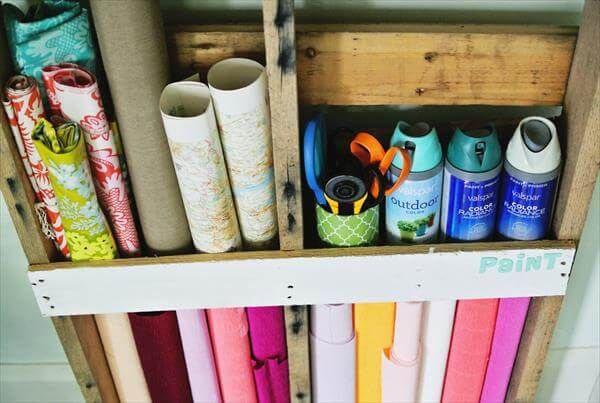 After the paint let it dry for sometime and then upload you stuff to have a mannered and arranged view just like these paper rolls. Now there are two opportunities to use this shelving plan.
Just put it against any wall throughout your home like the living room or study room wall.
Make it mounted on the wall using the perfect hardware hanger system.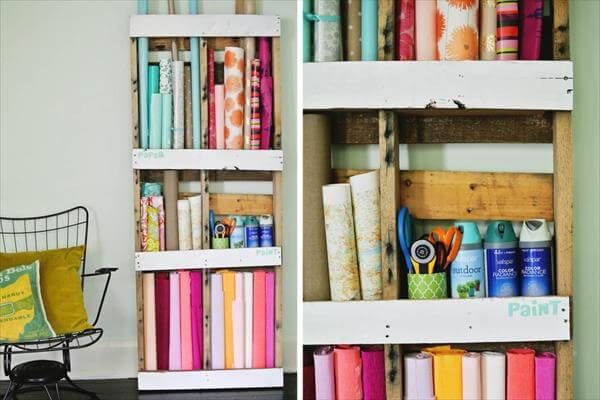 Such great DIY pallet ideas can totally change the home living trends by making great and swank changes in home ambiance and environment. So do try to redo pallets into some useful and utilitarian shape.
You just need to be attached with us as there is lot more to discover out of pallets like DIY pallet cushioned ottoman, toy storage boxes and big scaled storage bins,