Wooden crafting is great thing and can be done in multiple ways to get the furniture you want. Here we have gone with a very unbeatable trend of pallet wood reclaiming and have made a DIY pallet sofa with lights which is would be much worthy and fascinating addition in the living room. We have provided it a very sturdy and artful backrest which we prepared separately out of pallet wood. We have also given it some armrest positions which are very best to give you a boss like sitting.
This would be a great DIY pallet bench for your outdoor and has just been built to last. The nails holes and rustic imperfections are still there and make a great history of wood. If you have liked this DIY pallet idea and are feeling stimulated then take your hand onto the pallet wood and enjoy this no-cost furniture piece for home which will prove much utilitarian  in home routines especially for sitting purposes.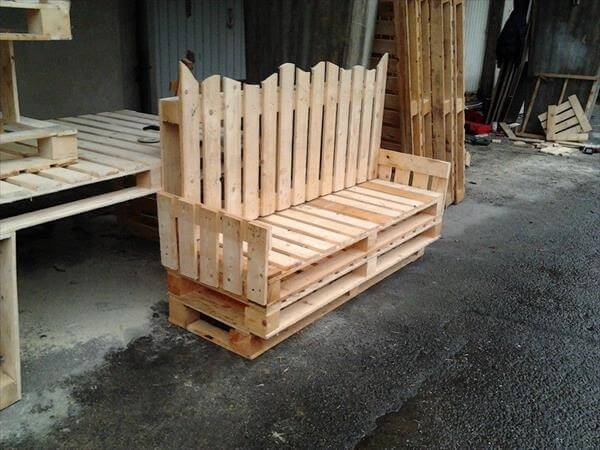 Shipping pallet boards have been molded into this DIY 3 seared pallet sofa shape with a very few readjustments and dismantling of pallet boards. We have sanded it to a satisfied extent for brightness and shine on the wooden grains which is very visible.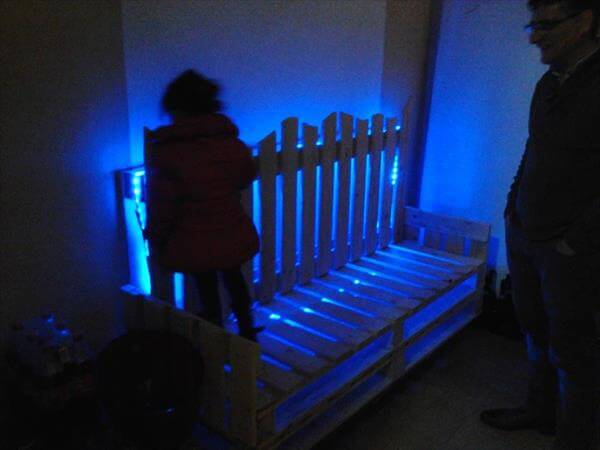 We have given a lot of pallet tutorials about how to construct a sofa out of pallet wood and they are just marvelous too but this time we have played with rustic wood in a very charming and arresting way. We have proved the lights to the rustic frame which twinkle at night to give this rustic frame of sofa a magical theme.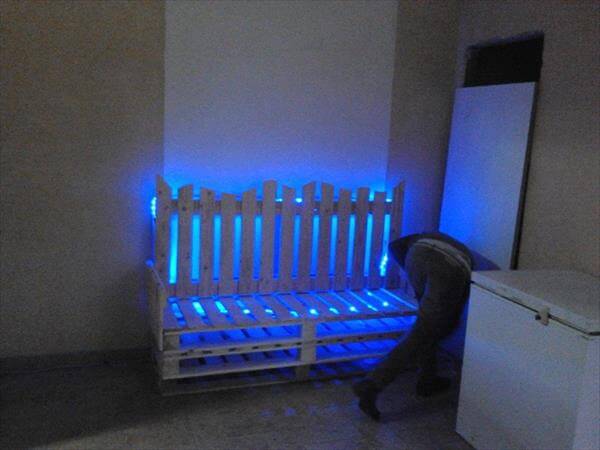 Addition of lights makes this DIY pallet idea really amusing and cheerful. Sparkling wooden nature will make a great compliment to the living room or any living space where it has to be placed.