Sofa is mostly found in living room and has various designs the main purpose of it to entertain your family and guests by providing the comfortable sitting. However, this crucial piece of pallet furniture has high industrial rates which are beyond the limit of a common person. If you really want to come out from this disgusting situation and want to earn a dapper and jazzy model of sofa then solution lies in pallet wood.
We have achieved this DIY pallet sofa with table using some rustic skids of pallets. If you minus the cost of cushion and glass top then the total cost of it is zero. We have made the pallet boards floored and then provided the mattress on them. We have leaved some space at one side to get a beautiful DIY pallet side table setup out of the pallets to provide great support to your concerns, food items and your favorite pieces of decors.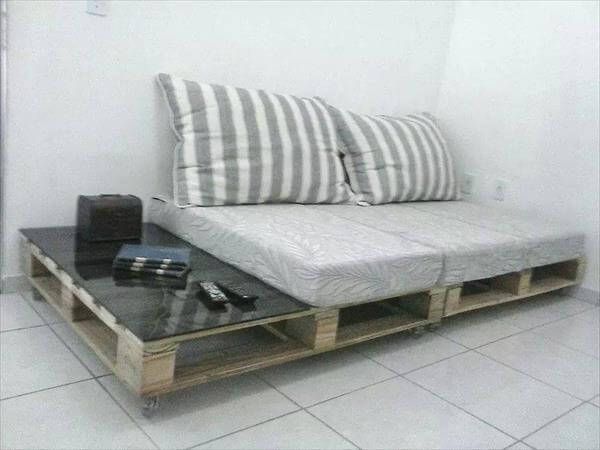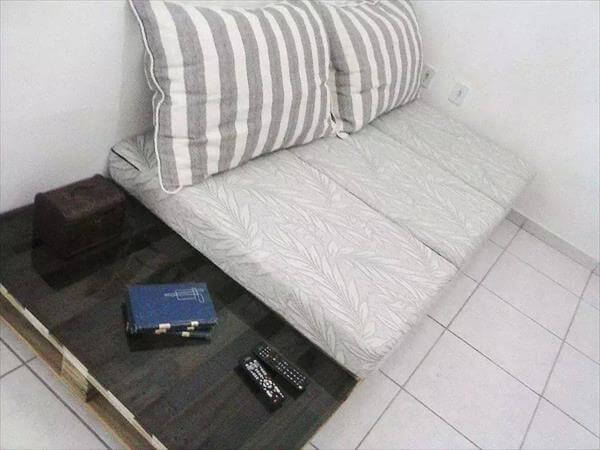 Entire setup has been dignified by attachment of casters and metallic wheels at the bottom. That really drive it smoothly in home. This is just a great target to achieve through pallet wood can really do very well in your living room.