Well organized sitting plans always gives a more classy and spicy look to both interiors and exterior portions of home! A sofa is of paramount importance while talking about the sitting furniture of home and is also preferred first to provide a comfy type of sitting to your guests and family members! We are here to show you that how you can make your own sitting furniture and sofa at home. This DIY pallet sofa is extremely awesome for your lounge and cozy living room and has been made of pallets with hands. We have provided here a full DIY pallet tutorial here to give you a complete guide for quick installation of it at home!
The framework is super easy and you don't even need lots of cuttings and measurements in this project! By extending the creative width of this pallet sofa, you can also install the comfy beds, home theaters and lounge sitting plans without expending much of your hardly earned money! If you are also needed a sterling sofa for your interior cozy sitting plans then do try this phenomenal pallet idea to earn a sophisticated design of sofa on a budget!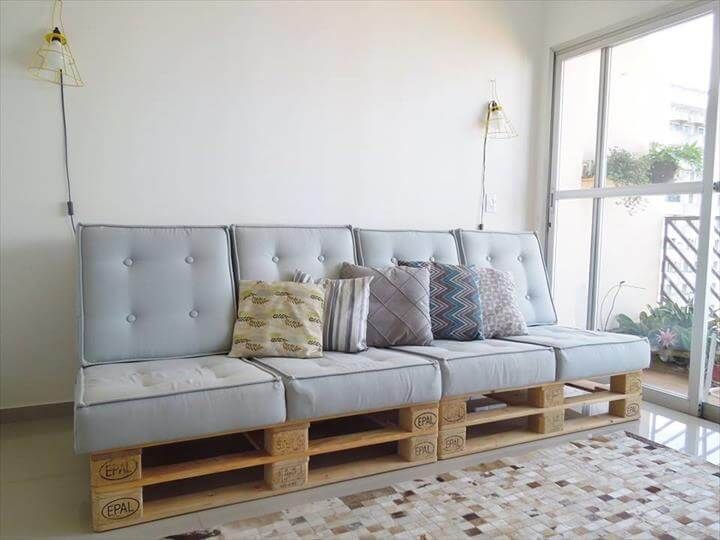 Let's talk about some basic steps and instructions to do it safely at home! First of all you need a good stock of pallets to get the targeted dimensions and size of your sofa!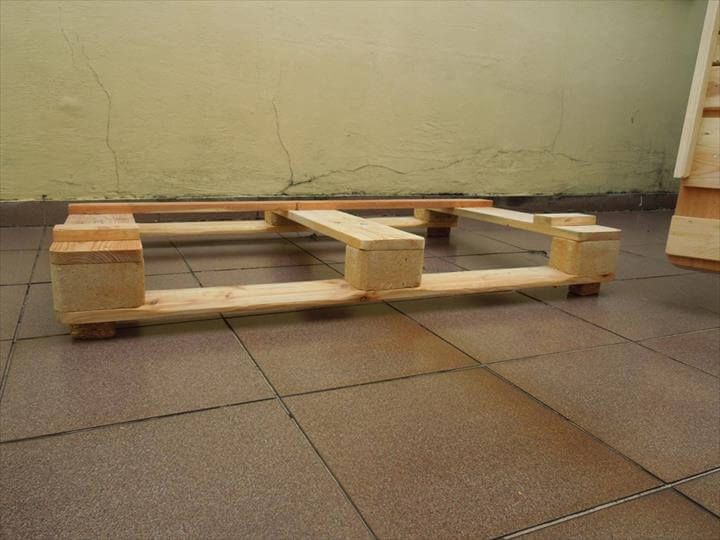 Floor one pallet board first and add more on it to get the certain height for your sofa! Make all the pallets well cleaned by giving a healthy wash with soapy water. This would also be helpful to remove the gunk to get a brighter wood tone!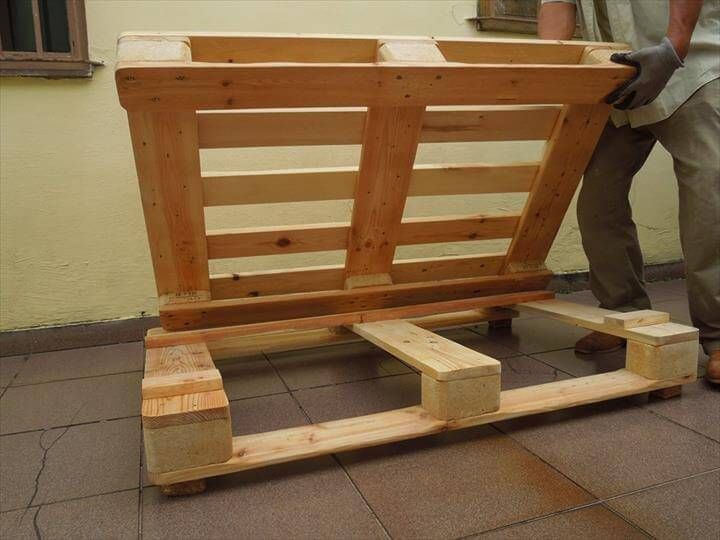 Stack the 2nd pallet board and this would be enough to get a standard and raised berth section for your pallet couch but you can add more according to choice and purpose of use!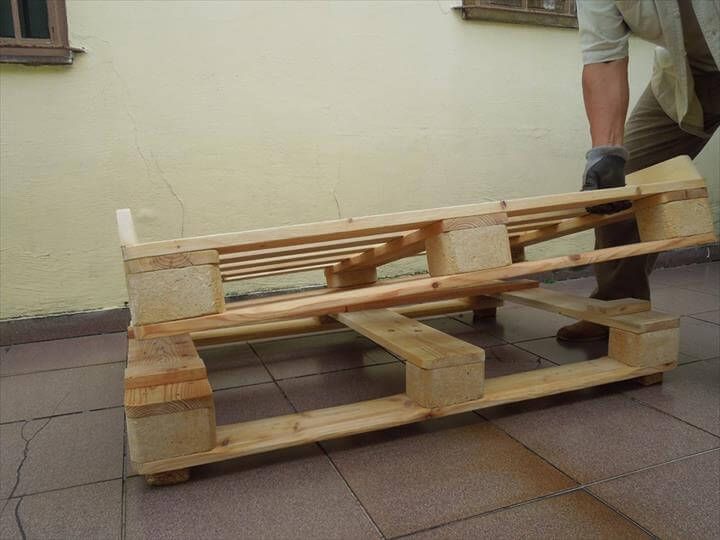 To avoid falling off cushion, two wooden supports have been provided at both sides of secondly installed pallet board! You can build a number of such frames to get a grand sitting plan for your extra wide living room or patio!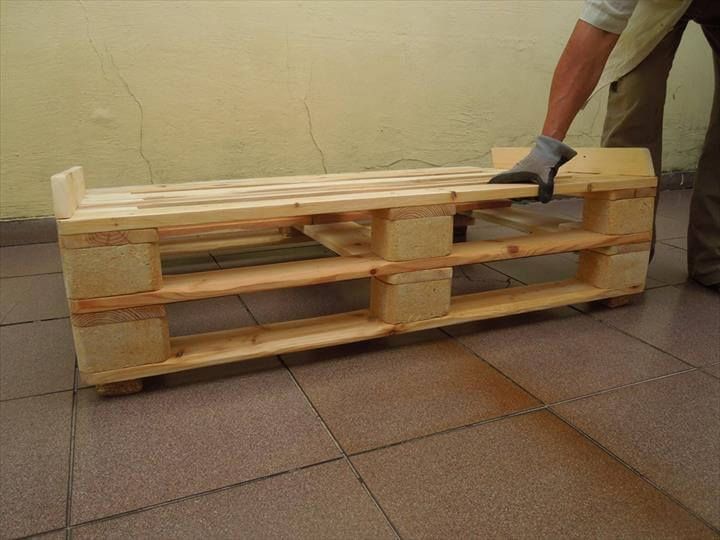 Use the metal brackets, screws or nuts or bolts formulation to hold the stacked pallets firmly and also layer the glue at junction points for long living assemblage!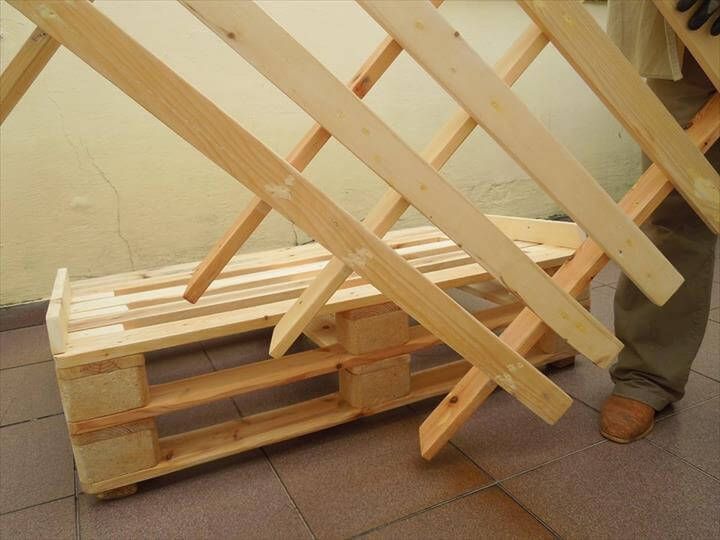 Dismantle some of pallet boards now to plan the backrest, Go with measurements and choose the perfect sizes to build the backrest!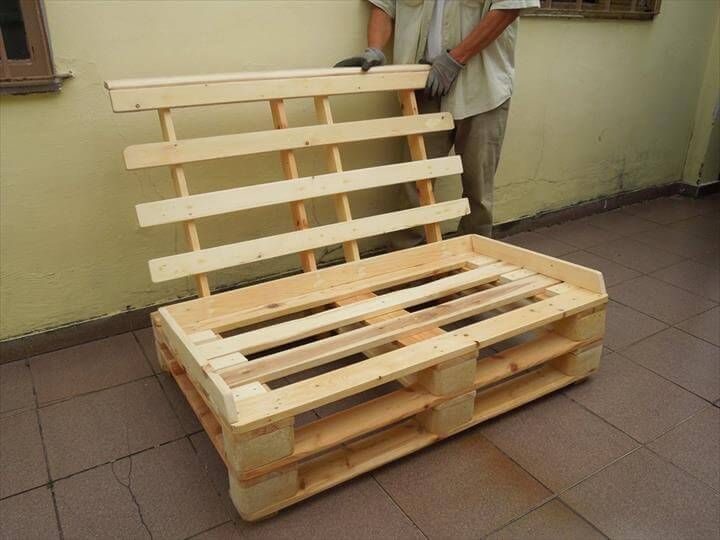 Just give an comfortable angle to backrest and enjoy a comfy style of sitting! After you made this, you will love to live with it for sure! Now you are just one step behind to sit back on it comfortably, just throw a piece of mattress or upholster it with cushion to set the wooden elegance off to provide incomparable comfort!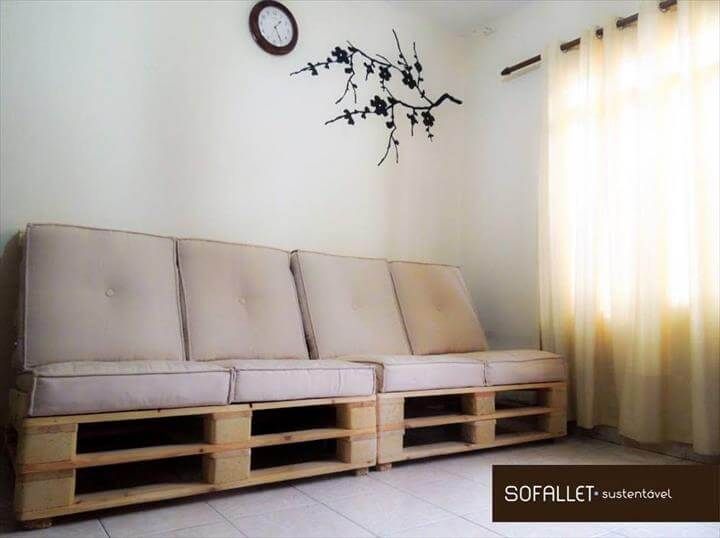 Submitted by: Sofallet Facebook
Clone this DIY pallet project to have multiple styles of cozy sitting plans. Cushion seats have been selected to be put on these wooden sofas for a luxurious feel of sitting!
This plan can really be given some more creative width and one can easily made the DIY pallet sectional sitting plans and patio or garden DIY pallet L-shape or U-shape sitting plans that are always great for occasional sitting or for a great family get together!