Pallet Wood is giving us a lot which is much useful for home and cannot be denied. Here we are with a very new DIY pallet furniture which we have got in pure modernized form with some really clever steps of wooden recycling. We have handcrafted this DIY pallet table with storage cabinet from pallet wood reclaiming and then added some black wooden sheets and frames for chic makeover. Basic skeleton has purely been salvaged from pallet wood board which we easily collected from the home backyard.
It came up with a very nice rustic shade which we then covered intelligently. This awesome DIY pallet table with storage can provide some more storing space to any room of home. This cabinet model has been framed up to give some really cool and secured storage options. Copy these very economical DIY pallet ideas to scheme up some highly storage trends for home on a budget which goes friendly to your wallet.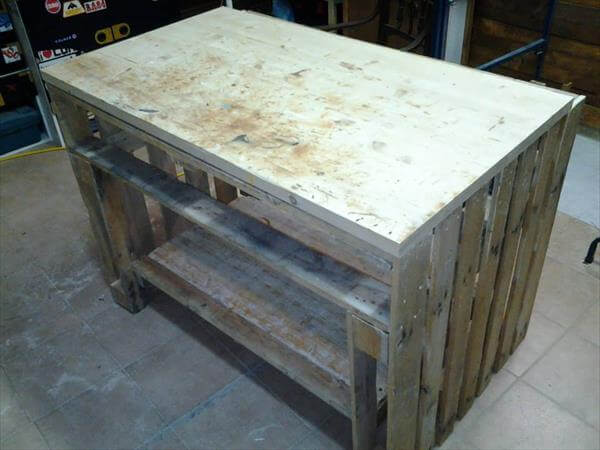 Here is very first rustic layout of the cabinet which has pure pallet composition and nothing else. Here we are giving you a step by step DIY pallet table tutorial to make you completely guided about how to make it modernized.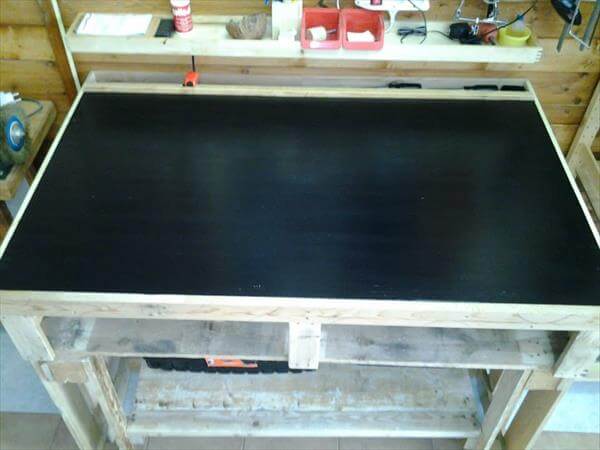 First of all we provided the black wooden sheet on the top of cabinet by cutting the piece in just equal to the size of the cabinet top. This wooden scheme of DIY pallet storage cabinets can be adopted in multiple ways to serve you home.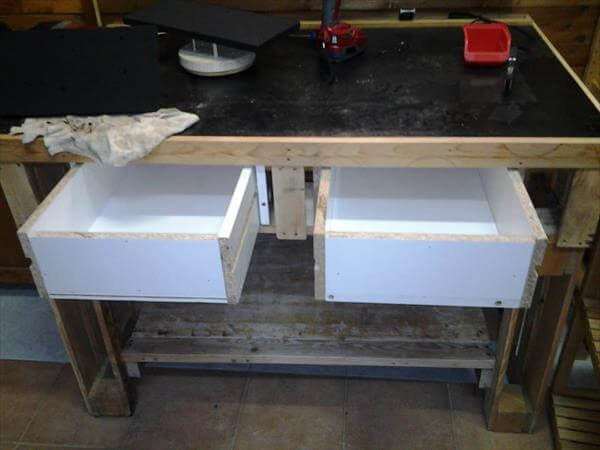 We have added some really cool drawers made of plywood to this wooden cabinet model which are purely handcrafted. You can store your extra tools and accessories in both these secured spaces.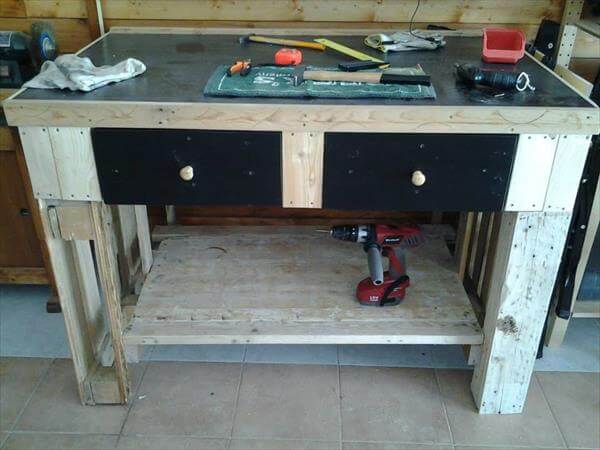 We have taken use of nail gun to fix this set up for drawers, upper black sheet coating and for fixing of front main door. You can also drill some holes for screw additions.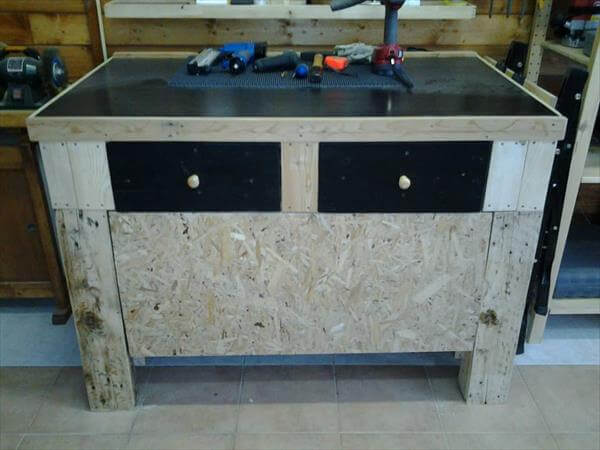 Front mains storing compartment has been given a plywood door which opens like a cart's back door, don't worry about the pallet wood it is not very high in budget and mostly can be found in home wooden scrap.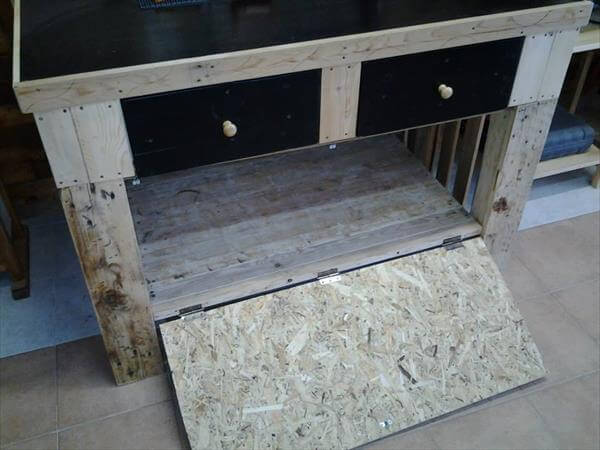 We have hinged that front cabinet door with hardware hinges for styled and smooth opening and closing. You can store a variety of things in this handmade ledged frame.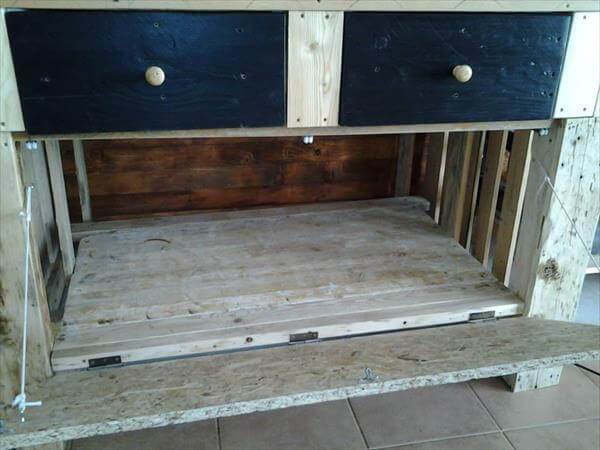 We were feeling uneasy about the door, it was touching the ground whenever it was opened. To remove this teasing phenomenon we added a string support at inside of the cabinet to avoid its falling on the ground.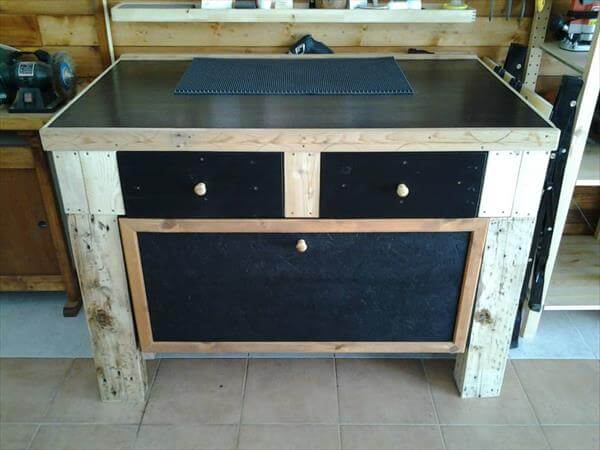 All we used, was from the home scrap so we owned this DIY pallet project at no-cost budget. The black sheet on the drawers, on top and on the mains front door totally changed it from rustic to chic. We also added a squared wooden boundary to the door to get an aesthetic view.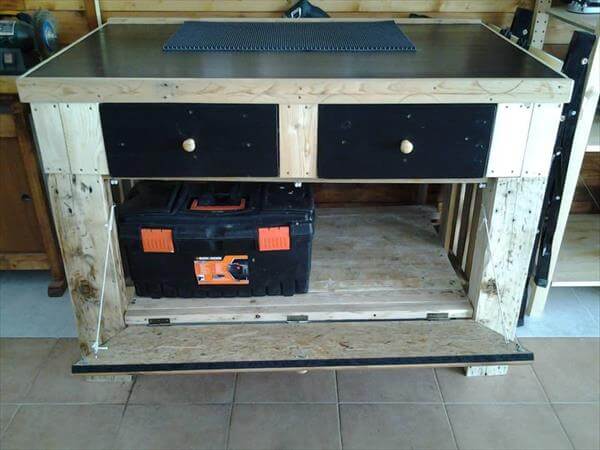 Here is how you can store multiple things in very safe mode in it. Drawer and door pulls have also been reclaimed from the collapsed furniture and accessories of home.
Take a complete hold on pallet wood and go for construction of any home furniture component you want like DIY pallet bed frame, DIY pallet headboard, pallet chairs, benches and tables. All this is much possible to be gained from pallet wood without any cost.