Pallet wood held much fit and suitable for recycling due to its high valued sturdiness and easy accessibility. We have recently done pallet projects of DIY pallet coffee table and nightstands which helped us great in the living room and bedroom. This was an amazing DIY pallet project that provided us these subtle wooden utilities on a very thrifty and cautious budget plan which is affordable to every home lover.
We designed them in pure rustic nature with nail holes and cavities on the surface which tell the history of wood. We sanded the wood with suitable grit of sandpaper through hand rubbing and did this job until there was a chic shine on the wooden surface. This pallet furniture can add functionality to any living space and is also very best for outdoor. Miniature tables can also be used as DIY pallet side tables to support the chairs and sofa in the living room otherwise they will provide great services as nightstands in the bedroom.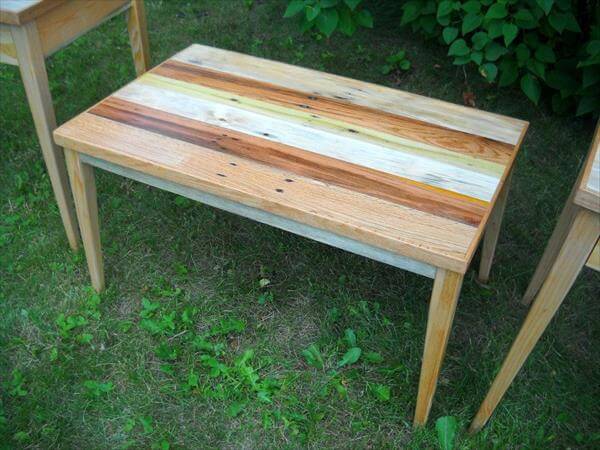 Here is the table design which we got from the pallet wood and given some really thin hairpin legs that make it more graceful and well looking. We painted the top with a diluted chalk to get it distressed and antique in appearance.
Side tables we produced have also been featured with a drawer for secure storage of tools and books. Other living room or bedroom concerns can also be stored for exact time of need.
These DIY pallet end tables do a plenty of tasks while being in the living room or bedroom. You can put a glass of water, a cup of coffee, any faux and artificial art gift and an alarm clock piece.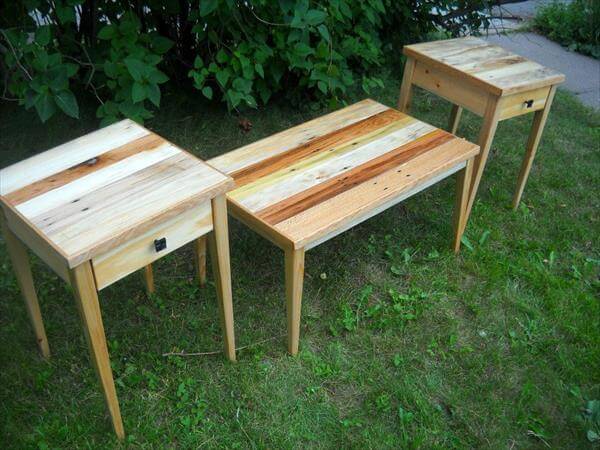 These three pieces we created out of pallet wood recycling are much dutiful and honest in behavior. To ensure the lifetime durability of these DIY furniture pieces you can make them sealed or waxed, this step will also secure them from weather effects.