During past week our neighbor provided us a lot of pallet wood which he got from the near one surrounding of a building under construction. It was a great stock of pallet skids and our mouth watered by thinking about the pallet furniture out of it. We spend two are more our summer afternoons and got some highly amusing and eyeful pieces of furniture out of them.
We shaped up some nice DIY pallet tables collection for a serviceable variety of tables and some wooden model for storage and seating. What we have done, we just disassembled the palled skids with spy bars or pallet breaker tool and then reassembled them wisely to gain some utilitarian designs.
Working with pallet is fun and is not very big deal but sometime removing of nails and planks take use of lot of muscle strength, if proper tool is used then this effort taking task can be changed into fun job.
Reclaimed Pallet Coffee  Table:
From a great pile of pallets one pallet was looking much precious and we cancelled stripping of it, just added some thick pallet legs to it and it came up with a nice DIY pallet coffee table which is a famous one type of table is a dire need of every cozy dwelling. Edges and surface of the wood has been given some sharpness through handsaw and sandpaper respectively. We love rustic so we left it blank in natural light color of wood.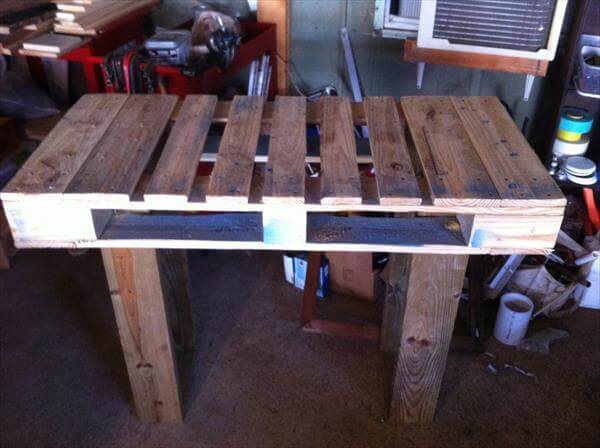 DIY Pallet Potting Bench:
We prepared 4 lengths of pallet planks which were equal in length and thickness and mold them into a squared bracket shape. By just filling up the tip of wooden bracket and imbedding the legs at underneath it make us get with a true and honest type of DIY pallet potting bench to accent the home garden.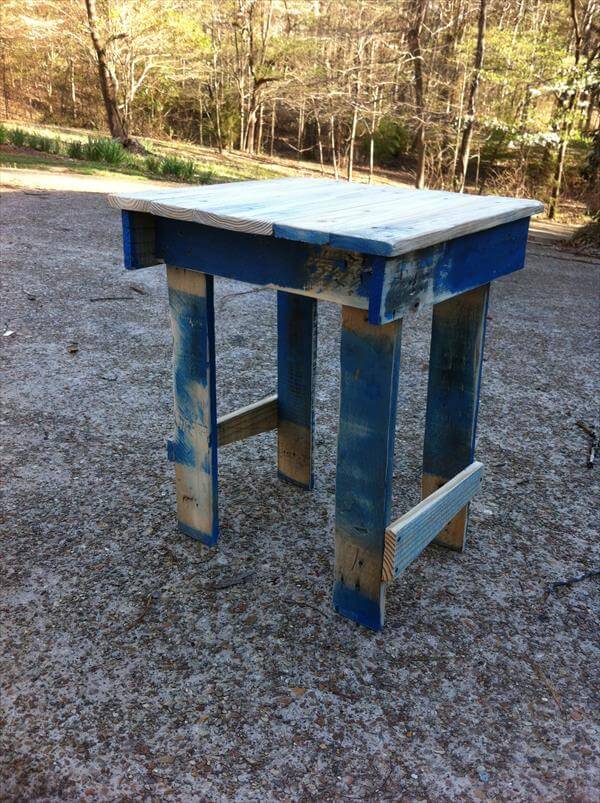 DIY Pallet Side Table:
When ever we intend to give a complete and equipped feet to our living room it becomes necessary to count for the sofa side table. This given below type will make a great help while organizing your seating room. It came up in much handy way through pallet wood and was just like simple ABC in construction criteria.
Enjoy your drinks by using its top just close to your sitting sofa. You can also make it garnished with decorative accessories and object even with some flower pots to get a living room centerpiece out of it.
DIY Pallet Bench with Storage:
Given room to your scattered shoes and clothes which needs a mannered setting for a long time, by using this pallet storage bench. It just need to work with wise vision and creative perspective of thinking to recover such an advantageous and profitable commodities out of pallet wood. You can also relish the outdoor sitting on this rustic and vintage natured bench.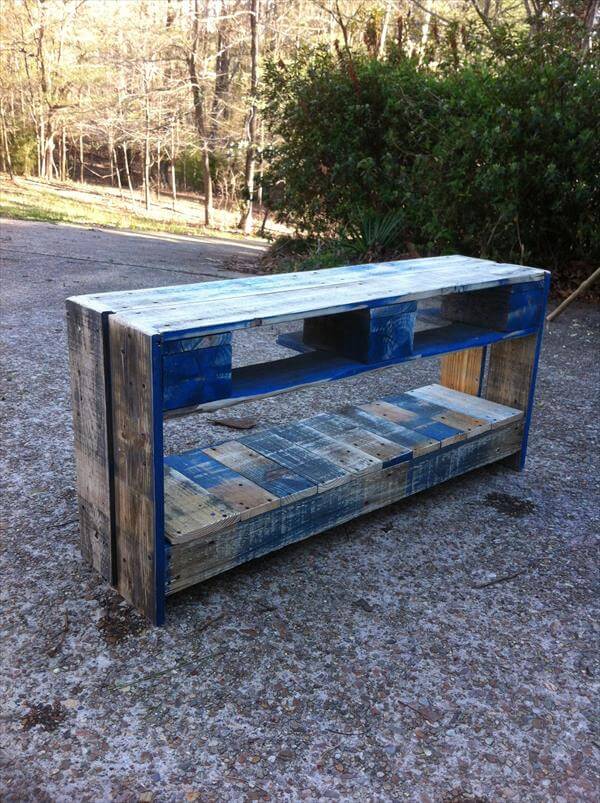 Whole we got has purely been salvaged from pallet wood and is free of cost. All items impact great to home service criteria and are heavy duty in nature. Haunt the pallet wood to make your home look well and functional with such a useful and serviceable furniture, which also be a great tip to keep using the old wood for a long time.