Make your creativity loose and go crazy with pallet to get you house filled with appealing and delightful pallets wood furniture. Furniture is one of the main home ingredients without which the routine working and functionality of home is not possible. We can handcraft all types of furniture out of pallet but this time we are just starving to share with you the scheme of this red DIY pallet coffee table which is the dearest component of whole home furniture.
Coffee tables mostly meet in front of sofa or living room chair and play a vital role by providing a great support to edibles and beverage. We have raised these DIY pallet table ideas on wheels for effortless pushing and pulling to desired way location in home. We have repurposed the caster from an old home furniture which had been collapsed and broken up so the we got this lovely coffee table almost free of cost. We have the rustic wooden appearance with a light paint shade which you can replace with any color theme which you will prefer to it for its personal appearance.
The designs is much simple and highly workable at home even you have not gone through carpentry ever. A single person can handle the whole construction work without any hitch or trouble.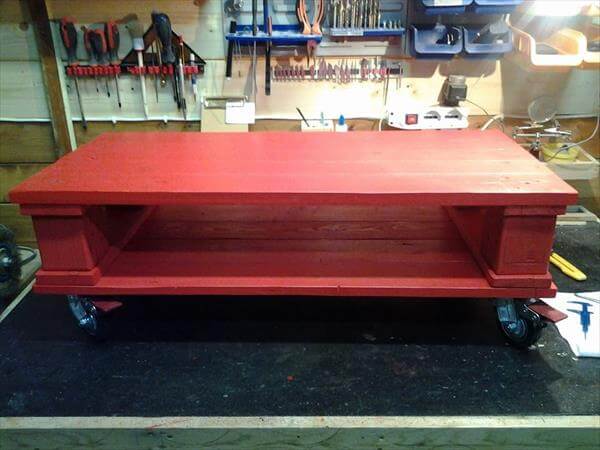 It will also provide you some extra storage space to keep safe your books and magazines at lower panel. Both type of environments and sitting plans will accept this chic DIY pallet coffee table with wheels and open arm and it will be great center of attention there. Paint not only makes the wood strengthened but also makes the wood visually attractive and pleasing.