This time we have chosen our DIY pallet coffee table a little bit broader and bigger to be put in center of DIY pallet sofa plan. Coffee tables give perfect look to every cozy and sectional sitting plan. This luxury item is of supreme worth for serving and beverage purposes while enjoying company of our family and friends. We have designed it with ultimate charm and protection but you can go with endless options for decoration purposes. Major operations of wood have been done carefully to prevent stain of wood. There are various and tremendous DIY pallet table models which are possible through pallet wood and are very quick in making while doing a project from home.
You can construct all huge and well worth needs, you have lack of which like pallet chair model with great designs and structures range which are available with or without arms. Pallet benches through recycled and reclaimed wood have full showcase of categorized gallery regard to designs, layout, two seated and four seated and many other aspects.
You will have to carry with following tools and material for both the makeover and coziness to it;
Pallet board (one will be sufficient if you got it bigger)
Varnish solution
Rolling brush
Some paint mixture (water base)
Caster or metallic wheels
Glass top
Sand paper of medium grit or electrical sander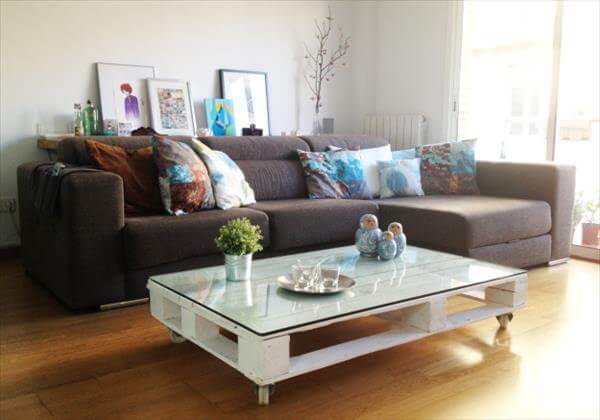 Healthy and cleaned pallet and some scrap material would serve as supply of our targeted furniture project. Pallet you will choose must be with some high standard company name or tag on it and should be free from bacteria and fungi. We have sanded it well with some electrical sander tool for peak value of smoothness.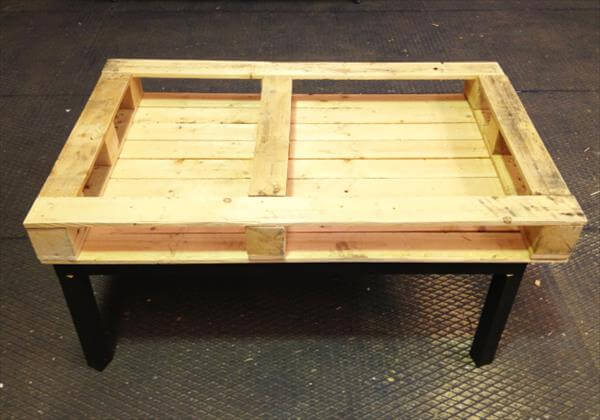 We have given it throughout waxed with rolling brush tool; this will serve as a complete varnishing effect on it for tremendous shine on wood grains. The whole of the pallet wood look young and brand new as it has recently been harvested.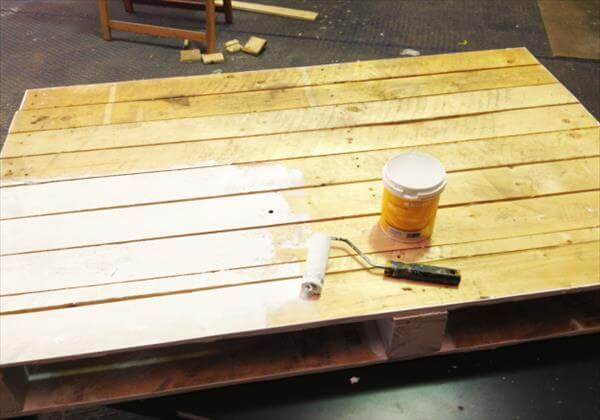 After that the process of giving some base colors is next in our DIY pallet coffee table tutorial. We have given it white water base shade with a mixture of chalk and water in 1:1 ratio. You can give 2 to 3 coats of white washed to it for charming white shade.
Now it's time to make reliable and easily moveable, for this purpose we have attached caster to the end corners of the square shape frame of table. The attachment of screws has been done with some screw driver after drilling a little bit at the targeted corner.
We have repeated the same above process at all 4 corners precisely for balanced perfection while moving on floor to accomplish the targeted need from it.
To make it more royal and innovative you can make use of glass top which will add definite shine and glow to it. The glass top you choose should be of according to the size of table floor exactly. If you lack to avail from glass top then make it perfectly shined with high class staining solution like polyurethane which gives tremendously great crystal clear effects to wood surface.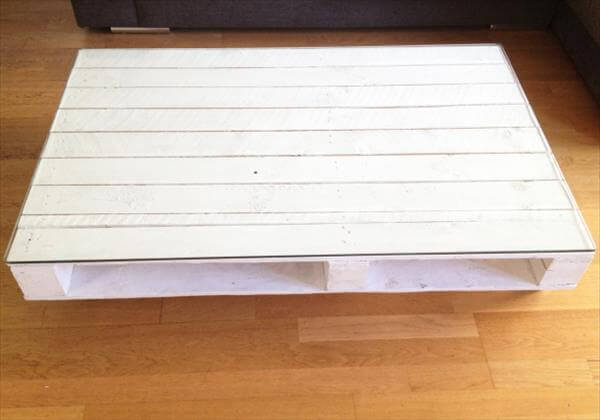 Now the time has reached to take pleasure of it. Place it in living room just before the sectional sofa and any sitting plane you have and feel the worth of this fashionable and cozy furniture delight out of pallet.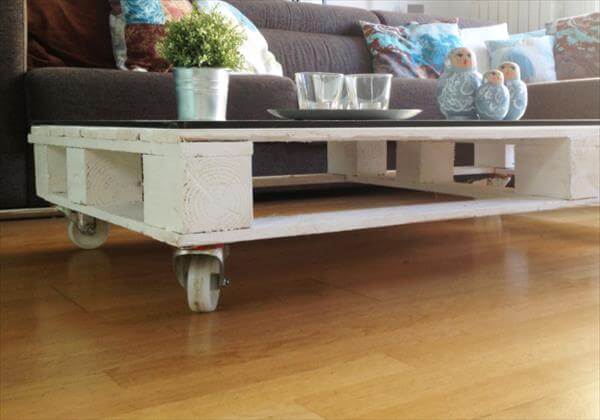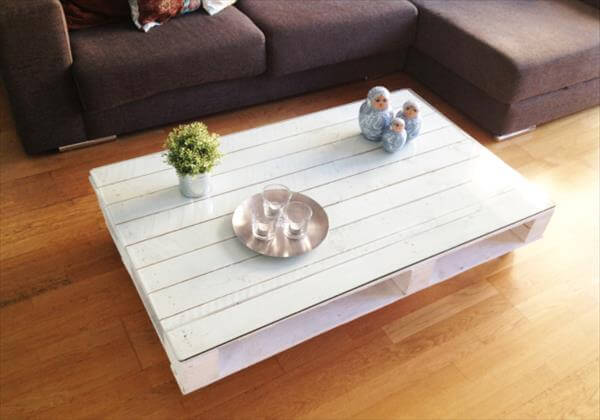 This is definitely going to serve as centerpiece in whole living room furniture and will surely brighten up the whole environment with its chic and charming design.