Pallet ideas have no limit and are growing more and more according to trends. Now we are providing a great help to outdoor fun and picnics especially the barbeque feasting and meals. We designed a DIY pallet barbeque table which has a raised top toward one side. We resurrected this functional type of DIY pallet tables in our working space in very leisure time. We have used nothing but the pallet wood which we can get in any quantity from the near one shipping area that is really a lucky draw for us.
We have also provided it a functional and creative bottom space having a DIY pallet shelf for storage of barbeque sticks. The increased bottom along legs can also hold some of pots and utensils while having fun. Results pleased us a lot it was really a cool item got from the wooden recycling. Make a copy of this unique of a kind piece and avail the pallet wood in its trends.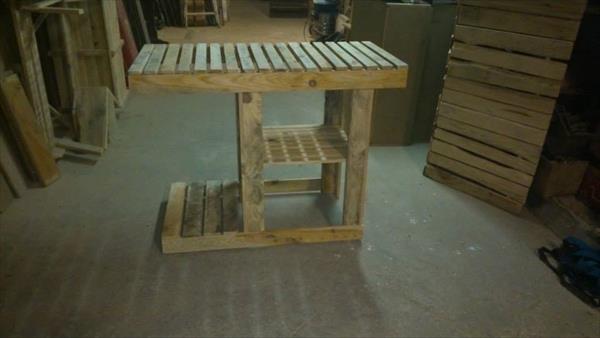 The process and construction steps are super quick and handy and reconditioning of wood and pallet boards carries the same technique just like given in our previous DIY pallet tutorials like hand sanding, dismantling and cutting.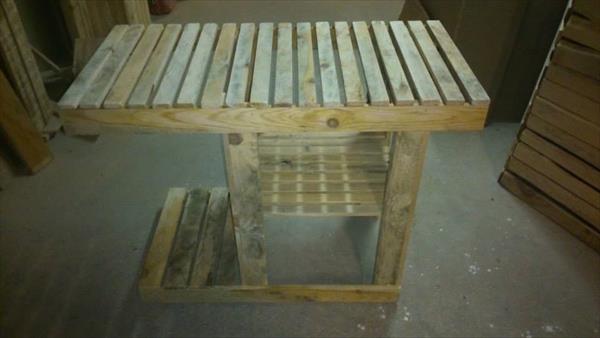 To go with measured values, will save the wood and time and you will achieve your target in perfect dimensions earlier. So make use of measuring tools for precised results.
We have left it blank in its natural wood form which has also been brightened through sanding. Nails, holes wooden dings and cavities are still on the pallet wood and make a great history of it.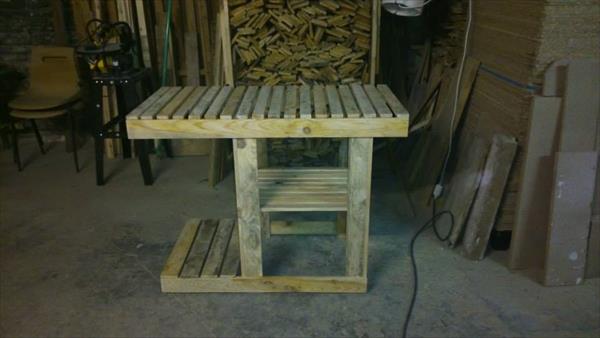 If you have really been obsessed with this electrifying and hair-raising pallet kitchen island then get it in home through recycling of right kind of pallets.
Choose the heat treated pallets for crafting of indoor stuff and furniture and avoid those chemically treated pallets which may be dangerous to health. You can make yourself understand that whether a pallet is heat treated or not, by viewing the tag on the pallets.