If you have only one pallet skid then don't worry it is enough to make a chic DIY pallet coffee table that will dignify your media room or living room sitting but will be great support for coffee brewing utensils, mobile phones, and TV remotes there. We have selected a pallet skid that was not chemically treated and was free of formaldehyde that makes it secured and safe for interior use. Pallet treated with such a harmful chemicals should be reclaimed for DIY pallet exterior improvements due to health safety issues.
Heat treated pallets can be used for any of indoor or outdoor improvements. We have just sacrificed a very little part of our time and get this dainty DIY pallet table which we have raised on wheel for easy pulling and dragging. You can store you reading books, and TV remotes at lower DIY pallet shelf panel which is an extra feature of this table for some extra storage space.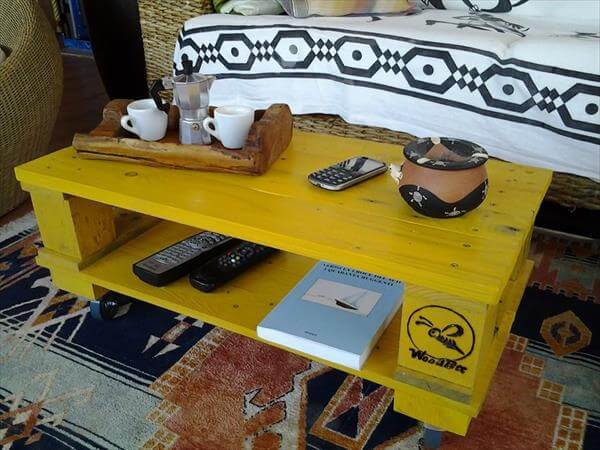 You can play with this DIY pallet furniture with any of pastel or dark shades of paint, we liked this yellow shade very much and coated it two times for through neatness and smoothness. Paint layer will be tightly held over the surface if you go for a little bit of sanding to remove the roughness of the wood.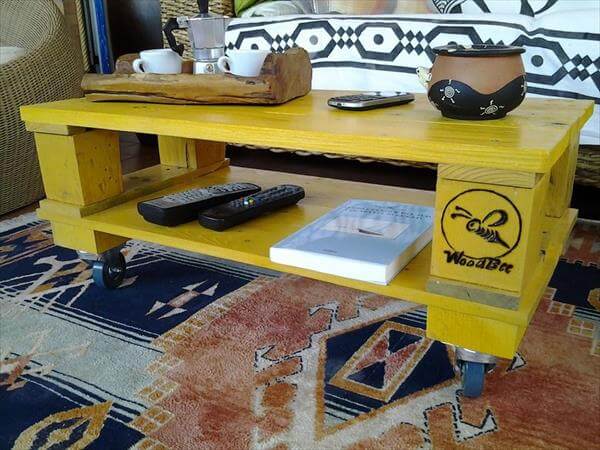 You can selected such a caster from any hardware store which are very great addition to this rustic natured table and provide a charming metal touch. This appearance of this coffee table will compromise great with both type of environments whether you are planning it for exterior sitting plan or for interior.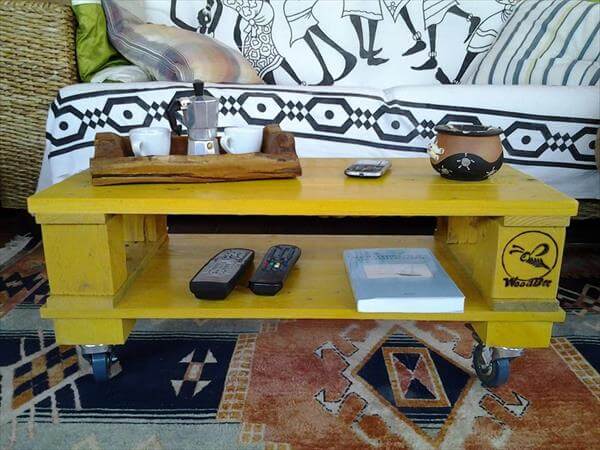 Whole of these DIY pallet furniture projects are no-cost in budget and you will only pay for the caster if you are not having them in home. This will be a centerpiece and a charming conversation starter in the living room.