Coffee tables brought worth to any sitting room and extend it to completion.  Another great type of table which provides also a great support to living room sofa is the side table which are mostly made with thin and long top. We have done an easy DIY pallet projects which gave us these two sturdy design for home living room which can live very well to outdoor sitting plan too. We have originated a DIY pallet coffee table with horse foot tags on the top which make it visually charming and captivated.
We have also manufactured a DIY pallet side table for home living room seating out of pallet wood reclaiming which has also been raised in beauty with horse theme. Both these dainty DIY pallet furniture objects have purely been salvaged out of pallet wood which is very useful and low-budget wood type and often available as free of cost wood in the neighborhood, surroundings, Craigslist, nurseries and at the shipping areas. Copy both of DIY pallet crafts and extend the home serving and decorative plans on wallet friendly budget.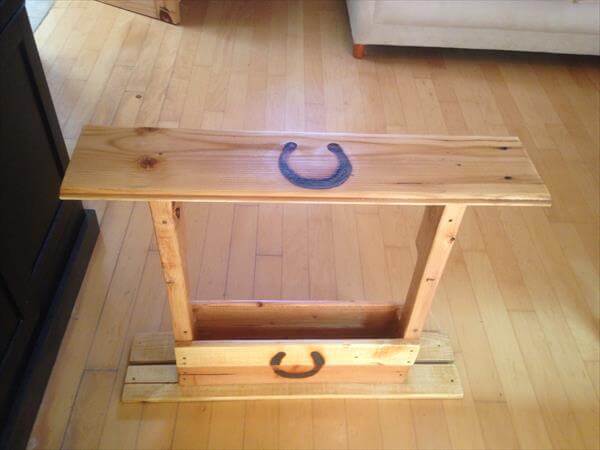 This is the charming preview of our side table which has been resurrected out of pallet wood reclaiming. The horse signs can be made by burning the wood or directly applying the horse foot tags on the wooden surface. The wood has been beautified through hand sanding by using a suitable grip of sandpaper.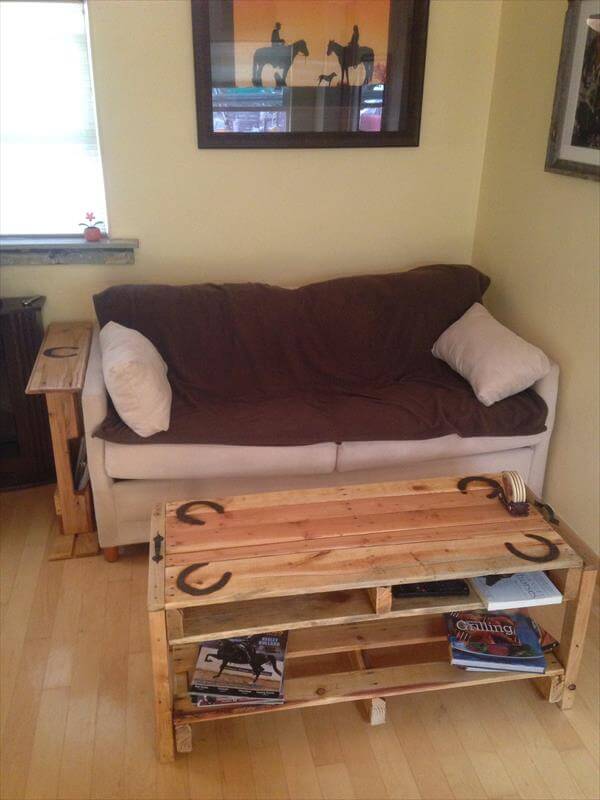 We have a lot of pallet wood collected from the near one shipping area and did not stop our crafting work after making that DIY pallet end table. We kept it continued and make a new serviceable addition to living room in shape of this DIY pallet coffee table which has also a horse theme on its top. We made it functional with large storing capacity to secure the books, magazines and what ever you want.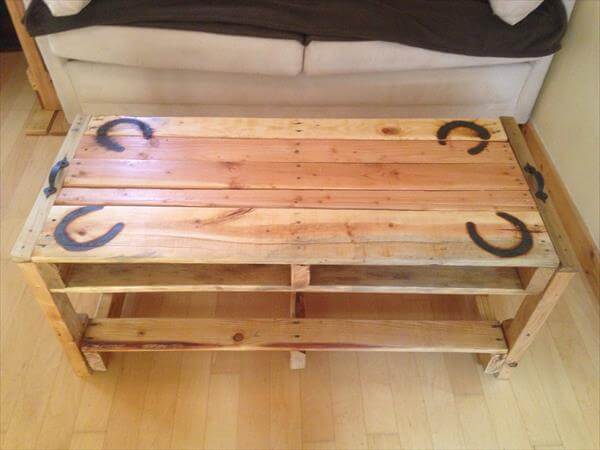 If your pocket allows you to spend some little bit extra on it then you can move it on metallic casters or wheels which is also a great tip to rank it up. You can add the multiple shelves and customize the rustic theme with various shades of paints and stains which can also make the wood more secured.