Are you getting stimulated with pallet crafts? Have you ever tried the wooden pallet projects? Do you really want some very low-budget home furniture? If yes, then this DIY pallet coffee table with wheels will be the best pallet furniture to start your work with pallet wood. It is much easy to construct and have very simple and sturdy dimensions. We have done nothing but just simple creative cutting of pallet board into halves to have this bunk table layout.
Two mains pallet board will be enough for this whole DIY pallet coffee table tutorial at home. We sanded down the wood to a great extent until there was a smooth flow and rustic shine on the wooden grains. Then we made it distressed and chalk painted a little bit to prepare for next stain coating.. This proved very best to fill up the empty spacing to give the smooth surface flow to whole wooden model. Make it cloned by just giving an hour from your leisure time and make a highly serviceable addition to your home on a budget.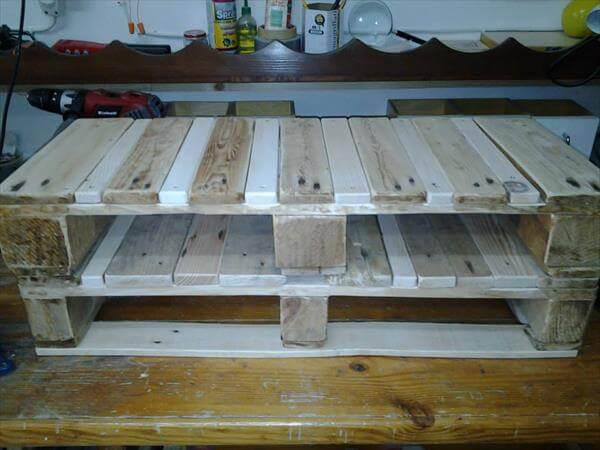 We first disassemble the pallet into a separate plank pile and then we planned the dimensions and gave the according cuts to the pallets slats and got this beautified addition to our living room.
There are plenty of ideas to make the legs of the table but casters give very charming behavior and make it capable to move with just a light push of hand. So we raised it on casters which accent it too with sparkling metal touch.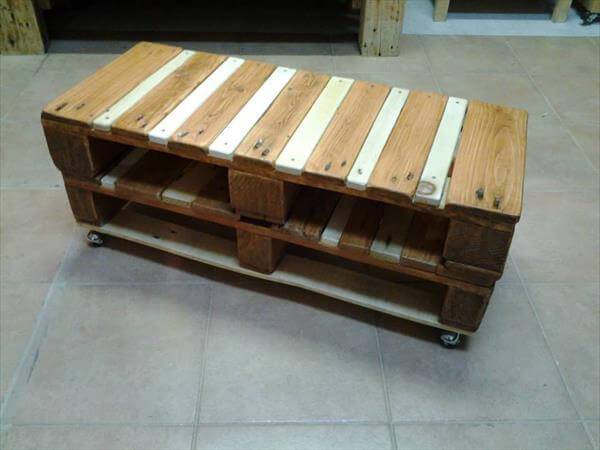 We have coated it two times with walnut stain by leaving some in between planks in white, this creative plan came up with extremely chic behavior that can please any one with its charming theme.
Pallets are wooden boards with some empty spaces between them so while we take them in bunk shape it comes up with some really clever and secured spacing for storage as you can see in this wooden pallet furniture which is very honest and dutiful in behavior.