The use of recycled pallet has become so popular worldwide that everyone loves to make new things like many different kind of furniture of daily use. There are many benefits of using this pallet wood.
It is much cheaper as compared to other wood and is reliable for much longer years if it used safely.
The use of pallet wood is an inexpensive solution to many of our cost issue problems.
As pallet wood which is usually used is recycled one thus it greatly helps in protecting the natural environment so in short it is environment friendly.
You don't have to go into any hassle to find the pallet wood as it easily available in market at cheaper rates, industrial auctions and construction sites.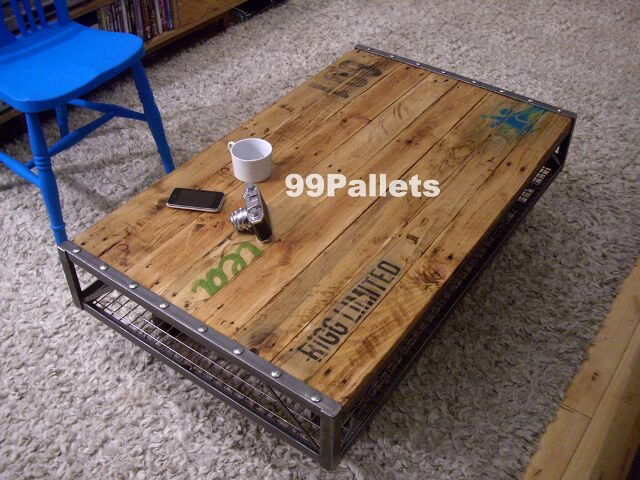 Good Pallet wood shows resistance to extreme weather conditions so it is suitable for to keep it inside as well as outside.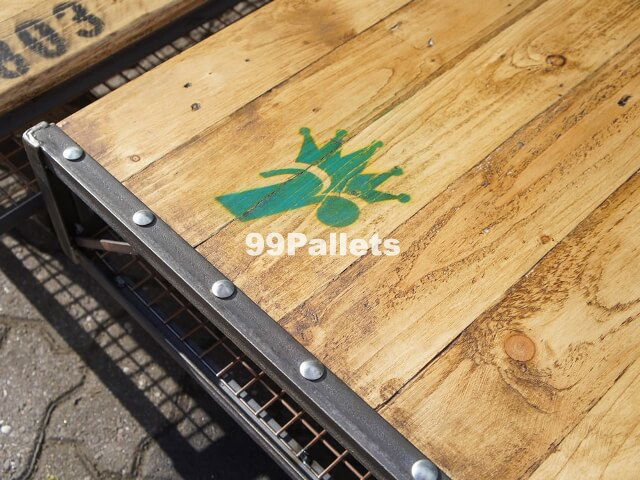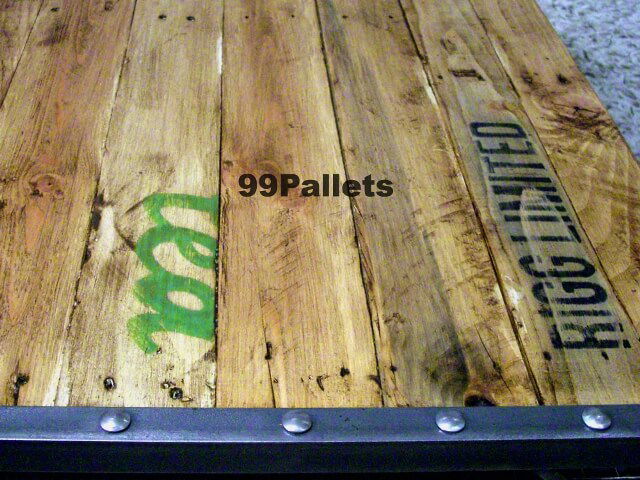 After talking about the benefits of using recycled pallet wood I will discuss in detail about constructing a pallet coffee table.
Pallet coffee table is an essential piece of furniture that everyone desires to be perfect and serves the basic purpose very well. It must be according to the need and desire. The best thing about constructing a coffee table with pallet wood is that you can make it completely of your own choice like doing some painting, some decor or art work it is completely on your discretion. You can do everything with your own choice and taste. I am sharing my own DIY super industrial pallet coffee that you can also see in the pictures is mounted on cast metal wheels.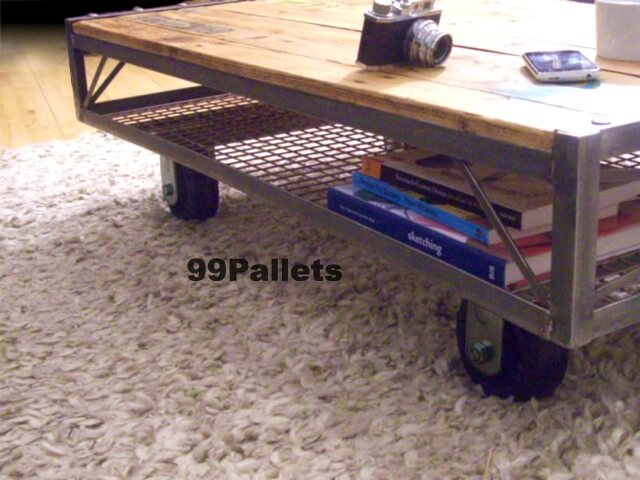 It is quite different and unique from other coffee tables I already prepared and shared with you. The other things specifically being done with this coffee table include painted lettering, logos and stencil work. It is quite sure that every piece which is being intact is carefully done.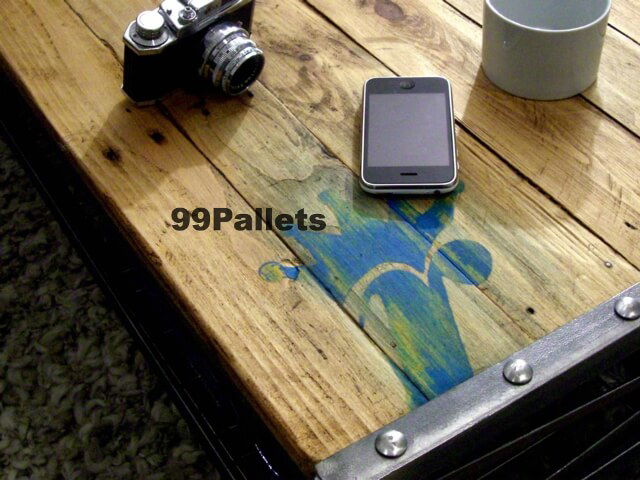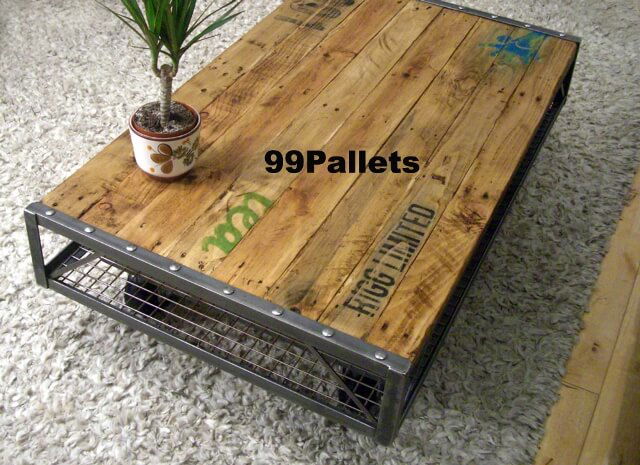 The size of the coffee table is 109cm long, 60 cm wide and 32 cm high. I have given rustic look to my coffee table to make it look little old and I did that by doing hand wax. The most important thing I did while joining the pallet planks was to fix into a place at each end through stripped angle iron. You can also see that that vintage look coffee table is being made more useful by creating enough space in bottom shelf to keep some newspapers and magazines. It has a complete spacious lower shelf for that purpose. If you have some novels and books this is the best place to keep those utilities. I have given a vintage look myself to some parts like some of the welded corner joints are exposed to give an artistic look.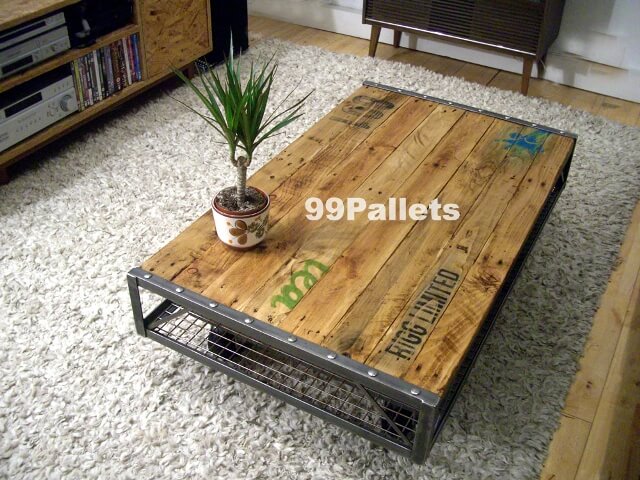 I have applied cast metal wheels so that it is easy for me to move around anywhere in the house at my own ease. The pallet wood furniture doesn't weigh much even then it is better to apply wheels to make the movement possible.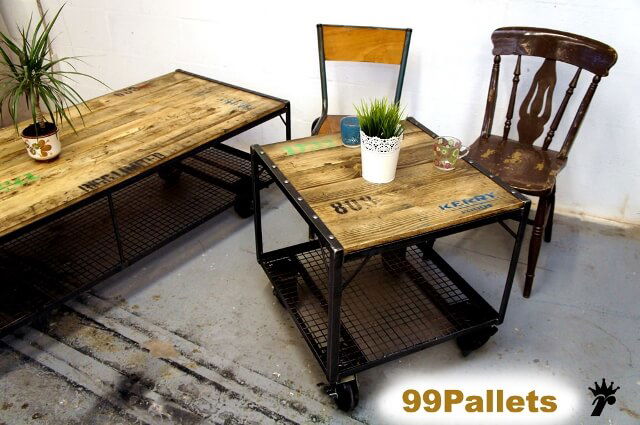 I will share some interesting pallet ideas in my next post.