There is a super stylish variety of the beds in the market giving you a jaw drop with their amazing shapes and awesome designs. But still we would suggest you to avail this DIY pallet bed frame as it is simple, elegant, cheap and above all the natural to bring some woody warmth in your bedroom decor and this factor is lacking in the market found beds. And if you are even a little skilled at the wood crafting you can finely craft this feasible bed frame design at home using your own tool kit. First of grab a bunch of pallets and tear them into the slat and plank piece of large and small size slats. The small pieces have been stacked in a pattern to shape up the foot and headboard with a flower design.
With the help of bolts and nuts the headboard and the foot board has been joined together using large and wide pallet planks as middle support and side frame formation. The middle frame structure has been installed with the vertical and horizontal stacking of the slats together making a well knit pattern. Sand it well after completing the tool work and keep it unfinished to enjoy its rustic appeal and natural texture at peak.
Here is another genius pallet bed frame idea for the awesome furnishing of your dreamy bedroom.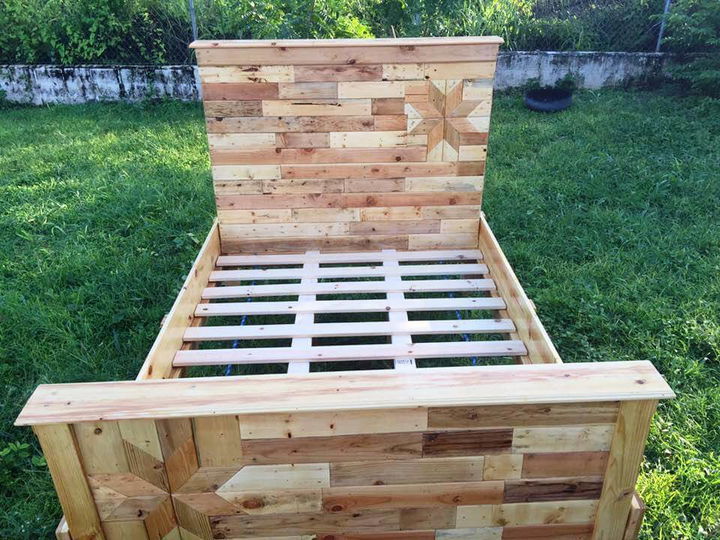 With a king size, a splendid headboard and a small raised foot board piece this bed frame is an accomplished plan to avail.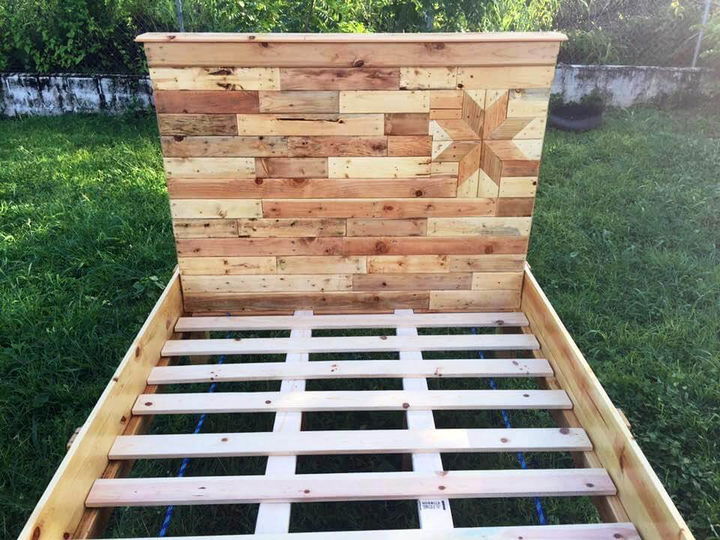 You would need to rip of the long pallet planks and slats to shape up this kind size bed frame at home.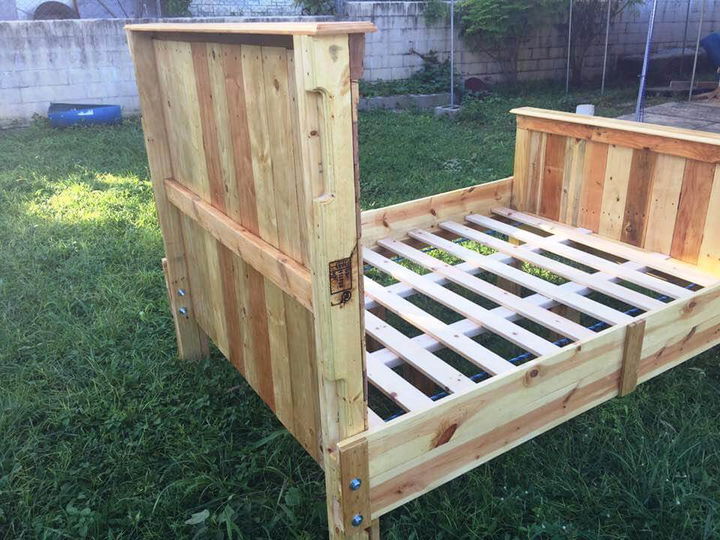 The pallet headboard with the slats would be prepared separately with legs and then screwed to the long side bars.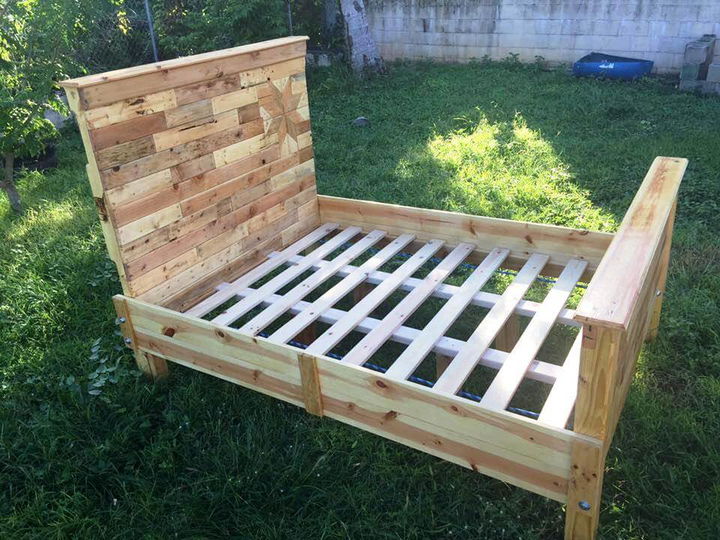 Like the headboard the foot board is also made separately with pallet cut slat pieces and then attached to the side bars or planks.
The slat piece used to shape up the head and foot board has been arranged so to form a cute flower pattern making it look more fancy.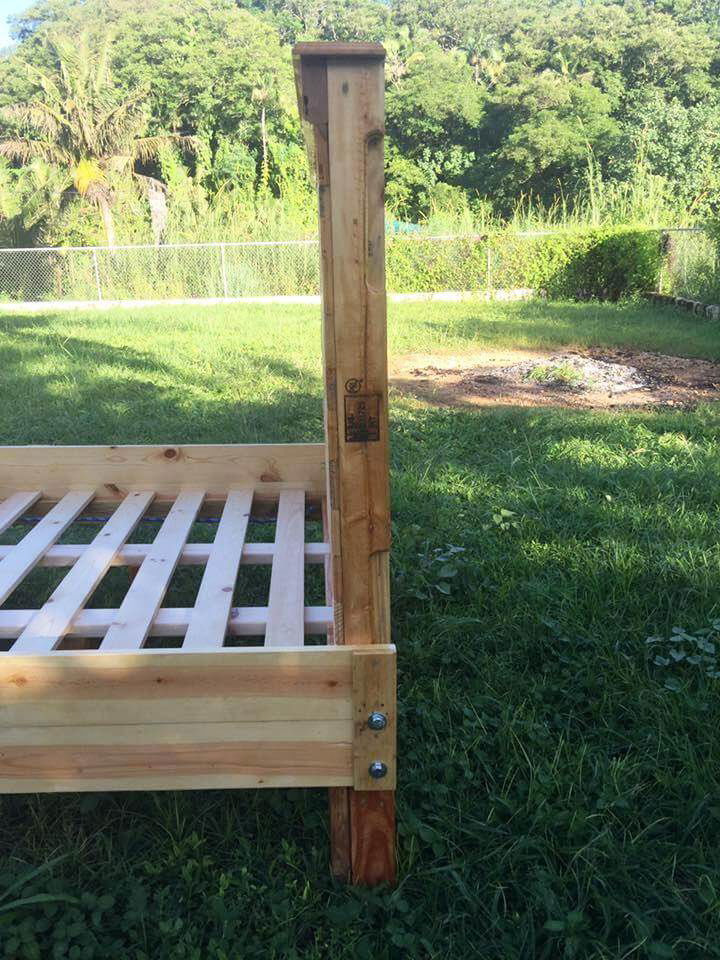 To make the joints sturdy and tight bolts and nuts have been used as the hardware to end the bed as a robust possession.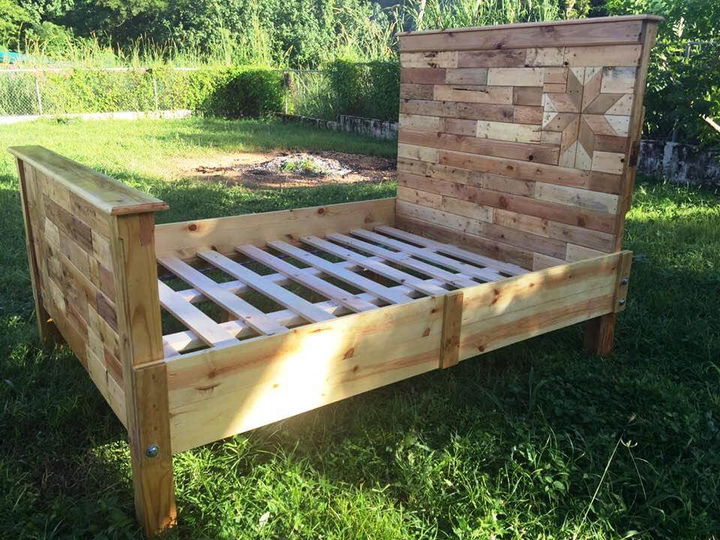 After joining the headboard and foot board piece the middle section has been filled with the horizontal and vertical stacking of slats.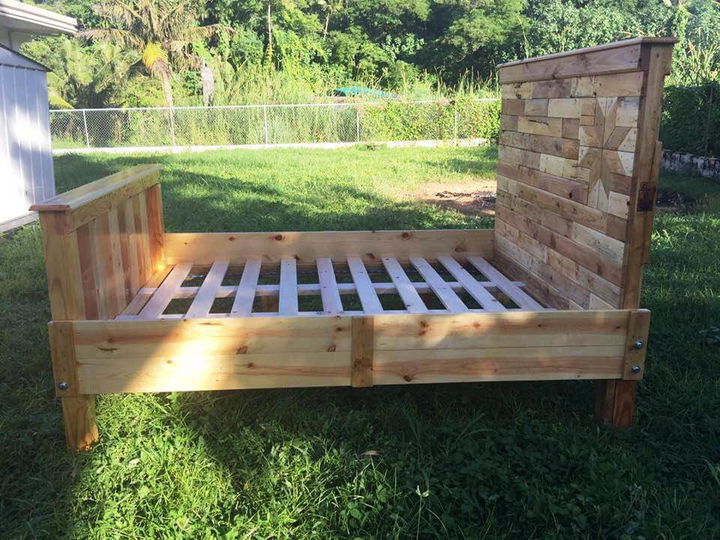 Keep it unfinished for a rustic look or you can stain to get it matched with your bedroom decor and style following your personal choices.