May be you are having an empty courtyard, a gazebo or even a patio which you are intending to organize for part time sitting, fun and parties then today's sharing will be a great inspiration to do it in a budget-friendly way! By reclaiming the deleted pallet skids, this DIY pallet terrace furniture project has been done that is going to be all special for family and friends gatherings! Sitting set gained for the terrace is purely handmade and most of the construction is to arrange pallets simple over one another as you can see!
After you stack 2 or 3 pallets for pallet sofa or chair berth, put 1 more in vertical position behind of the stacked pallets as a backrest, this is the basic strategy to build even the larger occasional sitting plans out of pallets! Finally you make the seats padded, cushioned or upholstered to replace wooden hardness with enjoyable comfort! Old wood crates have been used here to craft the central coffee table and the storage unit standing in the corner!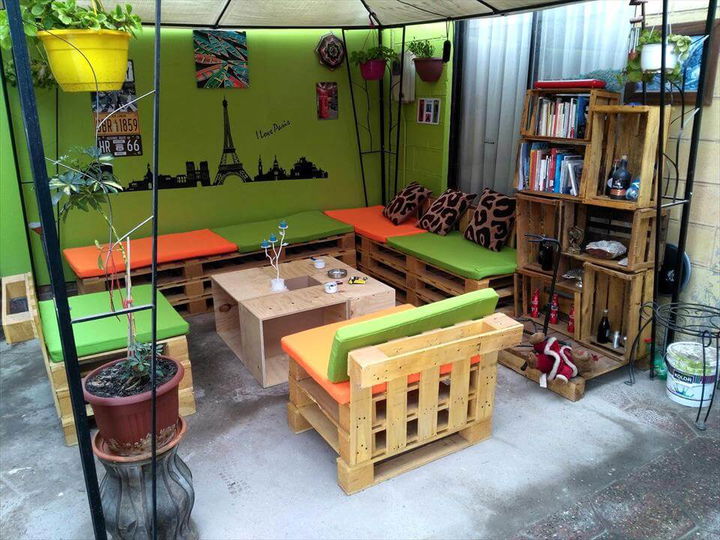 This is how you can organize your pergolas, patio, and even the garden gazebos with pallets for free! The good news is that you don't need to do lot of cuttings here while doing this pallet project!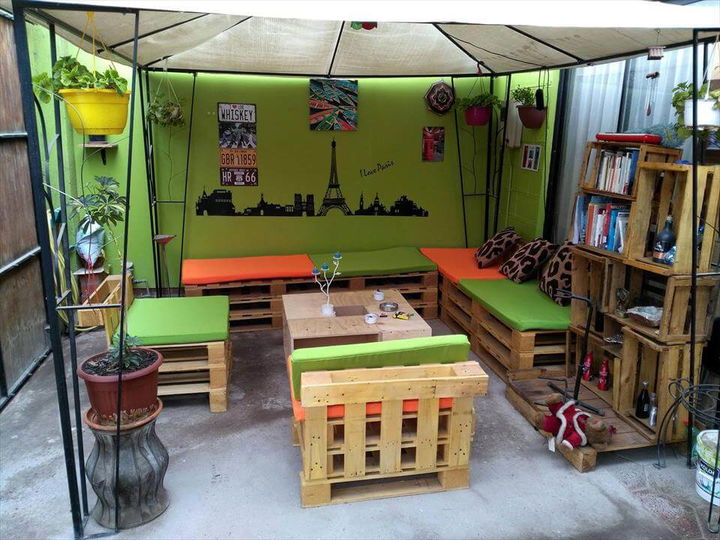 The whole terrace has been covered with a canopy supported by metal-made frame and pillars! This terrace also comes with an accent green painted wall that is further having a painted city surround by lots of paintings, this brings an amazing decorative vibe to entire sitting plan!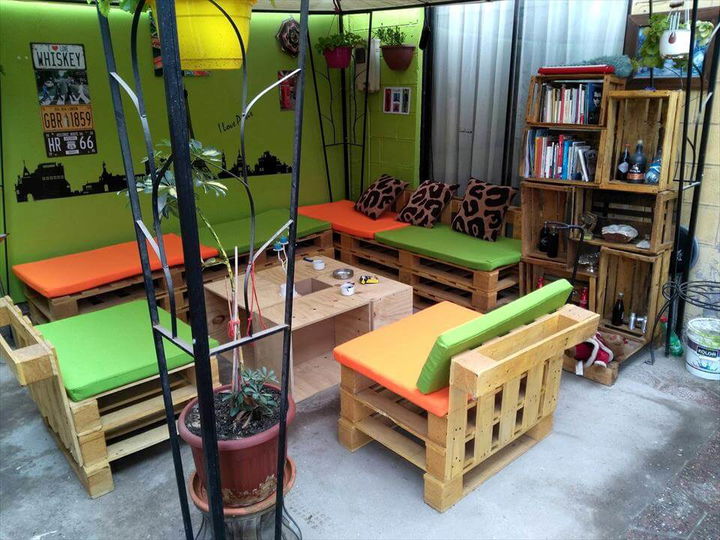 Cushions or seat mattress also comes with light green and orange covers making the entire terrace full of enchanting colors! Get ideas here on our side also about to organize a deck, a paved or pebbled outdoor and also a balcony or porch area!
Made by: Ideas con Palets