Benches are great piece of furniture to have multiple people seated at one time. We use benches at different places of home like patio, front porch, and also in garden. This is a wooden pattern of much worth to enjoy nature at outdoor. To enjoy the serene open atmosphere we have found some DIY pallet bench shapes with recycling of pallet wood. We wanted some durable sitting at outdoor and had also some pallets stored in our garage.
These pallet, we had happen to meet, were lying near a construction of a building and we brought them home. After staring at the patio and garden we intended to make a bench out of them which was very simple and without complications. We have given an overcoming arched back to our benches which look very royal and boss in view. You can also reclaimed the pallet chairs, pallet sofa and pallet table out of crumbled and pallet wood, to get both outdoor and indoor wooden and furniture furnishings.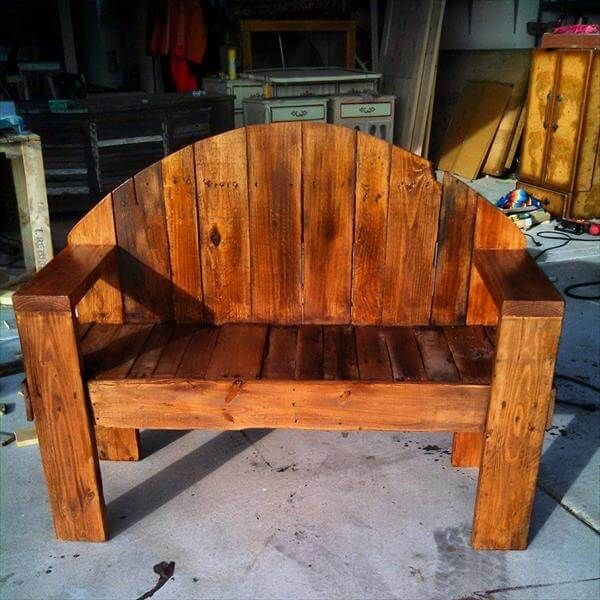 This one inspiring bench we have made very safe and sound and is just perfect for 2 people. It is real example of sturdiness and have been accomplished with thick pallet planks to be lasting in durability. The arms to it are optional, the construction without arms will also be appreciated and would be great compliment to home outdoor.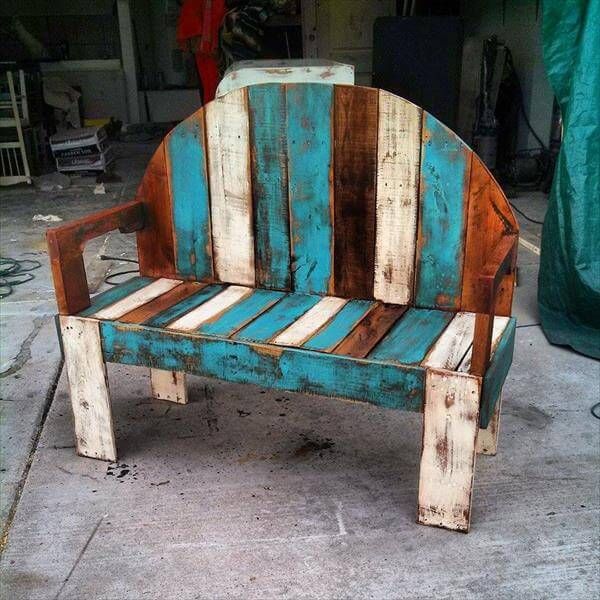 This one just the same in style as that of above but have weathered and vintage looks. Such an appearance will be highly acceptable in cottage style interior of home and will also be given warm welcome with open arm by the shabby chic home interior. Both carry best layout to be in the garden and at home porch location. You can try these inspiring pallet furniture motivations at home even you are zero to carpentry skills and have never gone through it.