If you are interested in backyard parties and fun making at outdoor then this DIY pallet chair will be highly favorable to you. With very handy but creative readjustments of pallet wood we have made these DIY pallet chairs for great seating with dudes and family. You will surely find this trendy type of chairs affordable because pallet wood is just free to get your hands onto. The design of these chairs is simple but can go for great compliments of furniture and can also handle a lot of weight even that of a mature person.
Use the thicker part of the pallets to construct these chair models for so it there would be less danger of cracks in wood while adding the screws or bolts. You can paint these artistic chair designs in bunch of colors to get the specified nature of color theme on them. Do get them these hilarious and arresting components of home DIY pallet furniture using pallet which is much easy to approach.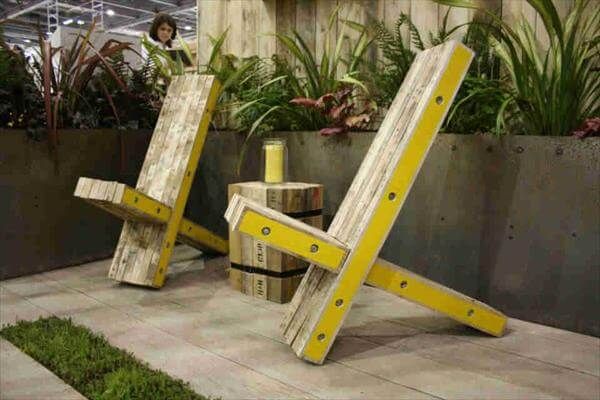 You combine various thicker lengths of pallet frames using long type of bolts straight though them. The design is just unique and different but you can pass the wood from the basic wooden reconditioning processes like in each DIY pallet outdoor furniture for example make it washed, sanded and stained to desired extent.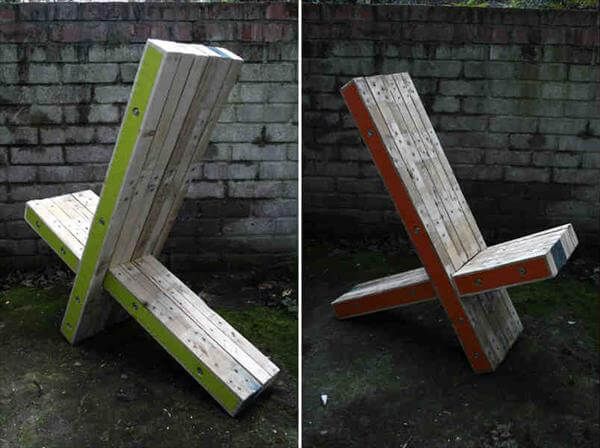 You can also built it to various custom sizes like for that of matures and kids. If you really want some yielding and no-brainer pallet idea then this chairs will be great choice having instant and super fast construction.