Home front porch or outdoor sitting is trend now whether it is summer or winter. In summers we like to sit at outdoor at summer afternoons and at winter mornings to take coffee in sunshine which is also a very entertaining experience. For both type of seasonal enjoyments we need a very sophisticated type of furniture just like this DIY pallet patio furniture which we have earned on a very short budget through pallet wood crafting and recycling at home.
We just got in no time by giving some yielding twists and molding to shipping pallets. Then we made all the components tufted and padded to combine the elegance and comfort at the same place. Lots of optional features can also be added to this pallet furniture to make it more signified according to choice. We have got the whole furniture white chalk painted which looks very distressed and shabby chic.
You can also plan this DIY pallet project for living room or terrace which are also the most preferred places for sitting purposes. We have built this furniture in industrial style and have been raised on lasting sturdiness.
We have done this DIY pallet crafting project on a big scale and achieved tow grand pallet sofa designs, a central table and 2 ottomans for sofa and chair support.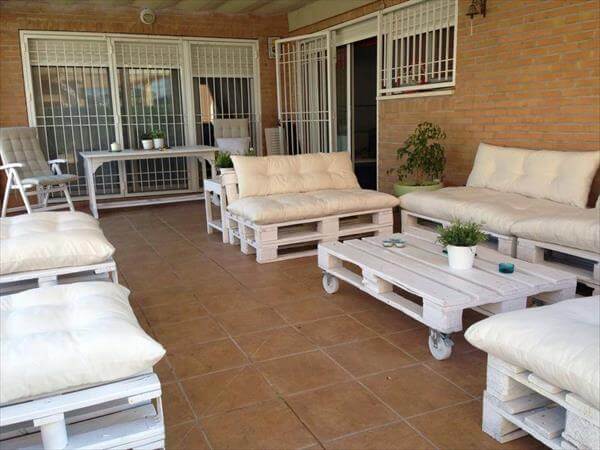 The DIY pallet coffee table which we have achieved through pallet wood reclaiming has been given an effortless movement due to chic addition of casters which can be found at any hardware store otherwise get them from a collapsed home furniture.
This terrace furniture was a great and subtle manifestation of pallet crafting and is an ingenious example to use the old and aged wood for a long time.
This inspiration tells us that odds and ends of rustic and weathered wood can be shaped into some serviceable objects if you go wisely to them.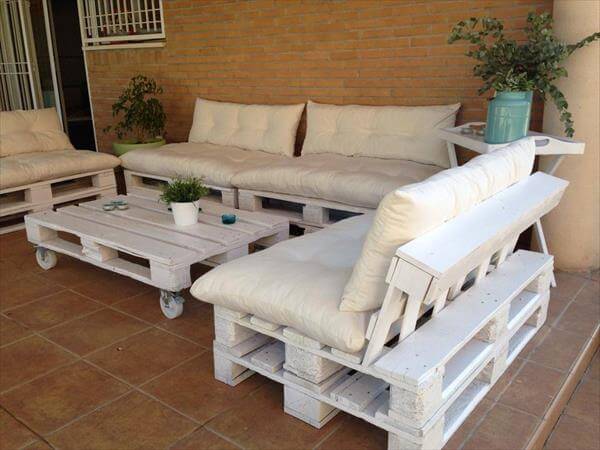 This was one also from those great DIY pallet ideas which are economically preferable and are much friendly to your budget. It contains no misuse of your hardly earned money.
If you have an according supply of pallet wood then this project will be free of cost and can be done at home with so simple and quick construction.