To organize kid's bedroom is really tough task to do as you are always oriented to kid's choices and desires while remodeling their bedroom or playing rooms. While renovating any room for kids, we can't miss the fun factor that can make your children to stay for long time in that specifically designed room. This time we are going to share a fetching plan to organize kids bedroom in most economical way. Checkout this DIY medieval toddler's castle bed, really awe-inspiring and has been perfectly installed with shipping skids that are always free and accessible to everyone.
This DIY pallet bed design comes with bunked shape and with a little bit fortification at one side. Nicely made DIY pallet stairs provide the way to reach the aloft story of the bed. Perfect plan for newly built kid's room and goes perfectly with kid's desires as it will create bits of excitement while you kids are playing in it.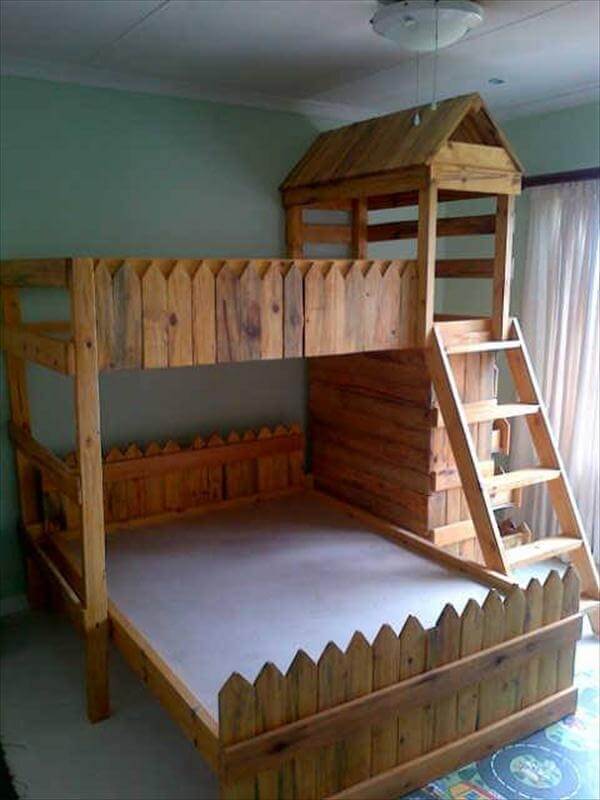 This bed structure has especially been design for toddlers for nice sleep and fun. It has been inspired from that of medieval period and replicate some of that antique fortification.
The design looks like an antique and mid century inspired palace and will surely hold the attention of your lovely children.
It will also work as a DIY pallet bunked bed to make more kids slept nicely in one chic room. Chevron cuts and enriched wooden character of wood makes it more mesmerizing and lovely in its kind.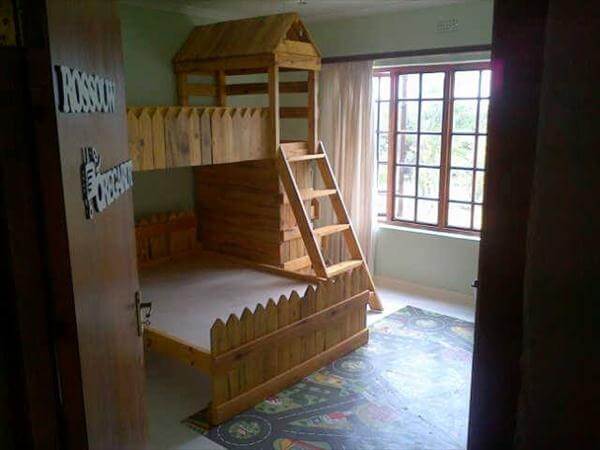 The bed also comes with fortress DIY pallet headboard that looks much engaging. To reach the aloft and higher level of this bunked bed shape nice handmade pallet stairs have been made that is another accent part of the construction.
This DIY pallet furniture really leads to an outstanding and intelligent piece of work and provides a most creative and swank way make the pallets useful again. It would also serves as a most cautious and economical plan to organize your kids rooms.