Furniture of any kind and design is construct-able with pallets. In this sharing we will discuss the creative use of pallets in designing an office furniture. Pallet wood always go much friendly to your wallet so can target it to get furniture, storage units, shelves and wall racks to live better on a budget. This DIY pallet office furniture containing a subtle and artistic chair and a standard table at its front having 2 storage drawers to store supporting material. The DIY pallet chair has artistic back and has been cushioned to get the sitting comfort.
A nice lamp has also been fixed on the table for ease of work at night. You can go with various options to finish this furniture nicely , use a top coat of paint or stain to make it look more cheerful and arresting. You can also construct the office ledges, counters and reception desks with pallets all at no-cost budget plans so just have your pallets from a dependable source and do try these galvanic pallet office furniture schemes.
You can imitate any version of office furniture using pallets as this wood source really works as a perfect solution for short budgeted people to get the lasting furniture styles in thrifty way.
Boards of pallets have been planned nicely to get a table and front office desk out of them. Strip up the pallets to get individual pallet lengths to plan and construct your targeted more easily out of them.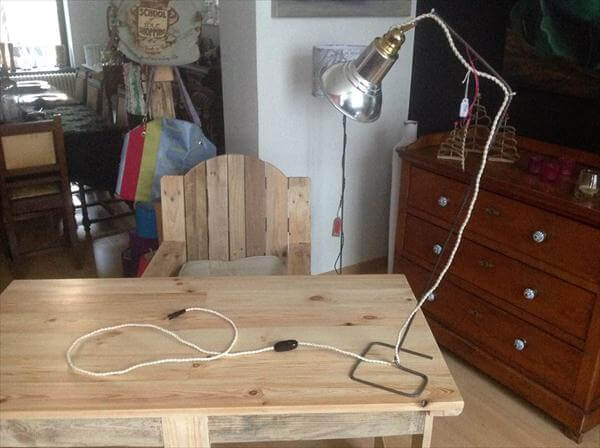 Table comes with 2 storage drawers to store the office material and conveniences and also important notes and documentation. To do your office work more nicely a terrific pendant lamp shade has been fixed at the table corner.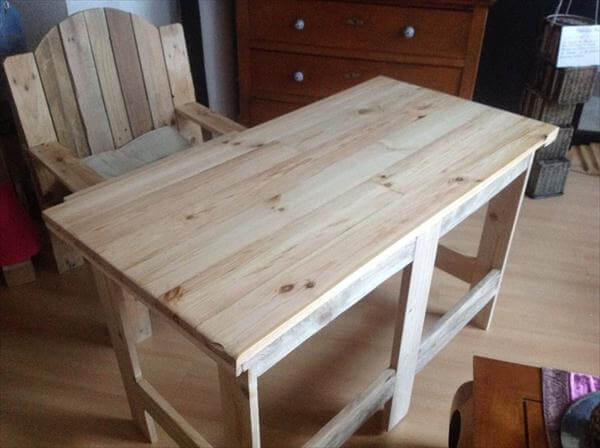 Splinters have bee removed through sanding that also allowed a smooth and overwhelming surface of the wood. Assembly of furniture has been done using nails and glued has been used for adhesive needs and purposes.
This DIY pallet project also leads to you to construct study tables, computer desks and decorative desks for home and garden. So do try them too by grabbing a good supply of pallets.