Whether it is the living room sofa or you are enjoying the outdoor with friends, it always demands for a chic type of table. If you are willing to have a table design in much thrifty way then here we have a very creative example of DIY pallet table ideas that make really stunning statements of a table. We have overhauled this DIY pallet wood coffee table by creatively joining the pallet boards. The tiered setup of two pallet boards which have been joined with bottom to bottom style really came up with a hilarious example of table.
This formulation of pallets really makes us get with a useful storage space too to store some personal items and conveniences during the sitting time. This chic white base really gives it a shabby chic look can coordinate very well to vintage and antique styled home interiors. The top is brown and have been finished with a clear coat of wood stain to gain some attractiveness and shine.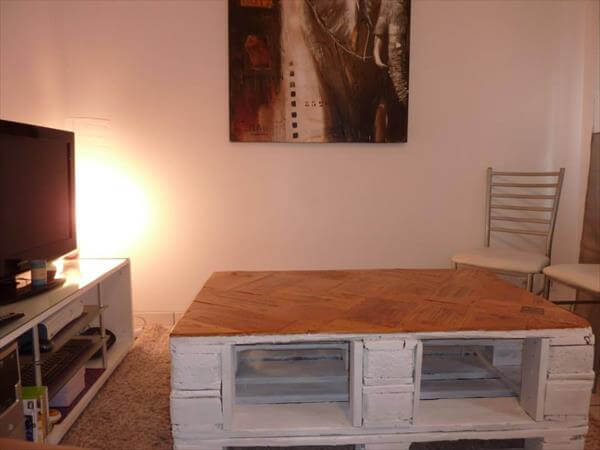 First thing you need to do in this DIY pallet coffee table makeover is the removing of bottom planks from the pallet boards. Make use of appropriate wooden tools to get them separated in no time with perfection. Spy bar, hand hammer and pallet breaker tool will be great choices.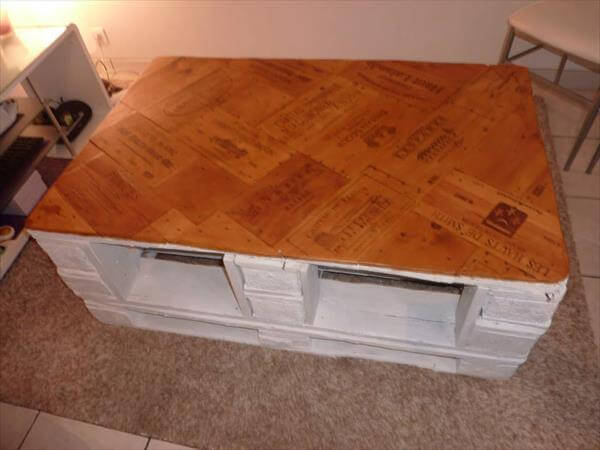 After getting a pile of individual pallet pieces pass them through some primary wood reconditioning steps like washing, sanding and varnishing to get the perfect wooden appearance which would be free of gunk and splinters.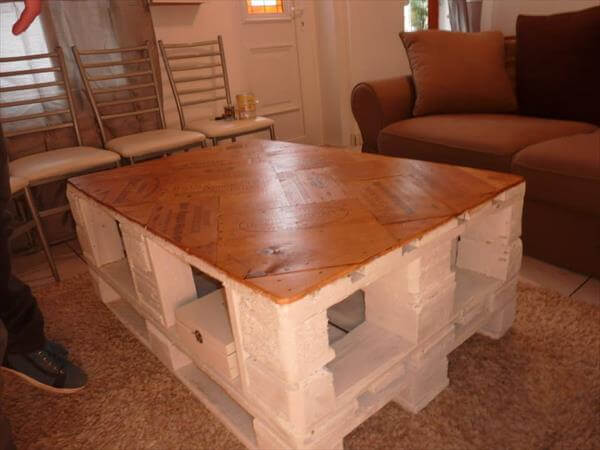 If you are thinking about a valued type of furniture then this DIY pallet table idea would be much friendly to your skills and budget and is very honest and dutiful in its character.
This pallet ideas is much friendly to beginners, give a try to your skills by making this table layout duplicated with pallet wood.