Summer afternoons are mostly lazy and people often like to read some books or to have some snacks in that time. Daybeds play a vital role to have fun in that time as you can rest on it and also read your favorite books by lying on it. To have an easy and cheap access to a daybed, you can check out this plan and makeover which really gives a well-groomed behavior of DIY pallet reclaimed daybed for your resting hours.
We just changed our workshop into a room and find a great hodgepodge of scrap like old wooden doors, some pallets and some rustic tin sheets. By using this big pile of wood and metal scrap we really got this highly amusing piece of DIY pallet wood furniture to spend great evening and morning times at outdoor. Now we will just give you the detailed instructions and steps about how we got it. This DIY pallet idea was really a fun and we did not spent a bit of our money in whole framework.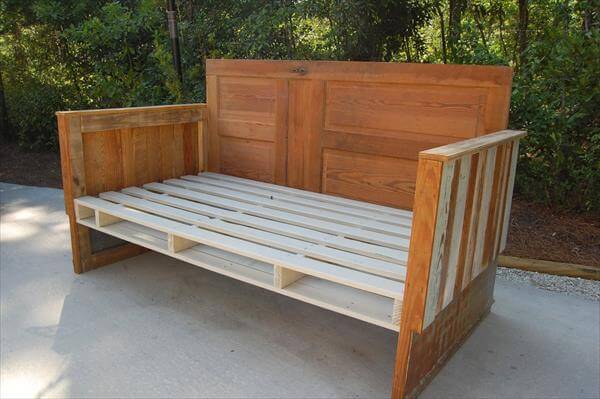 We have used an old DIY pallet headboard, a complete big sized white pallet board, a side pallet wall and wooden door to get this serviceable behavior of daybed for your home.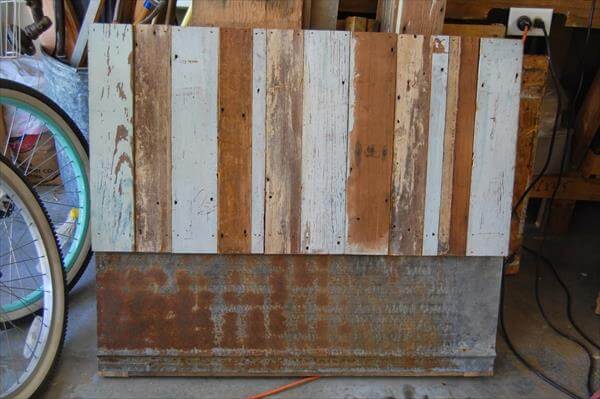 This is the old headboard piece we found from our workshop, it was really having a weathered and ultra-rustic appearance but yet was good to be reclaimed. So we repurposed it to be side wall of our targeted daybed.
If you are not having such a collapsed furniture pieces then make all the parts from pallet wood as it is free cost, sturdy and much easily accessible.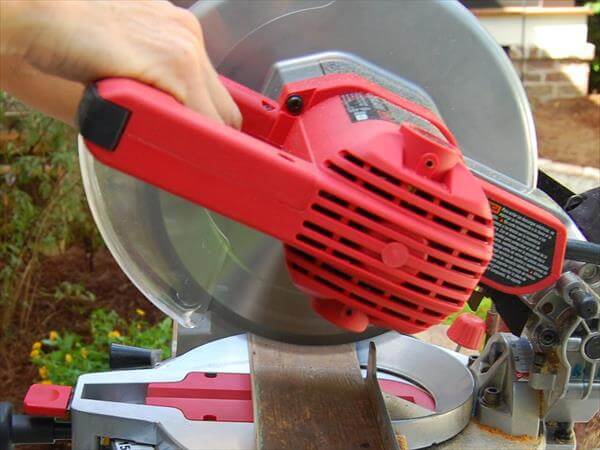 Now we were just needed to prepare another sidewall for our daybed. For this purposed we tore apart some pallet boards and get the individual pallet pieces in according lengths by cutting them using the miter saw. Miter saw gives a sharp and neat cutting and you don't need to handle the wood while making cuts with it.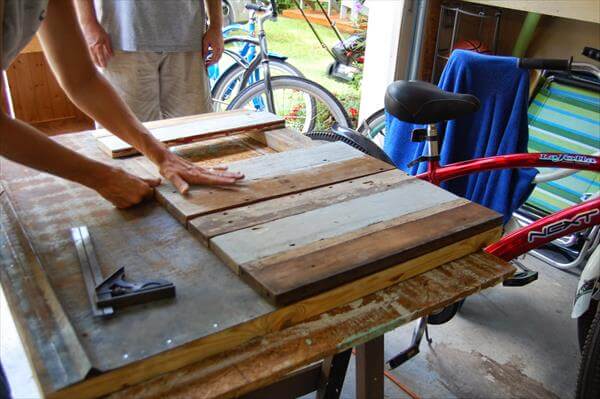 Cutting a set of equally thick and long of pallet planks we just make a board out of them and then applied one more layer over a piece of tin sheet which has been made sandwiched between two pallet layers.
This worn tin sheet has also been reclaimed from the clutter received from the workshop. We fixed the sheet on the wooden frame using nails this will really give a likeable metallic nature and touch to this wooden piece.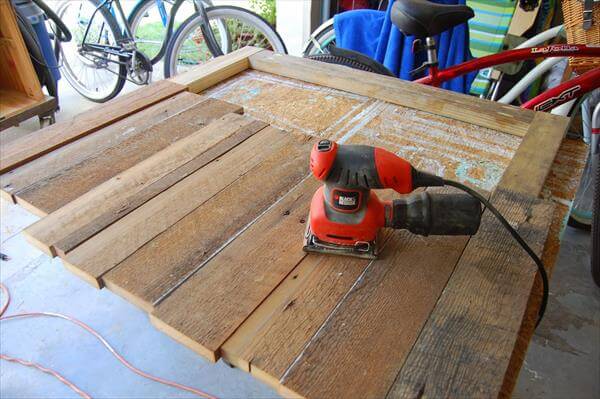 To root up the splinters and to give our wood a very smooth touch, we sanded the wood down using an electrical sander tool. This also allowed a chic shine on the wood gains and gave the wood a gently worn finish.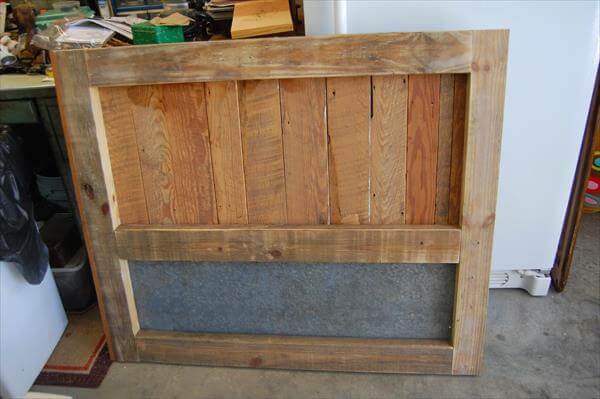 This is our final side wall pieces for our chic daybed, the sanding really make it sophisticated and safe to touch from all sides. Now it is just ready to be settled tight with rest of daybed structure components.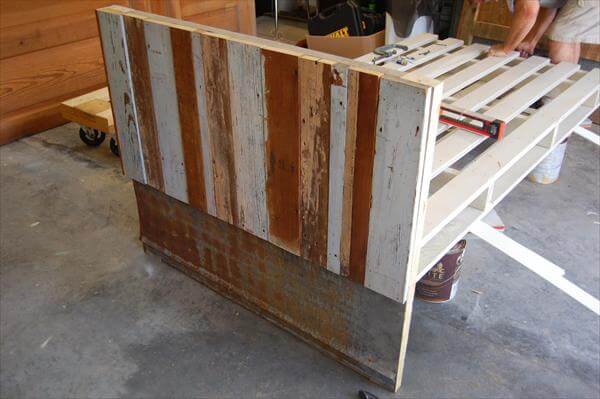 Now the final part of the construction, the assembly of all parts. To get the berth section we used a big sized pallet board after getting it sanded and white washed. Then we fitted it between the two sides up to a certain height and fitted it with nails and screws. For best results, go with accurate measurements.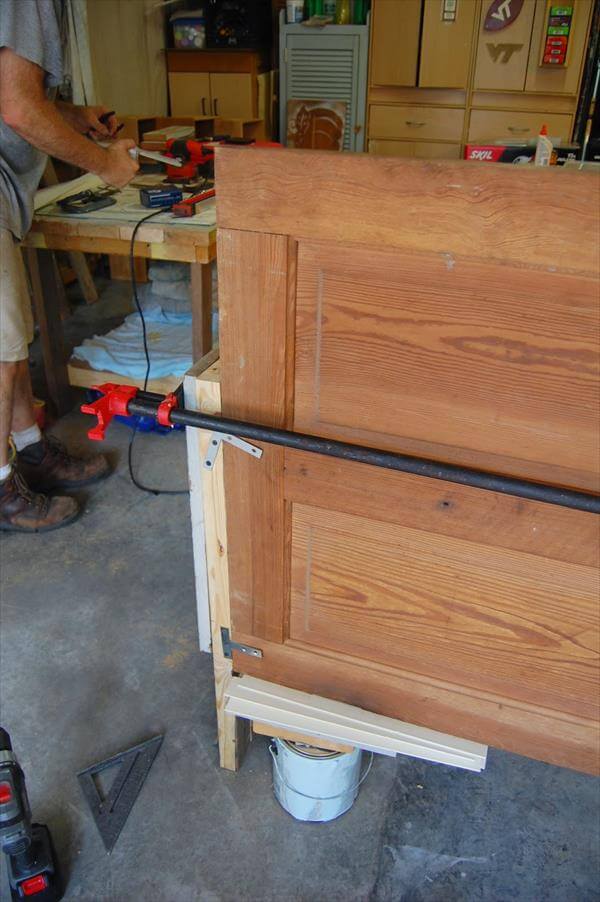 We reused the old wooden door after getting it reconditioned, to provide the backrest for our bed. We reclaimed the iron angle brackets and hinges from the home scrap to hold the door tight and in vertical right angled position.
We also repurposed an old metal rod with metallic holders to support the door from the back as it carries more weight than any components of the structure.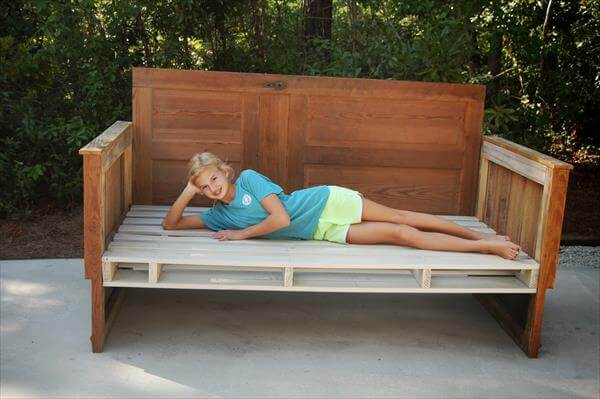 Here is what we want to achieve using whole this scrap, a super and comfortable daybed layout. Make it cushioned to provide comfort to this wooden elegance, you can also use a heavy duty thick foamy mattress for this purpose.
You can also done this entire pallet daybed with pallet wood only and on a no-cost budget. If you have some easy and reachable source to get pallets then it would be great as you can every chic piece of furniture out of it like pallet chairs, tables, bed frames and even the multiple seated benches.