Sometimes you wish to have that wishing well you have seen in the stories so that you can make your every wish come true. Every one have desires and wishes like money, cars, luxury houses etc and what if a say that the third wish can be fulfilled without any expenditure? Yes you read this right using the recycled pallets you can build all those stylish furniture and fancy decor props for your house that you have ever longed for.
And here on this DIY pallet projects you can find all the pallet ideas and plans in order to have fully furnished and styled house with all types of decor possessions too and thus ending up having a luxury house of your dreams. What wonders pallets can do? A little glimpse of its recycling powers have been shown with these DIY pallet ideas to to be in your next to do list of pallet projects. This small round up involves something really splendid for each section of the house like gorgeous and stylish seating ideas for garden, a dazzling sofa for deck and nicely build fence for the garden with two mounted planter boxes adding more fascination. Then coming to the indoor section we have rustic styled beds for the bedrooms one of which have a grand existence with base storage crates.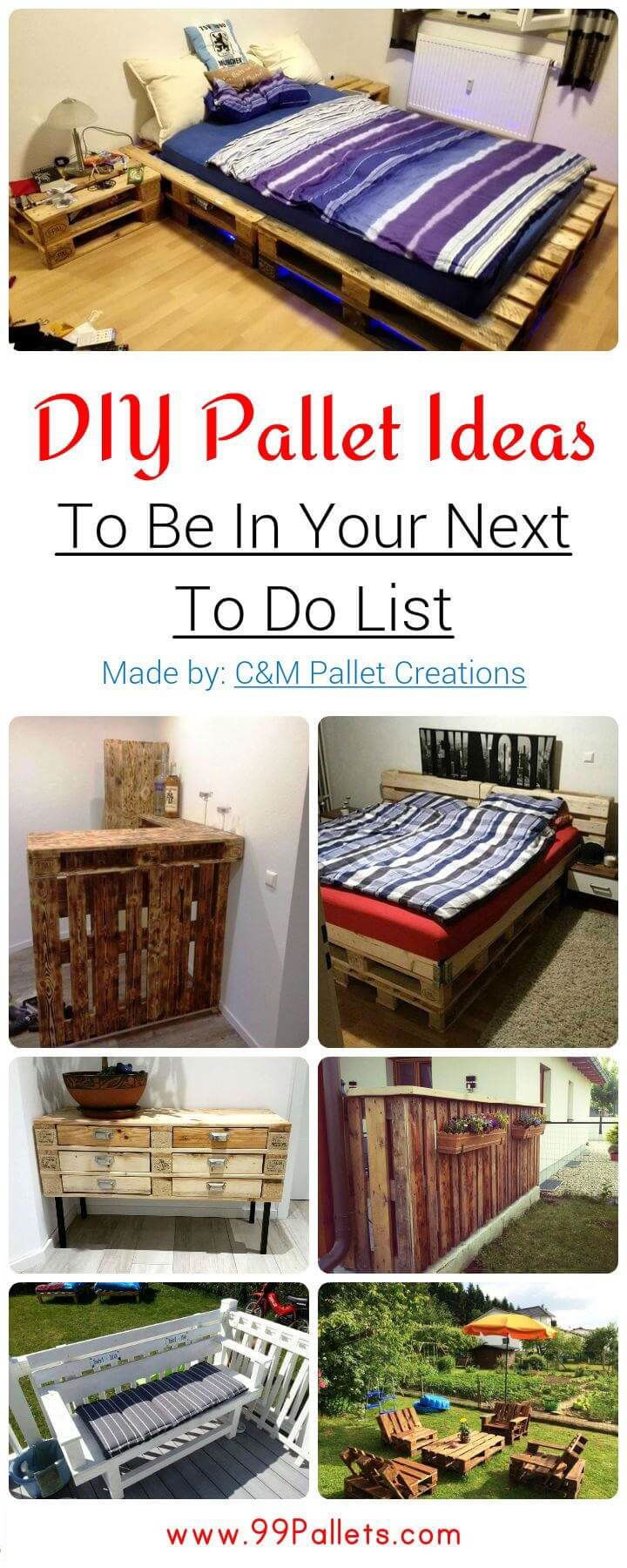 Further in this category we have a small L shape bar for the living or lounge corners to enjoy some fun time with your friends a shabby chic chest of drawers with metal legs to hold a much of your knick knack.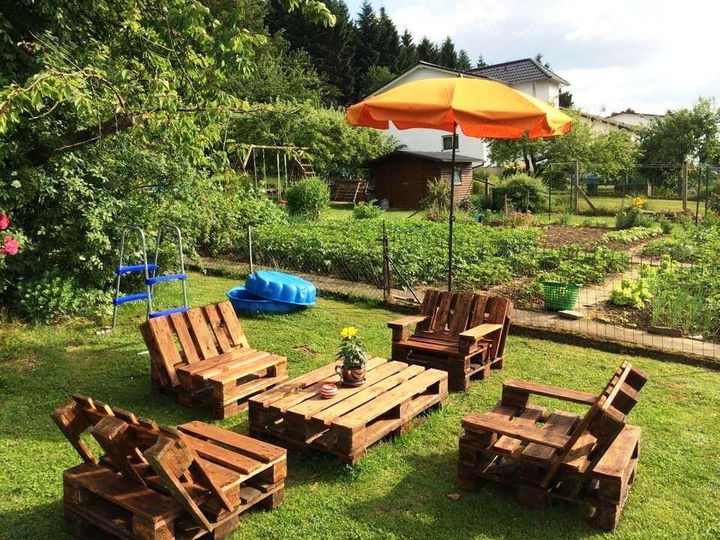 You must have seen many styles of the outdoor seating but this is totally unique in its style, design and shapes having been build from the full pallets to form the seats of the sofas and the single face skids tucked in the seats to act as the backrest.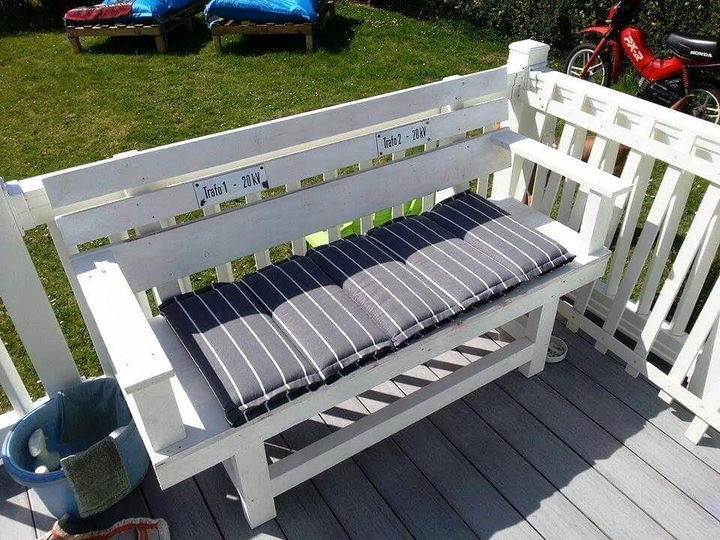 Pallets can really create the gorgeous and stylish pieces of the furniture and this lovely sofa for the outdoor deck area is the proof to that having been easily made out of the pallet slats and finished in the elegant and dazzling white hues of the stain.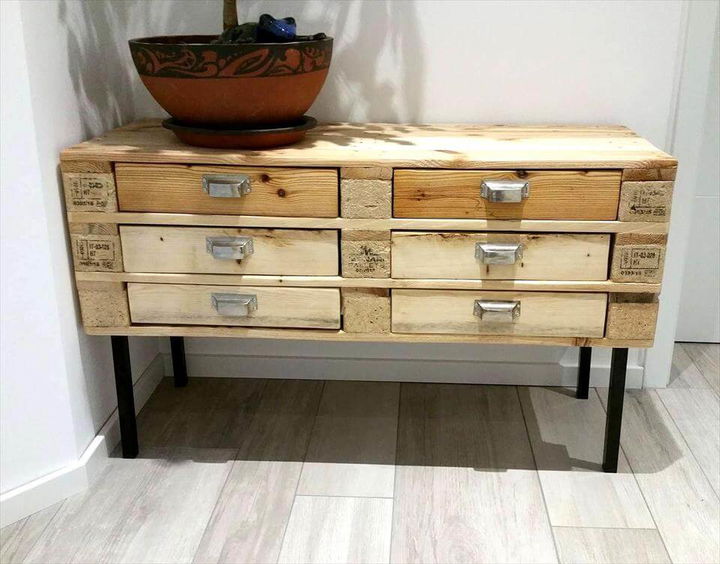 Here is the stylish and functional solution to your storage problems with this pallet chest of drawers with six drawers to hold a plenty of your stand, standing sturdily on its metal rod legs and adding shabby chic touch to your spaces.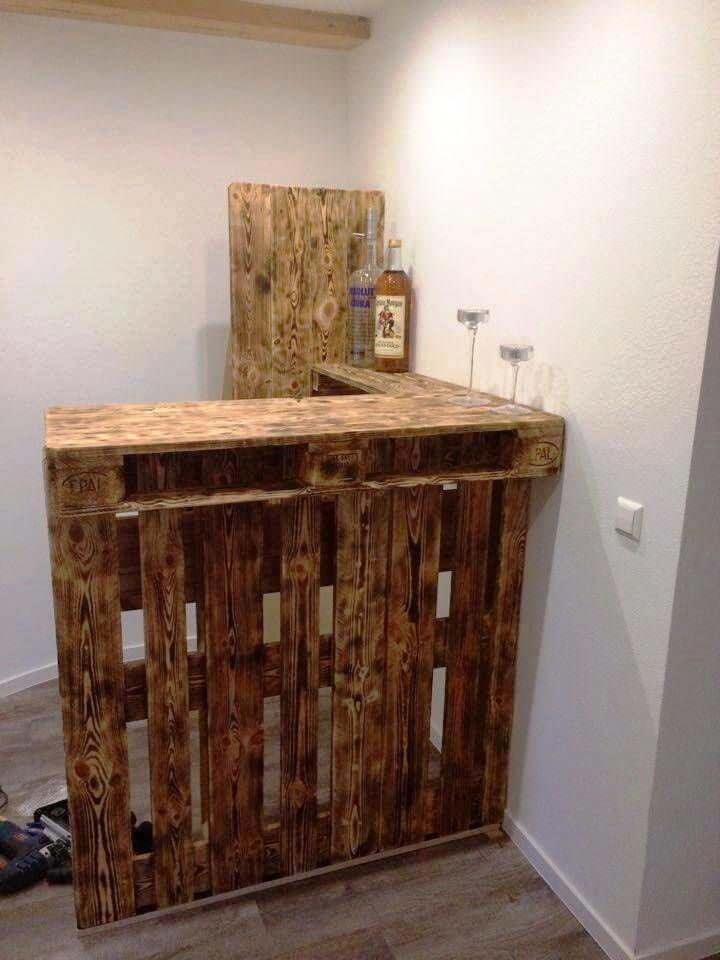 To install this L shape bar, the pallet slats have been used vertically to form up the supporting base and the pallets with dice sections on have been used for its topping to fit and suit your corners and creating a bar station for you. Get more bar here: 50+ Best-loved Pallet Bar Ideas & Projects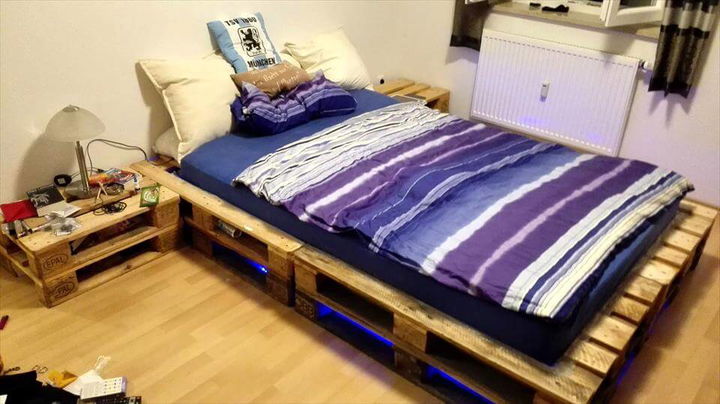 Get Your dreamy bed room this rustic style bed having a smart feature of displaying under lights and have been build with the stacking of double face pallet skids forming a platform also with a cute and mini side table to hold your knick knack stuff. Are you need more ideas for your beds then we have 42 DIY Recycled Pallet Bed Frame Designs for your bedroom at no cost.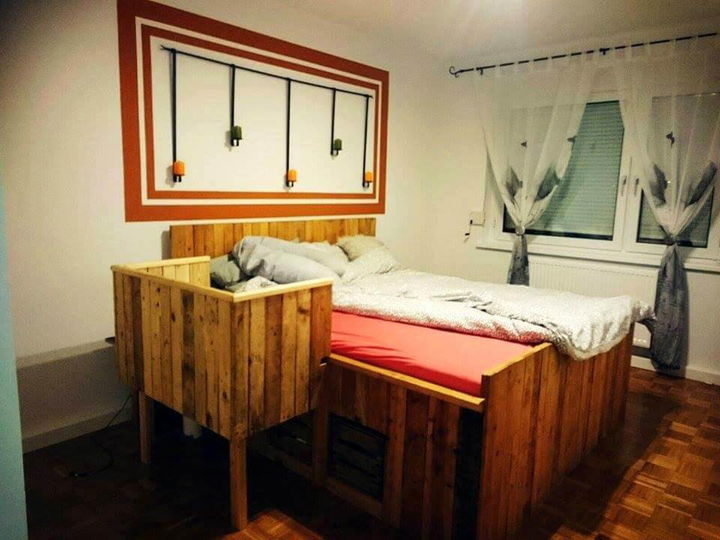 This bulky size bed is a multi functional pallet creation as it is stylish, comfortable and boasts the base storage option in the form of crates to hold a bunch of your books, clothes, bed sheets and much and that too with a rustic flair touch.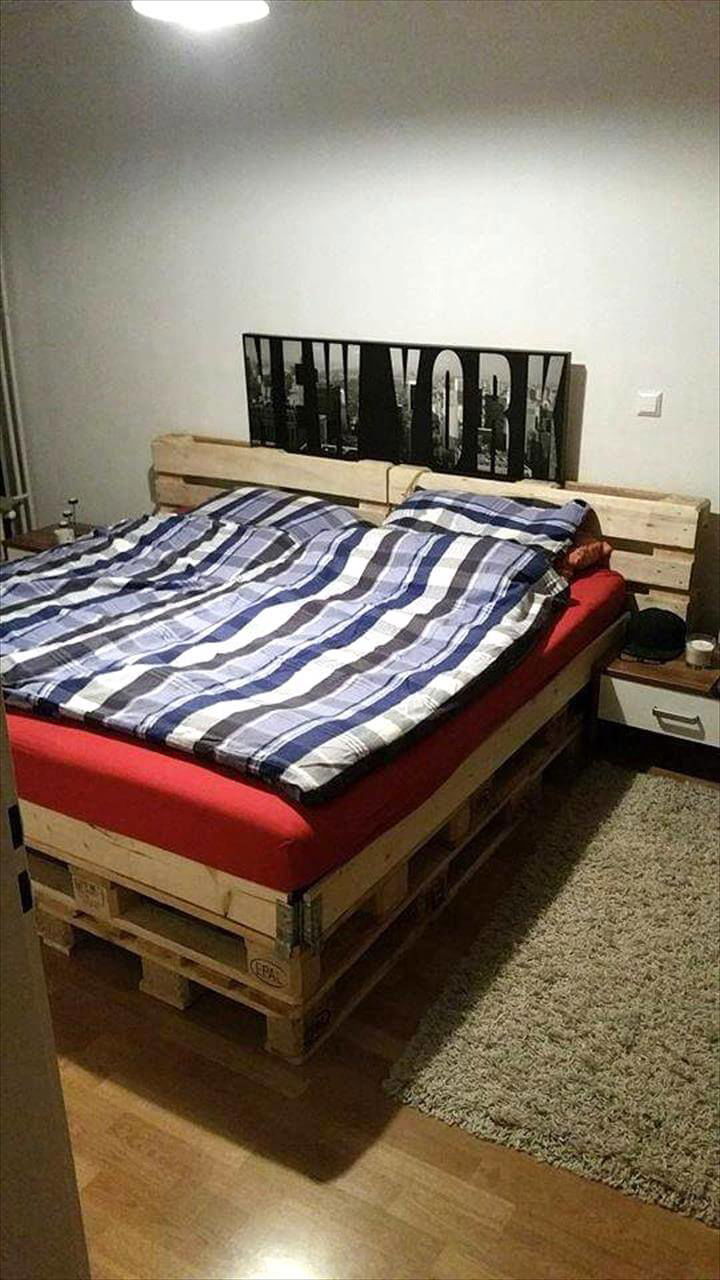 Pallet Fence + Planter Boxes Holder:
This rustic style pallet bed would make your whole bedroom look really a country inspired space as it reveals the rusticity of the wood with subtle and warming tones added to decor having been easily installed out of the full pallets.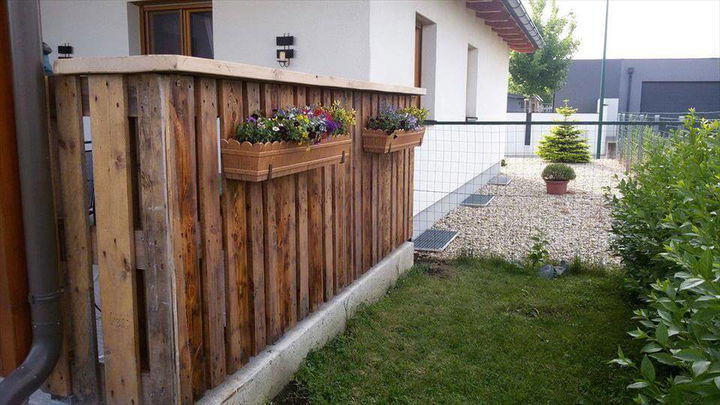 There are many things that need to be separated from other sections of the house like a garden has been separated from the porch area using a pallets made fence + planter box holders and thus adding more beauty to house.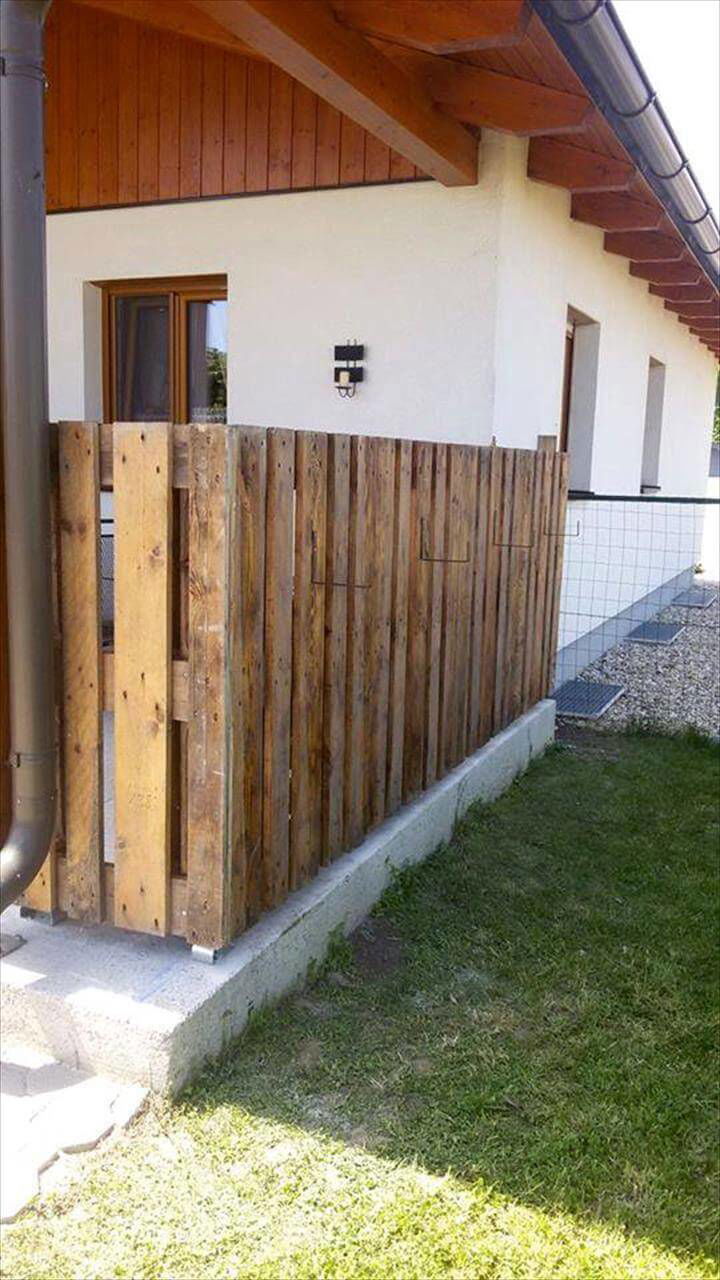 This pallet made fence or boundary has been build from the pallet long and sturdy slats having been sawed from the pallets and then stacked to each other in  vertical direction with some L shape hook support to carry cute planter boxes on.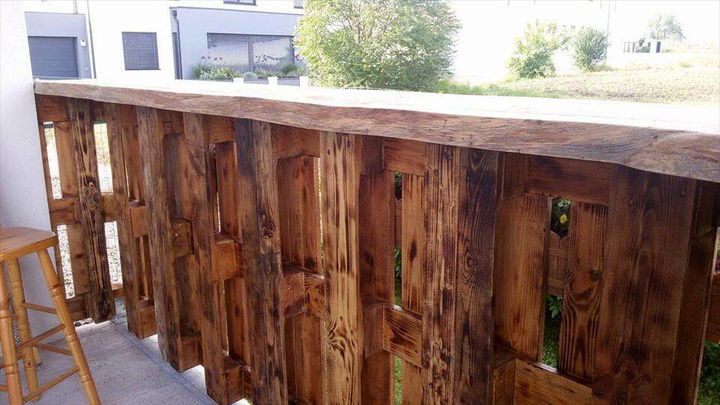 This boundary line or the fencing from the pallets have been made to look complimentary for the decor by getting it stained int he dark brown choc hues of the stain which makes it looks really rustic and enriched in woody texture.
Made by: Avant j etais une palette Au petit bois