Outdoor sitting in leisure time is always fun and outdoor furniture plays a very important role while we intend to enjoy the rains and sunshine at outdoor and patio. Here we are with a very adored DIY pallet outdoor furniture plan which is extremely rustic and mid century inspired. We had an outdoor shed which we had reclaimed from some old wood logs. Now it was the time to make some sitting arrangements according to the rustic wood log theme.
So we took a visit of the near one shipping areas and got lots of pallets from there. Then we made them wisely adjusted according to desires and got this DIY pallet patio furniture from it. This came up with a very nice sitting purpose having a vintage impact and theme. We have got a set of cheerful DIY pallet sofas, a pallet chair model and a table to be at the mid of this sitting plan for a great support to the edibles and beverage delights.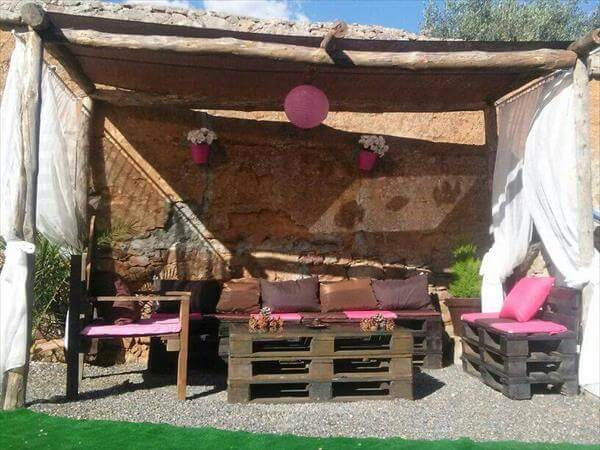 Such an sitting plans and arrangements can be held at various locations such as at terrace, in garden and at backyard of home. You can coat the wood with dark walnut stain to have lasting endurance and strength and more clearance of the rustic wood style.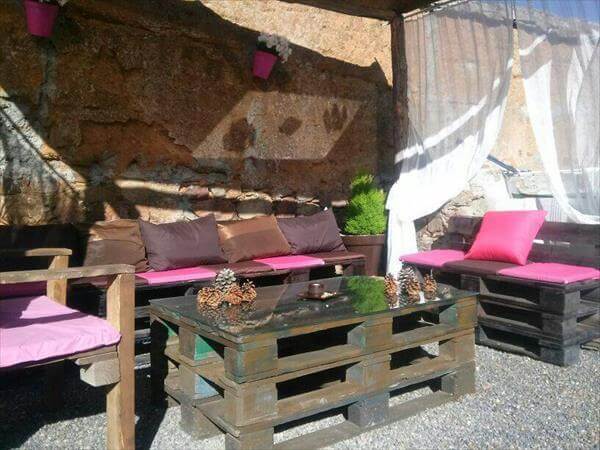 To gain this beautified and dignified rustic sitting to relish the outdoor in extremely rustic manner, is just not a big deal. Just arranged the pallets in tiered arrangement and get your favorite ones tow seated or five seated sofas out of them.
You will only have to buy the cushion or mattress to combine the wooden elegance and comfort at one place.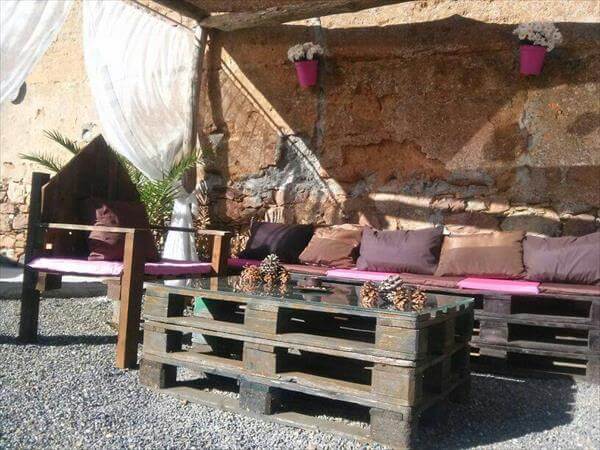 After getting this wooden setting to any of your home front porch or at home deck, throw some pillows along with cozy mattress to make it idolized and luxurious in its trends. This is a super fast and one of majorly adopted DIY pallet ideas which are also zero in budget.