Exact and according type of furniture is the only way to get a comfortable living style. In this modern era where every home concern has higher and expensive rate, the prices of industrial furniture are also untouchable. If you are interested in wooden projects and really like them to do at weekends then you can create your own utility furniture as we have made this DIY pallet bench and coffee table by readjusting some shipping pallets.
If you have seen pallets and have also some reachable ways to get it then you can go for a custom built of every furniture component out of it. Home patio, garden and deck are the areas which cannot be relished without sitting furniture like benches, chairs and coffee tables. We have redone a bench and coffee table which make a complete set of DIY pallet patio furniture to enjoy the summer afternoons and winter mornings with cup of tea in your hands.
Pallet Bench:
Benches provide the best way to make multiple people seated at one time. So they can been seen in parks, home gardens and lobbies for individual and occasional sitting.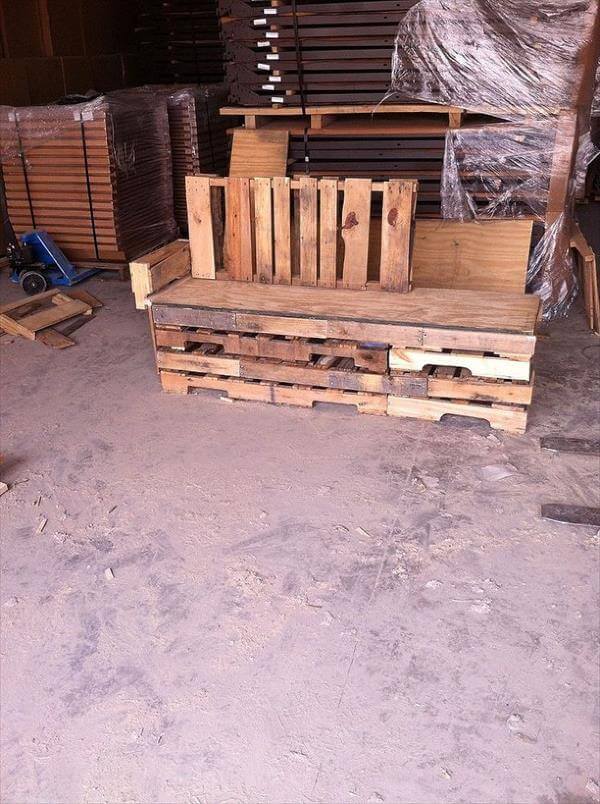 We were also needed a bench at outdoor so some rustic shipping skids really provided us the cheapest but sturdy way to get it. Without using our time and effort in excess we got this rustic bench frame.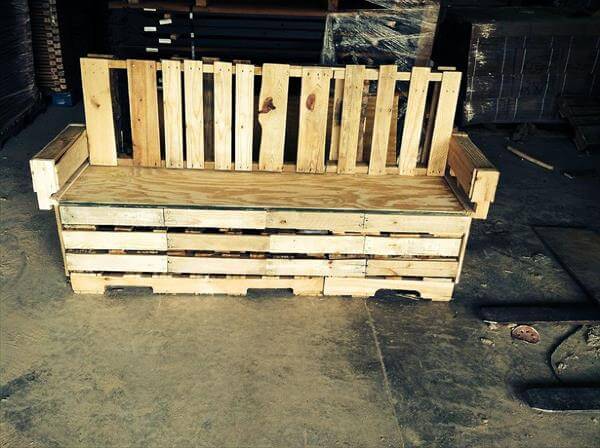 Pallets have been arranged on one another to provide the standard and according height for a chic bench and then we paneled the berth using a sheet of plywood.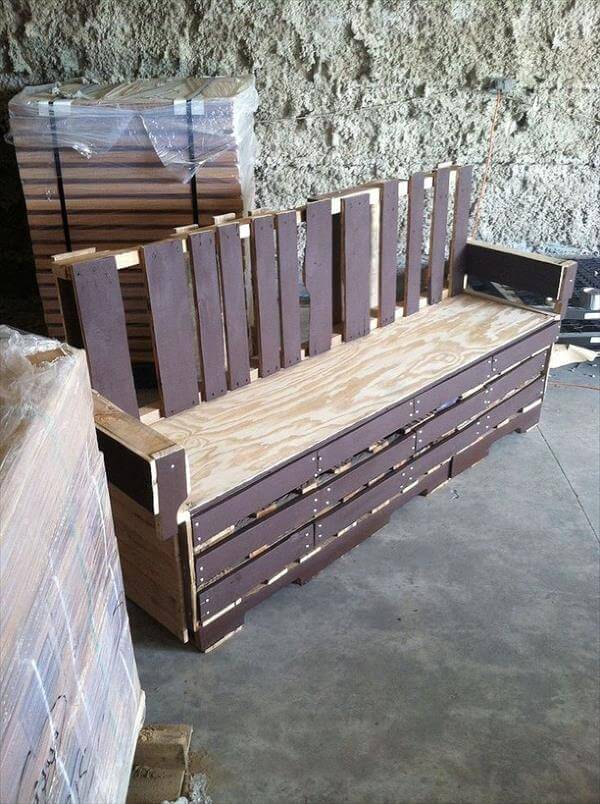 Then we provided it the backrest and armrests using mini pallets and the gave a smooth finish to it by applying the plywood. A little bit sanding of wood always help the wood in getting smooth touch and brightness on the wood grains so also gritted the wood to an extent.
Pallet Coffee Table:
We have prepared a chic plywood and pallet coffee table to support the previously prepared DIY pallet sofa or bench whatever you want to say to it.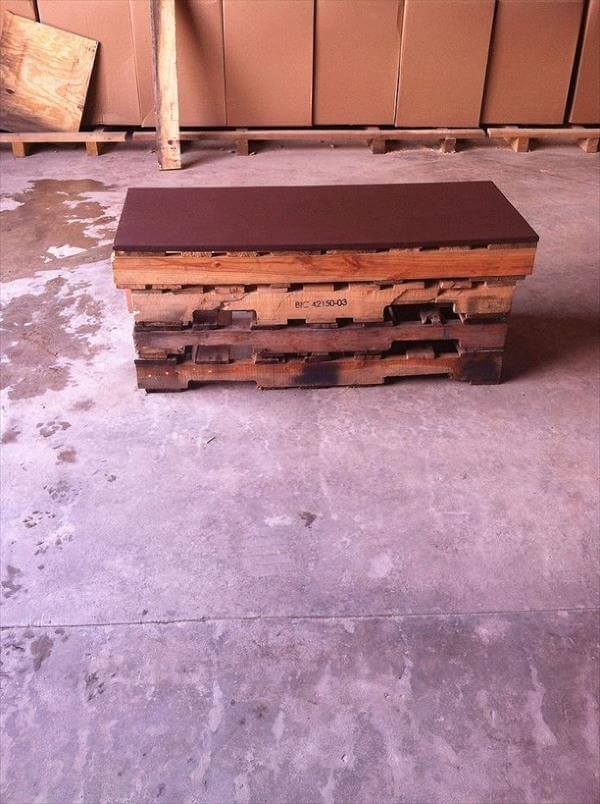 Inner skeleton has been made prepared by tiered rows of pallet and then for a smooth top a sheet of plywood has been fixed. We have also applied a layer of dark wood stain to be appeared in a nice wood shade.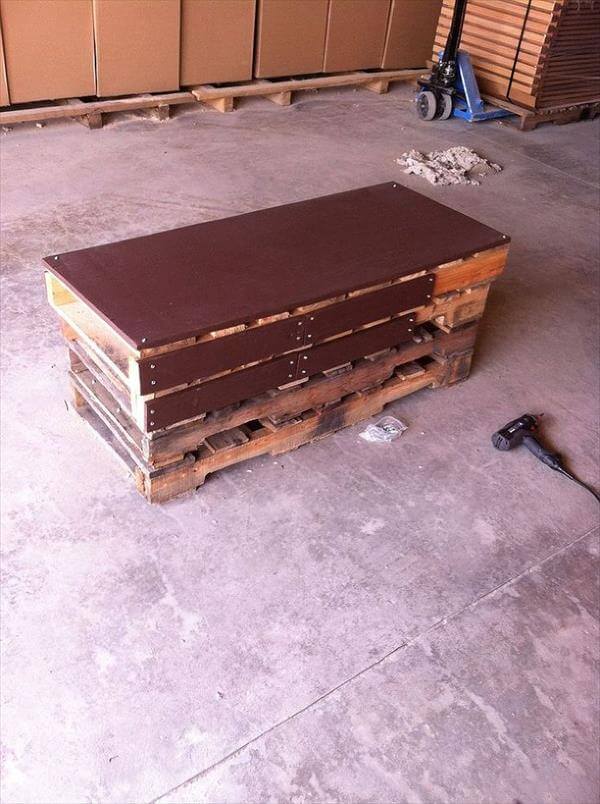 Pallet was not looking perfect from front and back side we also applied the lengths of plywood to give them a gentle and smooth finish. We added the plywood boards using using screws with screw gun.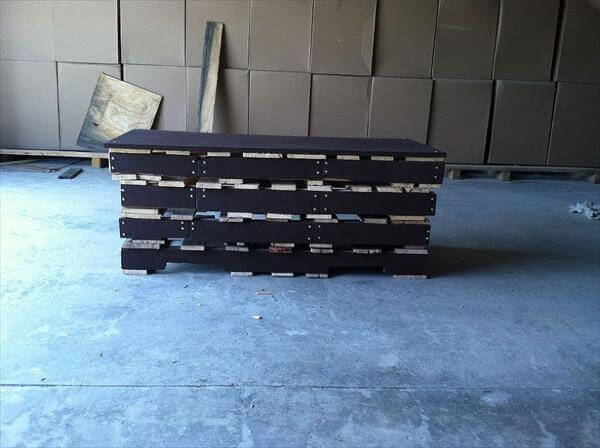 The we done the same with back of the coffee table and prepared a chic design that cannot be beaten easily in design, sturdiness and of course the cost price.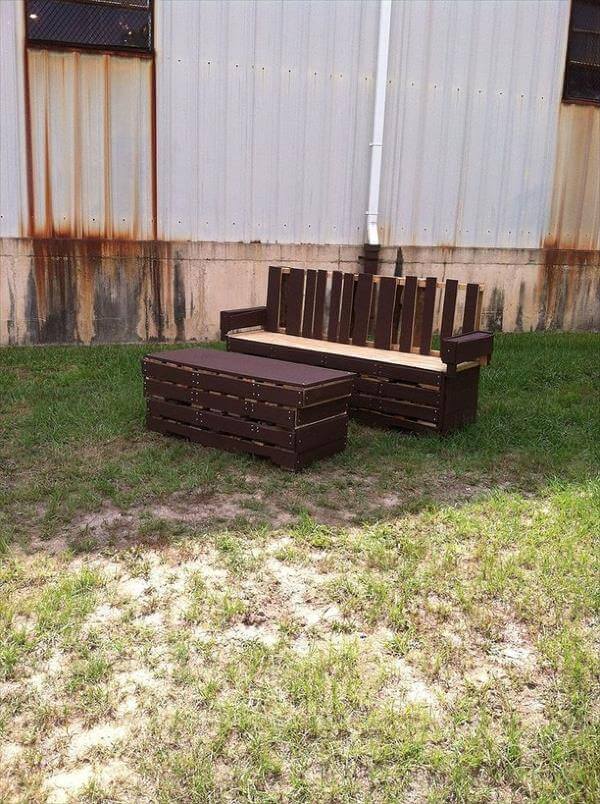 Here is our DIY pallet outdoor furniture set manufactured in less than a day. Stain and paint can be used according to personal specifications and choices and really lead to better performance and appearance of wood.
This smashing DIY Pallet idea for chic furniture can add a vibrant behavior and elegance to your open outdoor by providing true and honest layout of furniture on a budget. Make your home look warm, cozy and comfortable by using the pallets in creative way to get further improvements of your home.