You cannot stay in your home all the day long as you have to come outside to relax and chill out in pleasant weather. If you are having a garden or deck then it is obvious that you need some sitting furniture there to sooth your nerves in leisure time. Industrial furniture designs and plan may cause a heavy load on your wallet and you may find them unaffordable. Here we have a perfect and cheap solution for outdoor furniture in shape of this DIY pallet sectional sitting plan which is much doable and affordable to a common person having a mediocre income.
To do this DIY pallet project is just not a big deal, you just need to floor the pallet on each other and you are just done to have a chic patio furniture. You can make this DIY pallet sectional sofa duplicated to get some elegant and extra sitting place for your home outdoor. You can chill out with your coffees by sitting on this pallet furniture under the stars and moon gazing at summer nights.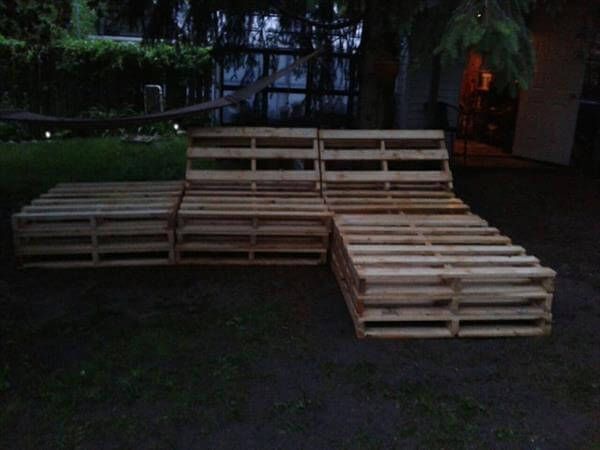 You will be needed the pallets in excess for this kind of project and one good news is that you don't need to tear the pallets apart in this project and the processes of cutting and measurements have also been skipped in this pallet plan.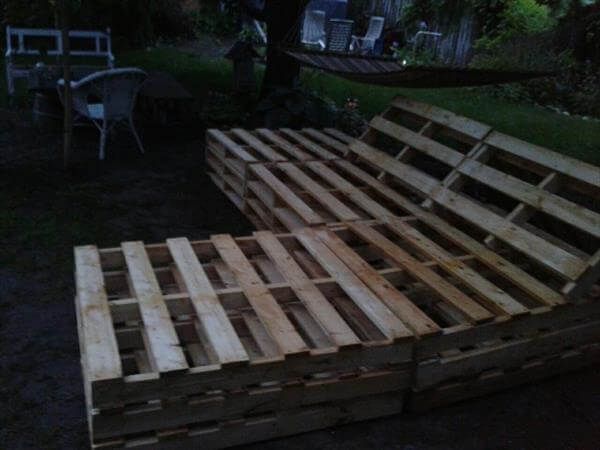 Just arrange the pallet boards in tiered style until you reach the certain height and then provide the backrests by using angled iron brackets and enjoy a fun place for your outdoor.
You can see some empty spacing between the pallets, if you make it cushioned then this spacing can comfortably be covered without any hitch or trouble for a serene type of sitting.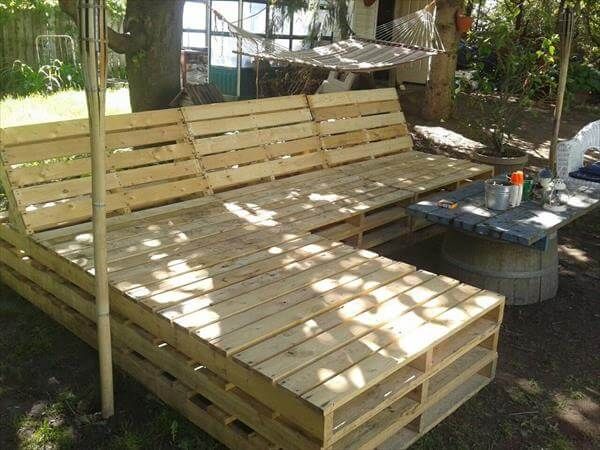 If you want to make it upholstered and cushioned then fill the spacing using pallet lengths and pieces and this would also give a chic wooden appearance. By putting a DIY pallet coffee table at the mid you can enjoy great conversations and gossips with your family rush.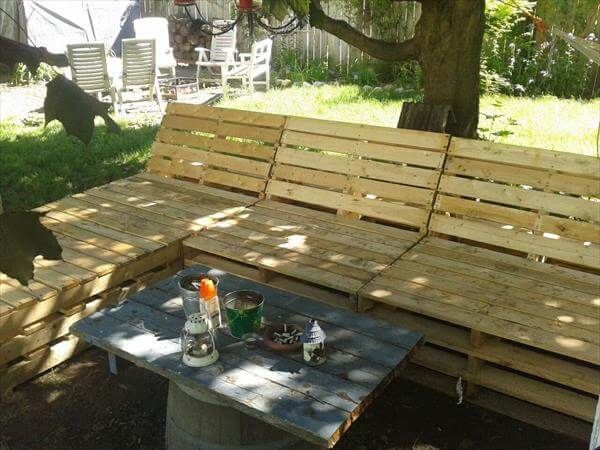 If you give an angle to the backrests of this DIY pallet outdoor sitting unit then it will only increase the comfort value but it will also make you get with a boss like sitting.
This pallet inspiration and idea is just great to create great sitting plan for you home deck, front porch, patio and garden and you can also copy this pallet behavior to create you own DIY pallet daybed, pallet sofas, pallet loungers and pool side sitting units.