We are completely sure about this furniture that it will held much precious and gracious to you. See the elegance and comfort at one place in shape of this DIY pallet patio furniture which has totally been salvaged out of pallet wood. Shipping pallets are not much rare they can be find at any space like at near one nurseries, backyard and at surroundings of a area under construction. If any of these plan does not work for you then go straightly to shipping area and get the according supply of pallets.
This pallet patio furniture project involves nothing like that of cutting and disassembling of pallets. We have just sanded down the pallets to get a smooth and splinter free wooden touch. Then we made it while painted with water base chalk and readjusted them to gain this chic sitting plan with one grand 4 seated DIY pallet sofa and tow 2 seated pallet sofas for out terrace. Central coffee table has also been repurposed out of pallet wood recycling which act as a centerpiece and gives a complete impression to whole patio furniture set.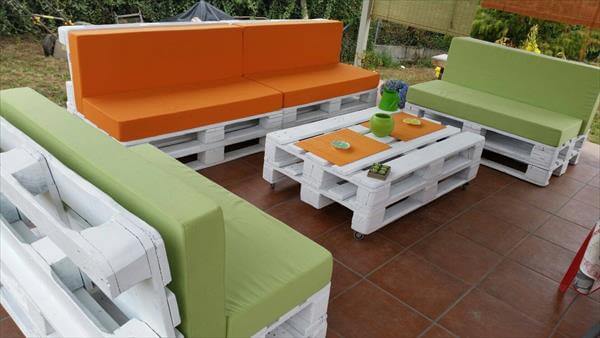 Pallet board and skids have been assembled in some horizontal and vertical alignments to form a "L" shape to provide a caring sitting plan for outdoor.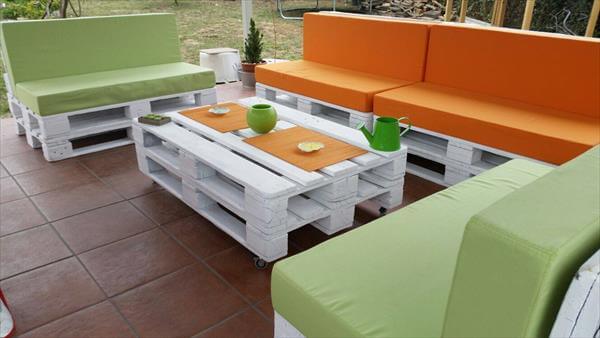 Whole of the furniture has been raised in distressed appearance and has a splendid endurance. We have provided the high density foam mattresses to all sitting components and have paid only for mattress in this whole pallet projects.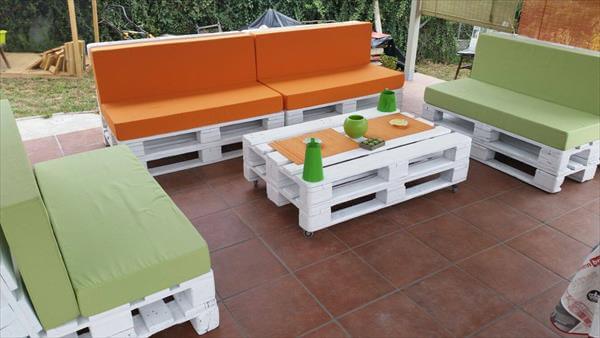 This arresting design of handmade furniture has been given an Eco-friendly nature which can add a very charming character to any living space whether at outdoor or at indoor.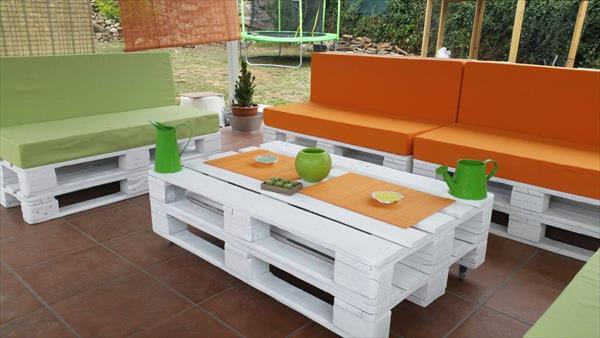 You can also use this DIY pallet inspiration in your living room to solve the sitting issues on a much low budget plan. Grab the lowest price but sturdy pallet sitting plan idea which is great in providing the royal and deluxe feel of comfort.