Home lawn, patio and garden are mostly the charming outdoor places which are preferred for sitting in summers. So if you go to buy some industrial outdoor furniture it will spend a great from your budget but we have here a much thrifty solution to make our patio capable for seating. We have organized some pallet boards and skid in tiered form to get this DIY pallet sectional sofa which is much easy to do at home. This was simply the best DIY pallet projects which provides an entertaining sectional sitting at our patio.
You just need to have some sturdy nature of pallets in the stock to get this whole DIY pallet patio furniture for home. You can adjust this swank pallet behavior at any of your terrace, home deck and front porch to enjoy the outdoor open environment. So keep looking for pallets in the surroundings and backyards of your home to do such a great DIY pallet crafts which make a great incredible increase in home functionality.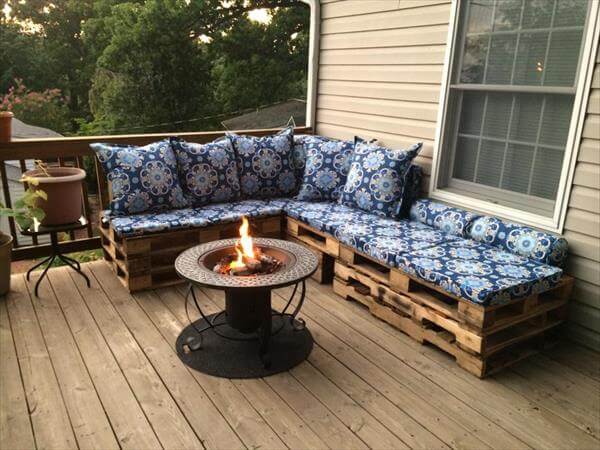 We have not used any of heavy wooden tools in this construction, this project is free from cutting and dismantling of pallets and is just much handy and straightforward in manufacturing. We have just cleaned and sanded the planks to a extent and did nothing further except to make them aligned in this sectional tiered form.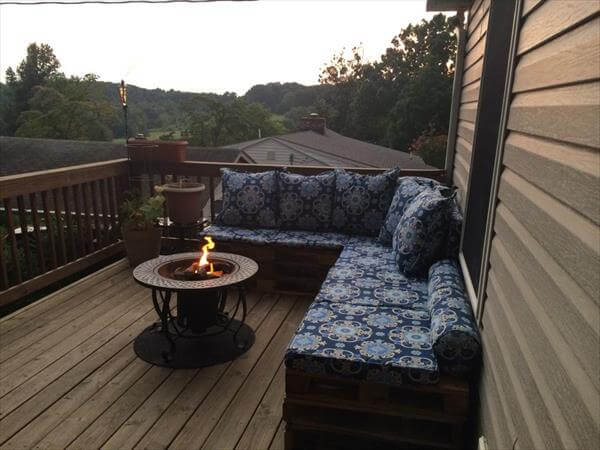 You can call this pallet project a whole renovation and remodeling of patio which is now totally changed with the addition of this DIY pallet sofa and now has enabled sitting for multiple people at the same time. There is lot more to be revealed out of pallets by creative process of reclaiming and recycling of wood.