The display of pictures and paintings is the first preference while thinking of organizing a wall layout of any room but living room mostly. The wooden setting and frames look great around memorable murals and portraits. By going on this fashion trait track we have newly synthesized a DIY pallet photo frame for sweet memories and snaps of our lovely and happy events in life. You don't need to purchase this picture organizer; you can execute this resemblance at home with your creative mind and skillful hands.
If you'll be successful in finding the pallet from near one and accessible source then you will enjoy this likeable and magnetizing picture wooden border on your wall free of cost. You can mount this picture handling support on wall with many wise alignments for better displaying and broadcasting of your remarkable past events. We have attained different alluring and appealing types of pallet candle holders, nicely shaped beds and chair furniture though pure salvation and reclaiming of pallet wood.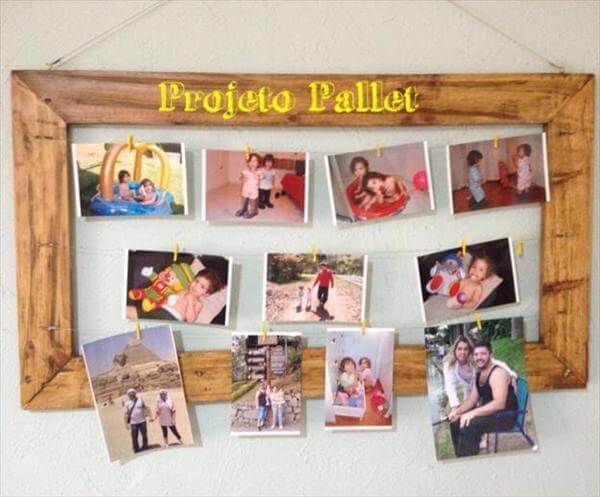 Great idea to describe your previous life history and sweet events which make you sometime emotional with just one loving look on them.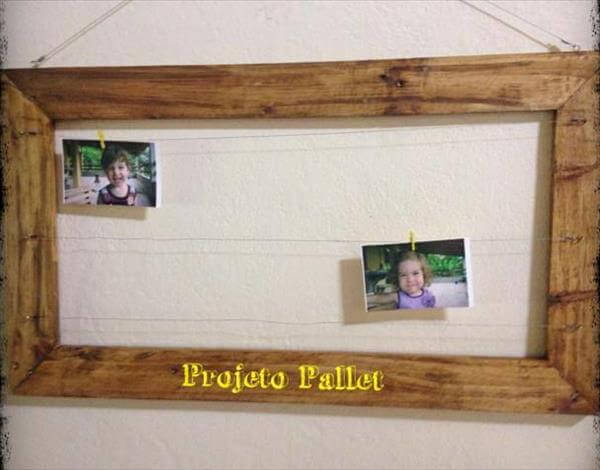 You can say many things through your lovely pictures which are nicely hanged  on two strongly held metal wires from one end to other end of the wooden frame.
You can make montage and picture gallery of all your historical life events which have been saved as pictures. Give them all a sensational and absorbing display by making them hanged on these three wires, tightly fixed horizontally on the wooden border.