The kitchen is the most busiest room which feeds the whole home members. It also a room that cause a great rubbish heaps due discarded odds and ends from the eatables like vegetables, fruits and also the lids and tops of beverage bottles. In short, you can say that it is most desired area of any dwelling that need a well-build storage arrangement. This handcrafted DIY pallet recycle bin will help you kitchen a lot by providing a quick and easy to handle bin.
You can make accompany this wooden setting very cautiously if go with pallet wood, a remarkable wooden recycling source. All features which are extensive to get it functional in its trends have been added at home. This DIY pallet recycle bin has very pleasing opening at top and sides. The construction architects is very handsome and systematized with hardware touch like hinges, screws, brackets and studs. You can manage the whole makeover at home for this dutiful DIY pallet project home storage need.
 Material:
2.5″ and 1″ inches screws
Spy Bar
Wooden Saw (Circular saw recommended)
Cellophane Bag
Hinges
Angle Iron Brackets
Staple Gun
Screw gun
Measuring Tape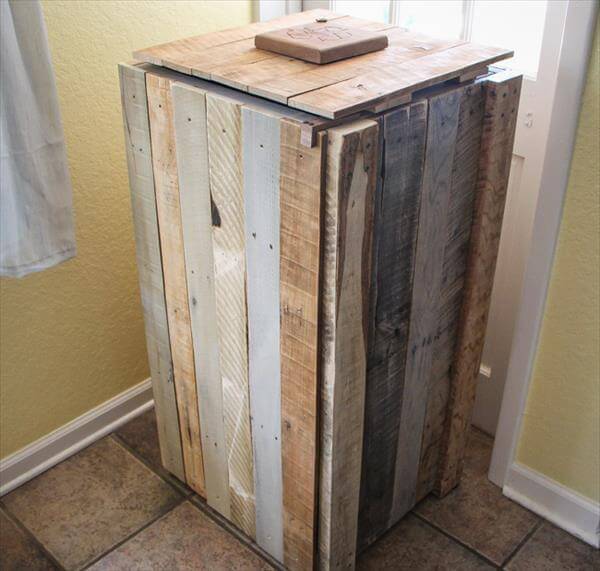 Give it space it to the kitchen corner and lets the magic begun, just open it up and throw the item you think rubbish and unusable. It will catch that without getting it touch to the ground which is sometime disturbing due to being so noisy.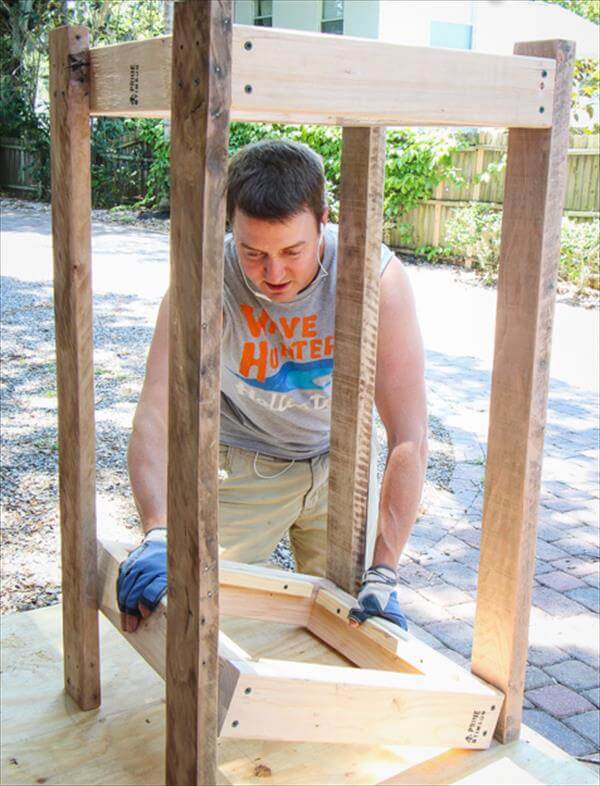 To get a perfect bin base and skeleton to wooden square brackets and 4 planks which are equal in length and thickness will be needed to form a opening top and a base. So go for fist to make this wooden brackets first to get a enured and bewitching foundation.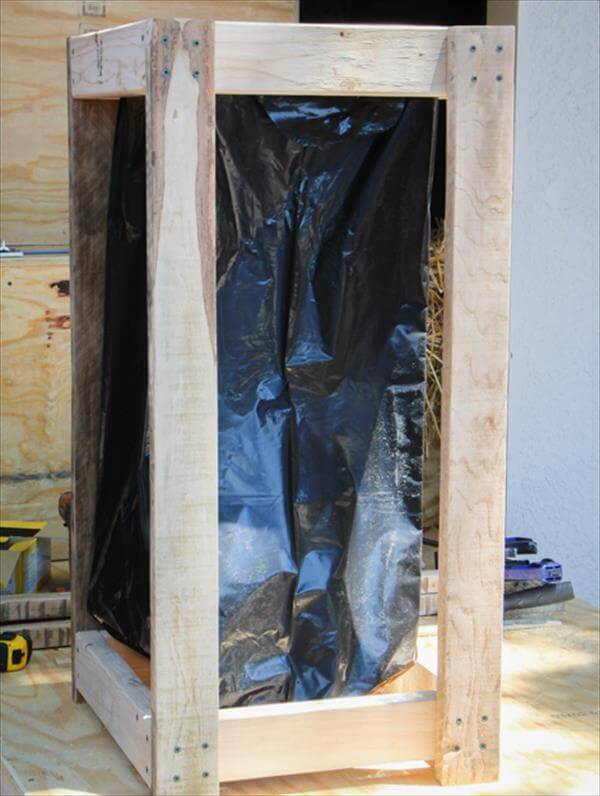 Get your staple gun and fix up a plastic bag to the opening of the bin to get it ready to catch up the things. The plastic bag should be off the ground to avoid the breakage of things which can be recycled. The cellophane bag  will be the best suiting for this purpose.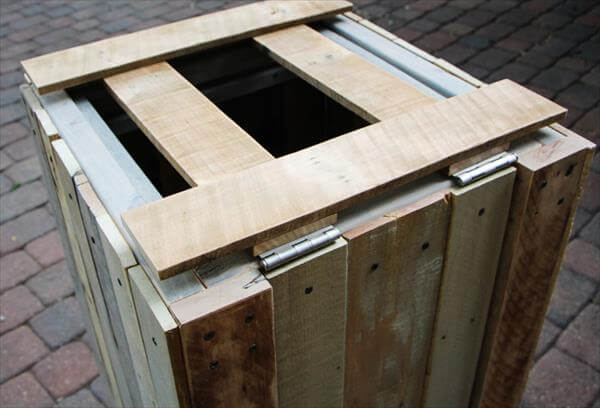 Place a pallet square bracket with increased edges on the tom and get it hinged with screw for graceful opening of it. This will be a perfect lid to the bin and can be garnished in multiple ways. Make it according to dimensions of the mouth of the bin.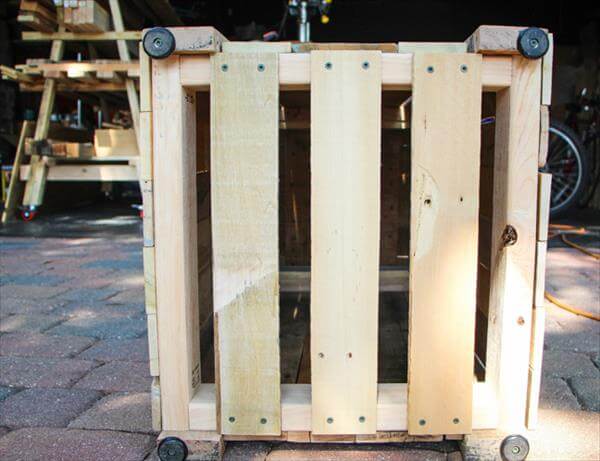 We have added the studs at the base for noiseless and peaceful standing, this has also been made a great finish to it to it. Many fetching and hypnotic finishing suggestions can be planned to get it raised in trends and beauty. First one is the painted finsih plan if your desire, we did not go for it because the rustic wooden appearance was looking so pretty cool to be enough in stimulating and inspiring.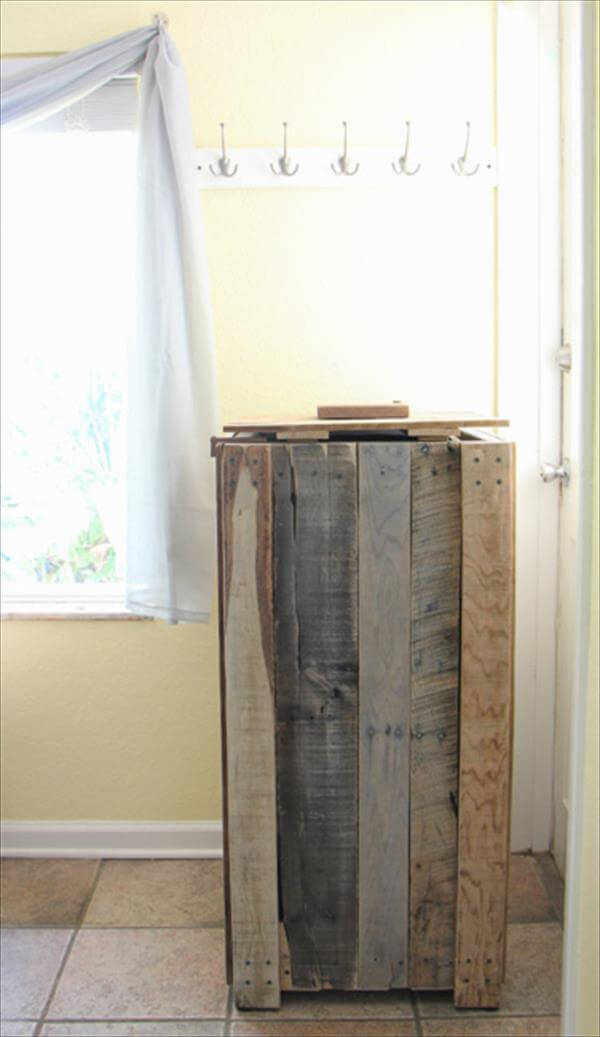 You can go with any overlay paint color to it and can also add some name badges to it to make it exclusive and specified in function like the vinyl letters, this idea to get it named work very well on wooden objects. We have given names to many of our DIY pallet vertical garden and planter in our previous tutorials.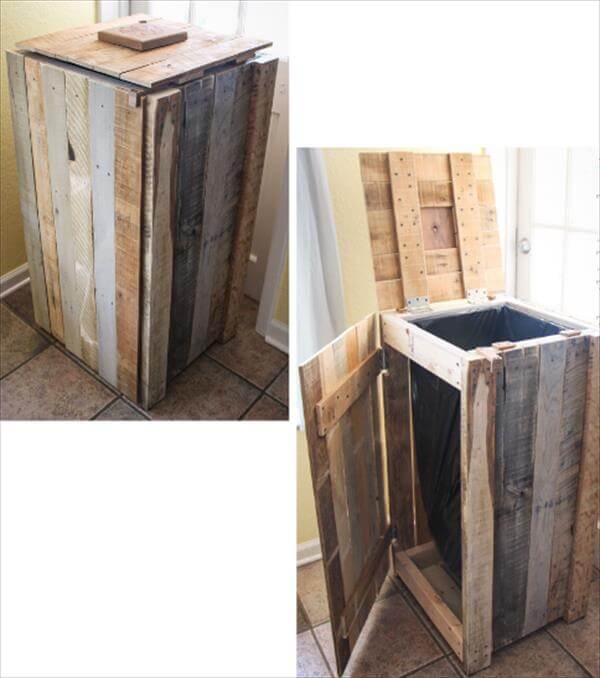 This creative piece of wooden recycling offers two possibilities to store things, one leads to the plastic cellophane bag and other leads to the side storage. The top and sides have been separately prepared according to the configured values and and one of them has been hinged to make your enjoyed with additional storage space. The whole framework is just a great compliment to home routines and functions and is very friendly to your wallet.