If you have a creative vision and thinking then it would be easier to conceptualize pallet wood in really gorgeous designs and layouts of furniture. Some chic and highly creative suggestions have given here to get your some really stunning DIY pallet furniture ideas out of pallet wood recycling. The most amazing thing about pallet wood furniture is that you can plan anything according to desired dimensions and specifications and in your own favorite style. A chic doubles DIY pallet chair bench has been made to provide dominance to your sitting plans.
A rustic accent pallet headboard, a sitting stool and an antique pallet coffee table has also been recovered from pallets that can really make your dwelling detectable and functional. Every unique desire of home furniture can be fulfilled out of pallets as they are much easy to handle in any type of framework. All these DIY pallet projects about cozy furniture of home are much economical and cost effective and you can easily get your hands onto them with a little bit planning.
DIY Double Seated Pallet Chair Bench:
This piece of pallet furniture is really a perfect example of intelligent thinking and is full of rustic character and elegance. Mid combined set up of armrests can really create a space to put your beverage items over it to make your hands free and relaxed during the conversations. This amazing design is just best for home front porch, terrace and balcony sitting and can also be used in your living room if you throw pieces of mattress on the seats and backrests.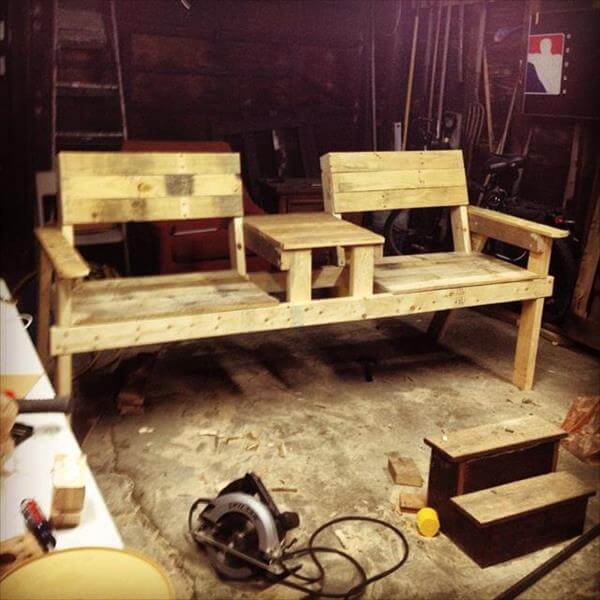 Rustic Pallet Handmade Headboard:
Try out this pallet ideas for a headboard as it is the piece of furniture that not only accentuate the whole frame of the bed but also brings it to prominence. Arrange some of rustic pallets boards together to get this headboard design that will really make you bed detectable and visually pleasing.
If you want more for you bed out of this headboard then you can make use of LED lights to get a sparkling view of it at night, You can also create some beautiful shapes and patterns using the paint for more noticeable appearance.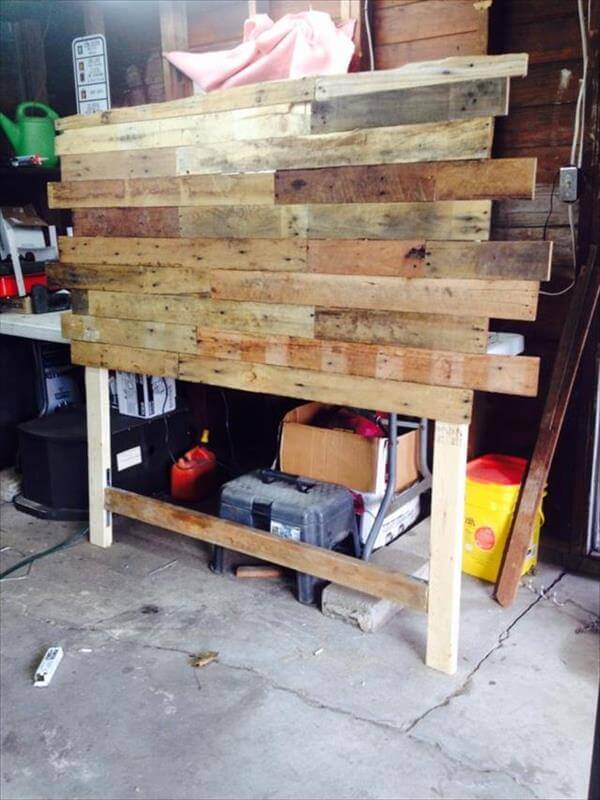 DIY Pallet Dog House:
Pallet wood is also a wood of great priority while you intend to give relief to your pets. You can create the chicken coops, dog and cat beds and also the tiny and cute residences for you dogs. This chevron topped pallet dog house will really make your dog hooked and bewitched with its beautiful designs and a secured and comfortable place inside. This is another amazing use of pallet wood and you should do give a try to it as it pallet wood is really feasible and workable.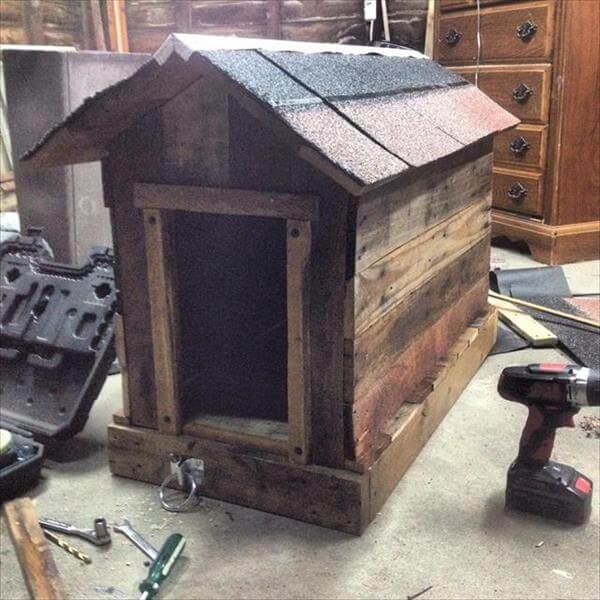 DIY Pallet Sitting Stool:
If you deconstruct the pallets then it would be easy to plan your any unique requirement of furniture. This sitting stool has also been handcrafted by putting together some rustic slates of pallets. Use it as a foot stool or sit on it, the choices are yours. You can also restore pallet storage boxes, pallet chests and pallet ottomans out of some retired shipping skids.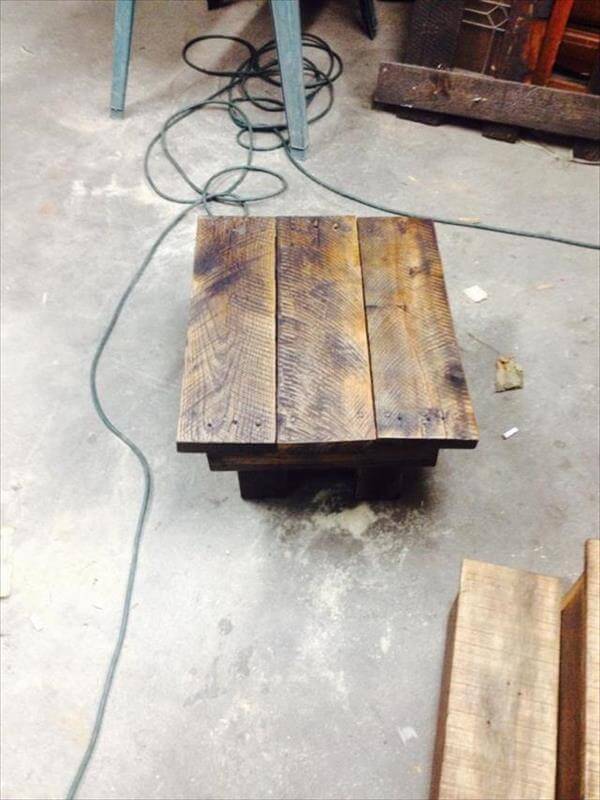 Pallet Round Top Coffee Table:
This  round topped pallet coffee table is a fertile example of pallet wood crafting and can be planned for bundles of utility purposes. Set it in your kitchen as kitchen end table or plan it for dining, coffee or breakfast purposes. The round top will make it comfortable to sit more people around it. Legs are also made of pallets and you can use the circular sketch of plywood sheet to get nice circular shape by arranging the pallet piece over it.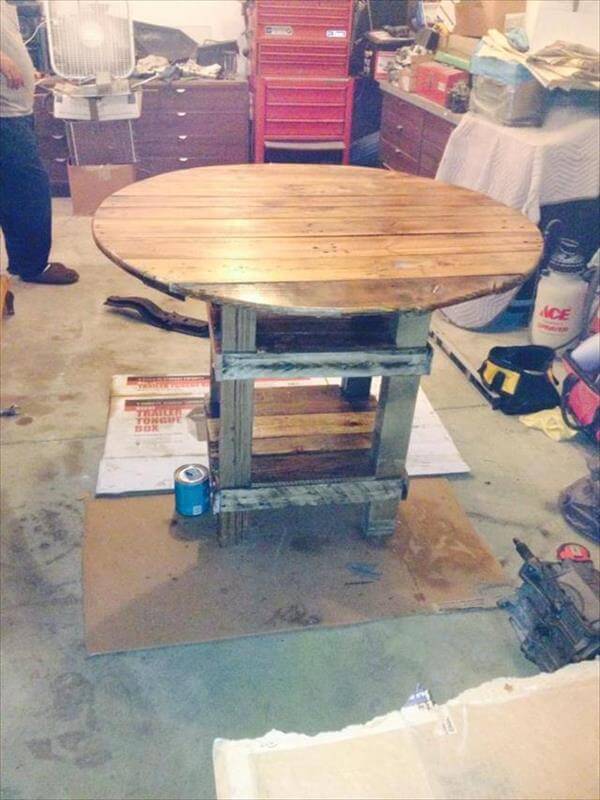 Pallet Wood Workbench:
Use of pallet wood can also make your home or office improvement plans economical. You can prepare the furniture to organize your workplace just like this long workbench which has purely been made of pallets. Sitting plans for your coffee shops and restaurants can also be fulfilled with creative use of pallets. Get the retired pallets from shipping places to plan various structures of highly serviceable furniture objects out of them which we use daily.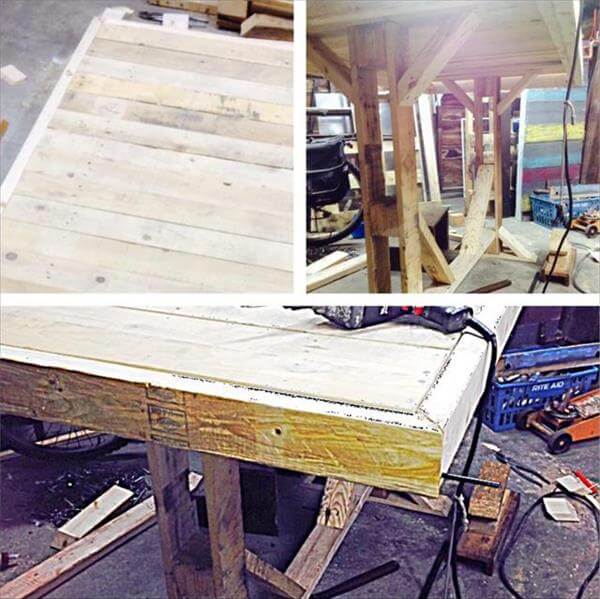 Submitted by: Andrew Dominic Kovacs
These furniture examples are just enough to make you inspired. Pallet wood is perfect solution for home lovers to get a stylish and comfortable living style especially for those who are short in budget. There are dozens of more recycled pallet furniture ideas coming in your way, stay connected to learn more about pallet recycling and furniture plans.