Pallet wood has made lovely wooden enlargements to the garden accent in shape of such a DIY pallet planter, we have used here only a one great pallet skid to do this appreciated and alluring garden beautifying task. All you need a mindset to renovate your garden decors otherwise this DIY practical idea contains nothing like that of heavy expenditures. We got this pallet skid at the garbage pile in the neighborhood, after examining it a little bit we found it healthy to do something really very nice and overwhelming for home DIY garden.
This idea will also work significantly if you have low budget, short time and minimal space, a very cheap solution to get your garden sophisticated and functional. We use pallet wood in all types of our DIY garden project due to its free of cost availability and is also much accessible. You can collect it from shipping companies, from the neighborhood and from DIY stores easily.
Things you will need:
One Pallet Skid
Sand Paper Or Electrical Sander (Orbital or palm sander)
Garden Tool Hooks
Screws
Screwdriver
Hand Hammer
Water Based Chalk Solution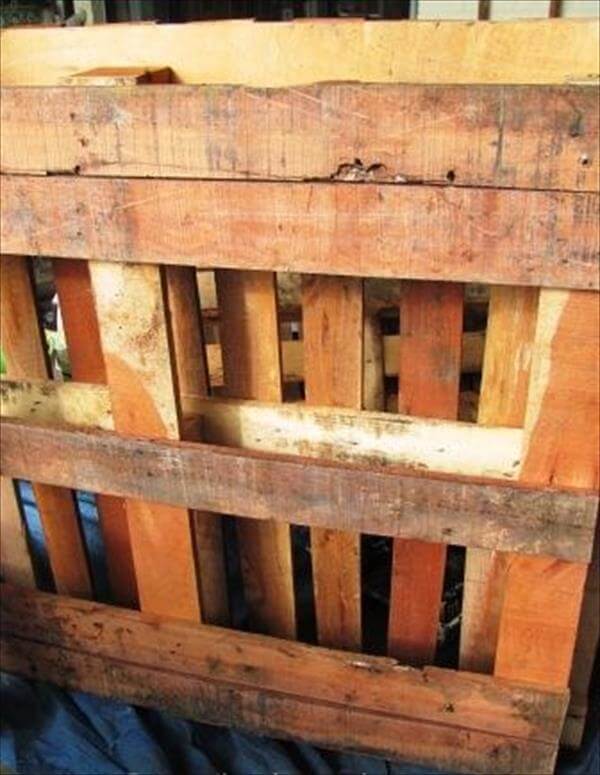 This is the sanded down form of pallet skid with sand paper to get some wooden brightness. Sanding also help a lot for best gripping of paint or white washing. If you have a less time then let this job done with electrical sander tool which will results also great impacts of wood.
We have washed all the pallet first and then after hand-rubbing we coated it into a white shade by getting it white washed. For this purpose you can make use of paint or chalk water base solution to overcoat that prevailing white impact, more graceful for most of the time.
We dried the pallet for some time and then modified it to that DIY vertical garden pattern to display a bunch a nature creations and flower on this wooden ledged frame. We fixed up a two shelves scheme out of this wooden pallet and removed the other planks as shown.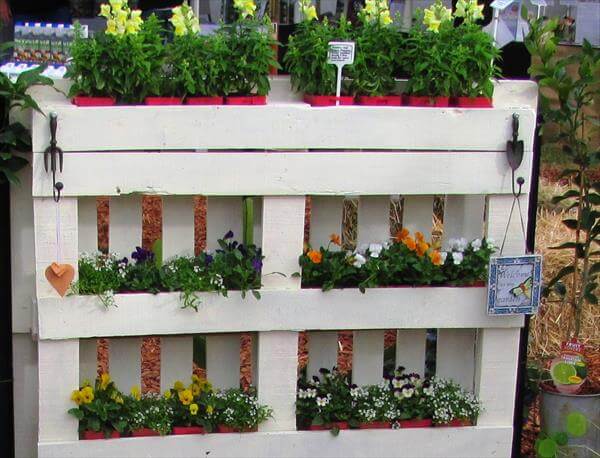 This is the final view of our handwork to remodel our garden. We have added some garden tool hooks to make it more functional and best for hanging needs. Such a antique and rustic hook sign can be got from the home depot or search for it from the home scrap and deleted material.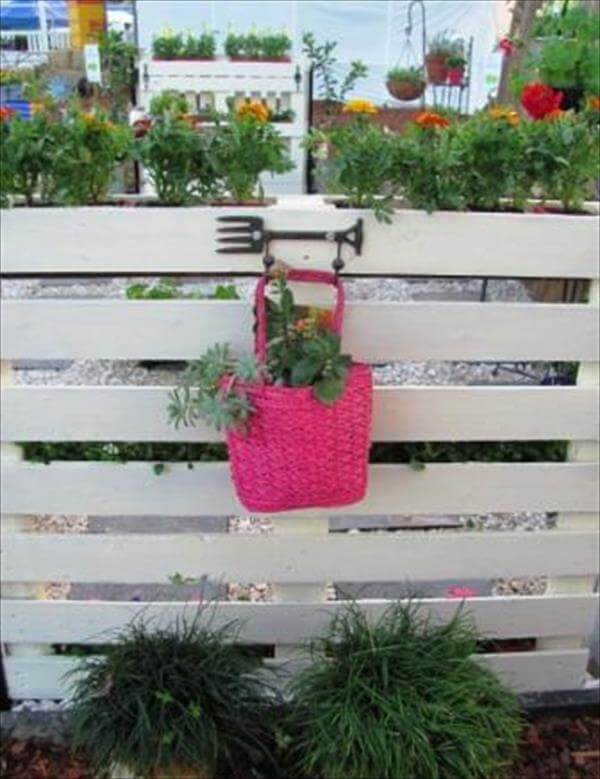 We have used it wholly to be dignified in its nature, at the back we have hanged a flower and succulent basket planter packed in dark pink woman hand bag. This is another great outcome to use the back of this diy pallet garden accent. we have used an artistic hook like the saw spoon to hang the bag planter.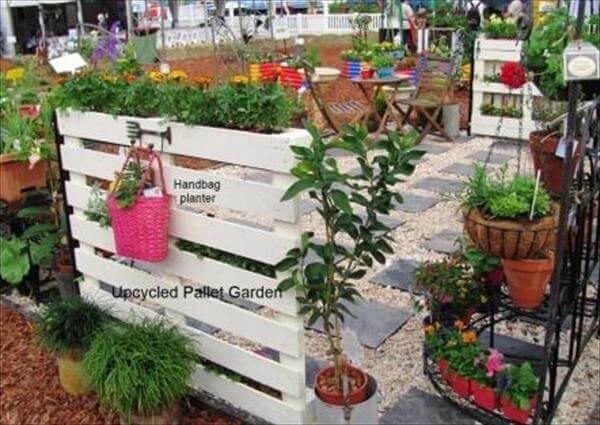 Get the pieces and ends of pallets where you find them accessible and do this good-nature and amiable addition to your garden. It will shine like a centerpiece and focal point in bunch of surrounding herb and flower pots in the garden. We have given a cool and inspiring layout to use it for your outdoor, patio or garden. Whole of the plan is easy to handle and moveable to any desired location of home and is very best to minimal spaced residences like compartments and flats which lack of some sufficient space for garden.