We all love the wooden and especially the rustic wooden effects and always held very dear to us. To get bigger DIY pallet furniture projects at home, the highly reachable and gettable source of wood  is the pallet wood. There are countless sources to get a in bigger amount. We have done various home interior and exterior improvement through pallet wood the DIY pallet flooring and DIY pallet deck enlargement is one of them which we have recently added in our previous posts.
This time we have made a bigger compliment to our living and media room wall  by building up a nice spellbinding and knockout DIY Pallet wall texture. This wooden wall also provide a tempting and engrossing dark wooden background to the media table containing your LCD TV or any displaying screen. Many further motives can be re-purposed through this wooden DIY pallet wall texture for charming and friendly nature of room.

Before:
This is preview of our media room wall before continuing with pallet wood. The tremendous white background shade was looking cool but we wanted some more decorative character in our wall to do bunch of ornamental task too.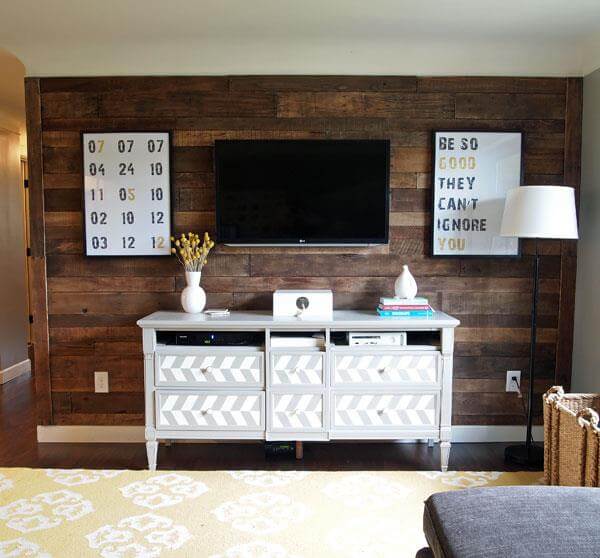 After:
This is the final preview of our our media room wall, the whole overhaul contains a nice shifting of LCD TV to the wall layout. Two nice wall arts, a charming calender and 2nd is the board with painted moral sayings, have been added to the wall landscape to make it spruced up.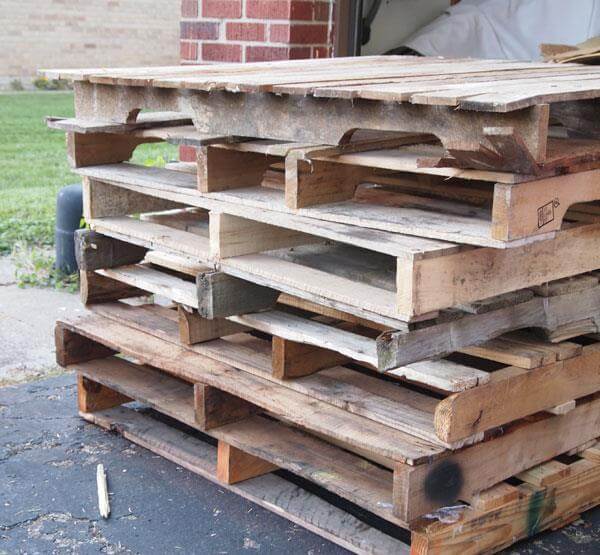 We have got this rustic pile of pallet from near one shipping trading area who gave this up to our need without any heavier flow of money. The pallet wood was in nice condition having much worn and torn spots and patches.
The stripping of pallet is a little bit teasing one task and you will have to demonstrate a lot of patience while doing it with hand. If you use some tools to get it stripped it would be much enjoyable and time saving idea to get the pallet without wasting of them through breakage. Use spy bar and pallet breaker to get the pallet wood stripped easily.
We have varnished all the pallets to make it well in appearance to give a dark brown shade to the whole of the room. You can make it stained too with walnut dark brown tint stain to get it more strengthened and endured along with shiny wooden impacts.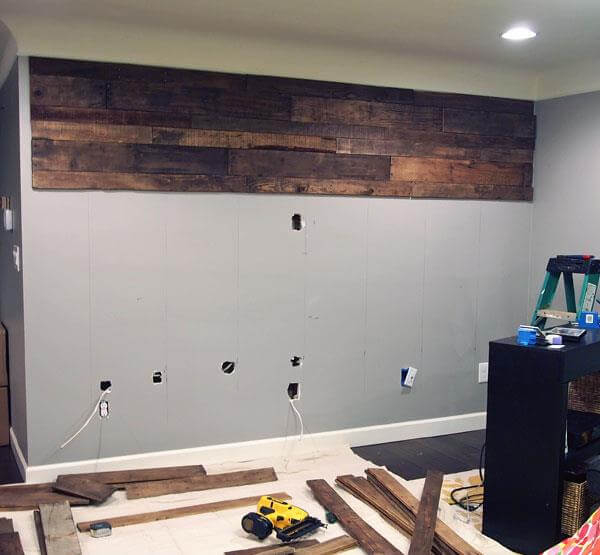 We have made slots to get all necessary electrical power supplies on the wooden wall to avoid any type of circuit complications. And then started off the filling of pallets one by one just like a puzzle game and added the screws with screw gun where we find it needed.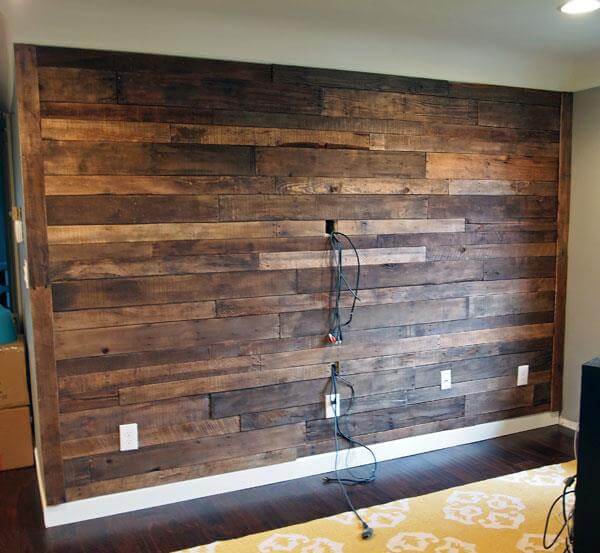 We have got it glued to get inner strength and power. We have left the spaces for electrical switches slots and got them on the wooden surface to do the same electrical acts without any hitch or trouble. Give the perfect wooden boarder and fill out the whole area for nice wooden texture. The perfection in measuring, cutting and mounting will result the charm and grace to it.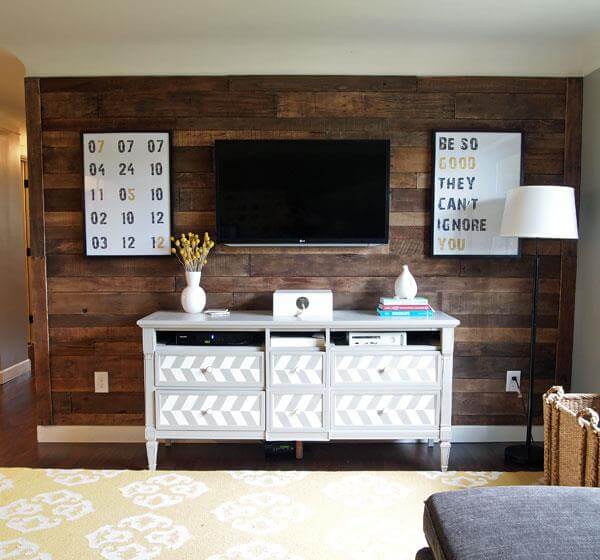 This the real valued wooden charm and impact we have given through the this handcraftedDIY pallet wooden wall. We have changed the through out appearance and looking of the the media room into chic, with just a super quick and easy DIY pallet project at home.