While we talk about the pallet wood crafting it in only confined or limited to home boundary only, you can also avail it even you are running a coffee shop, hotel or a restaurant. Here see this DIY chic pallet sitting plan which is very best for any big scaled dining or tea taking arrangement. This pallet sofa sets and tables has a very amusing budget and has purely been attained by recycling the old shipping pallets.
Pallets can easily be found in the surroundings and provide very sturdy wood because they are made of hard wood like Oak, Pine, Lumber and Ceder wood. We did not dismantle the pallet in this DIY pallet furniture project, we positioned the pallets in vertical L shape for sofa out of it and made it just flat on the floor to get table out of it. Then we just make them upholstered it with high density foam cushion and the furniture is ready for your coffee shop or restaurant.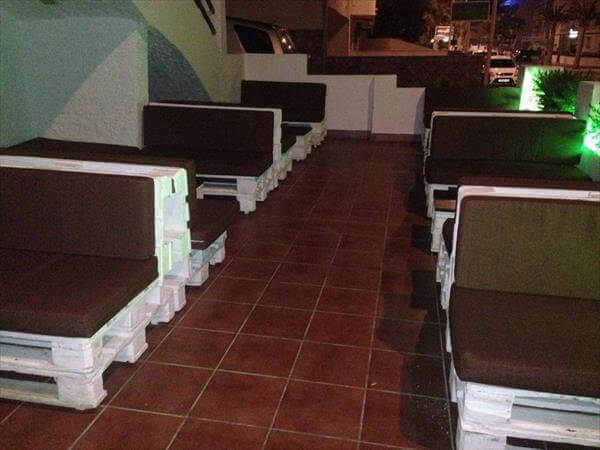 We have got all the pallet chalk painted for a stunning white theme that dresses up the pallets in perfect appearance. White color theme is also very best for shabby chic looks and makes it distressed.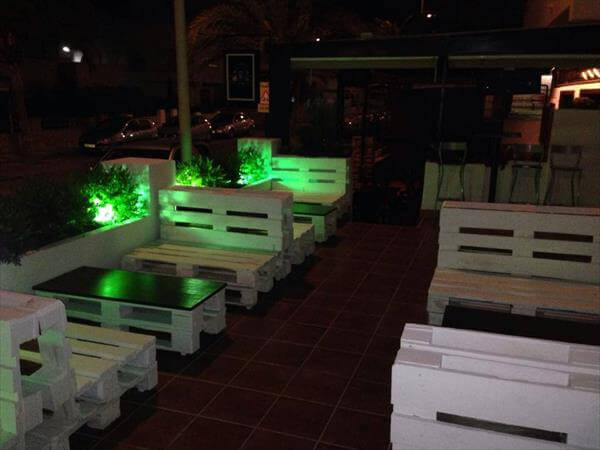 You will only pay for the cushion or mattress in this pallet sofa tutorial the wood can be got free in form of pallets and a shipping area or space will be great choice to find bundles of pallets.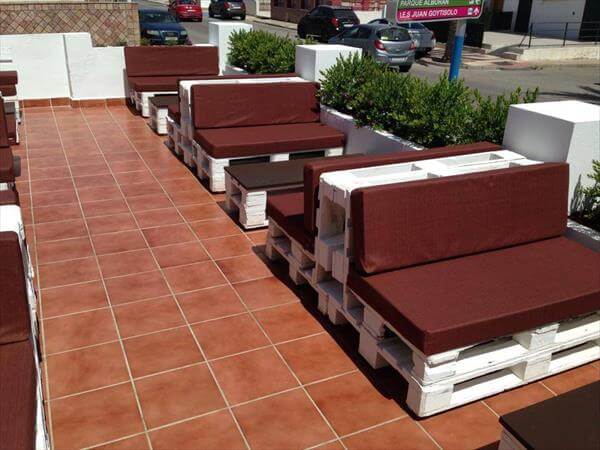 You can also enjoy this arrange of pallet sofas and tables at your grand terrace or home deck for a luxurious sitting style. This pallet sofa and coffee table will also be very coordinating to the living room for a mannered and deluxe sitting.
This is the simplest and cheapest form of a sturdy sofa which can be got in couple of minutes from the pallets.