Outdoor sitting makes us relaxed and is a great source for inner peace and calm. But the prices of things especially the industrial furniture are touching the sky. So in this age of serious and high inflation every body finds it tough to purchase the industrial objects. But you just need to don't worry about all these issues here we have creatively put out a DIY pallet sectional sofa with table out of pallet wood through process of recycling and handcrafting at home.
It was much easy to do and we did the whole task of this chic DIY pallet patio furniture without any sweat. This was just a tremendous attempt using the pallet wood and we found some really utilitarian wooden pieces for outdoor sitting like this DIY pallet sofa. You can demand for a lot more from pallet wood which is really a blessed and sturdy type of wood and is much accessible to take your hands onto it.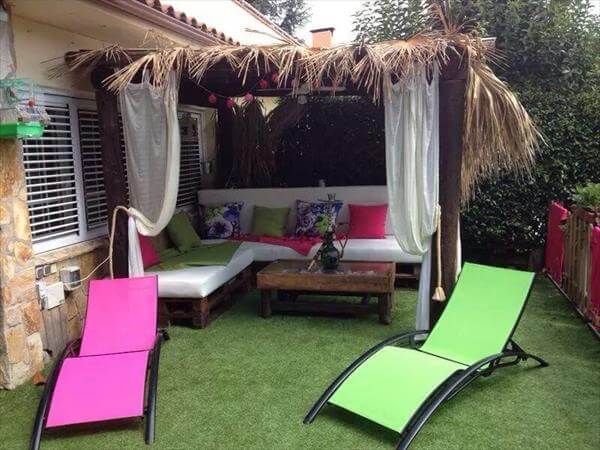 We adjusted the pallets into L shaped to cover up the corner perfectly and then make the wooden skids tufted and padded with cushion and it came up with a very provocative and stunning combination of comfort and elegance.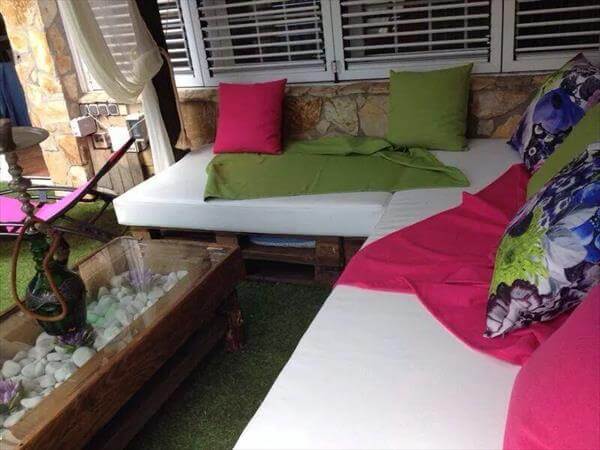 We have built also a wooden pallet coffee table for this patio sitting to support the relevant concerns and beverage especially the coffee.We have finished this table off with glass top and some stones at the mid.
These pallet furniture ideas can be given an any cultural theme, here we have given it a mid century inspired cottage style living theme which held much precious and visually attractive.