We found a sufficient supply of pallet wood from respectable dealers in our village and repurposed a outdoor DIY pallet patio furniture out of it which contains some appreciated and marvelous additions of a DIY pallet bench, a pallet coffee table and a daybed to sooth nerves after overworked and to get calm down. Choose the layout where you want this reclaimed pallet furniture organizing and configured out the dimensions to go perfectly to make what your want according to the area and its layout.
We have bought these pallets on very cheap cost and regained a costly and effective furniture out of it. Go with your desired while getting it painted, to make it merge with your own customized and personal taste of color and tint. Whit color is the best demonstration for patio and shabby chic furniture art so we decided to go with the tremendous white shade to our DIY pallet outdoor furniture.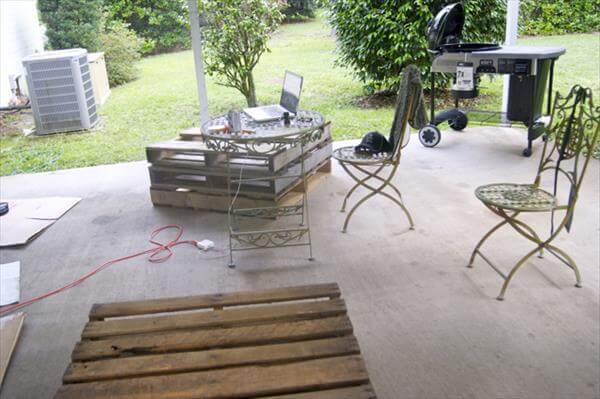 After getting a required supply of pallet, reexamine the pallet for imperfection, wooden cavities and knots and for harmful industrial chemicals. If you find it ugly and full of dust them clean it by washing with soapy water at home by using some hand brush tool. Make it gritted to find it in popular and shiny surface.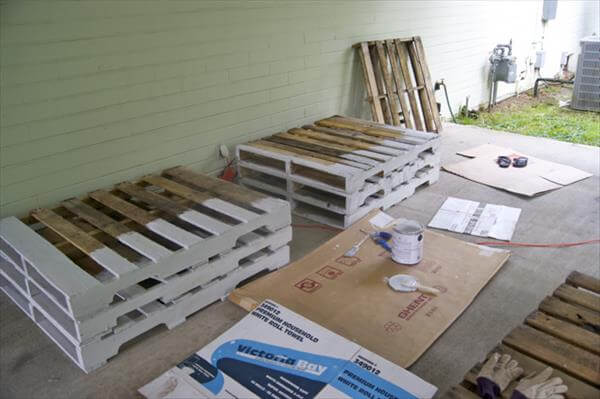 After making a perfect view for imperfection make them removed and plan a tremendous shade or color theme for rustic and antique looking pallet wood. To find in it a quality material and delight we have made it white washed to get that dominate and prevailing white tint. This will be so easy and much fun if you involve some family members and your kids in this painting work.
We have stacked pallets together by adding screws where needed and make a 6 pallet bunk to give us an royal and deluxe daybed and 3 pallets have been stacked to get this fine edged sitting bench. A sufficient big sized squared pallet have been rolled over wheels to act like a coffee table at the mid of the benches and sofa. Enjoy your summer outdoor by getting it settled at patio of your home.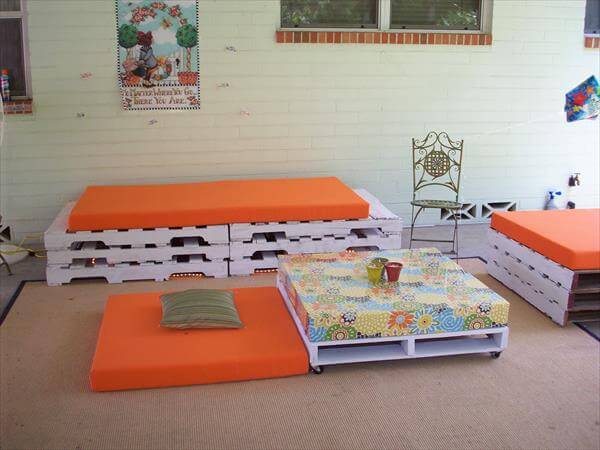 We have provided some high class cushions to each of the homely prepared component of this DIY pallet furniture project to rank up the comfort level to royal and deluxe, this will surely modernizer you home patio to enjoy your lovely backyard along with eating and drinking at summer afternoons which are mostly very lazy. Too boost up the fun and excitement throw some pillows on this sitting plan and enjoy the lovely DIY pallet patio at outdoor of your home.