Here we have a best economy package to get the sturdy type of furniture. This offer is especially for those who run a restaurant or a coffee shop. A common man and a true home lover can also avail this highly useful DIY pallet idea to stay on a budget. We have created a DIY pallet industrial table having the rustic wooden top and chic metal legs. By getting the pallet wood from the shipping area at no-cost you can prepare an abundance of such utility tables.
The DIY pallet metal table we have created has a very knockout design and is much heavy duty in nature. This piece of table is just best to have you snacks, breakfast and dinners. You can use it at both at interior and exterior home sitting plans to play a character of a DIY pallet coffee table which is always a great support to any sitting plan.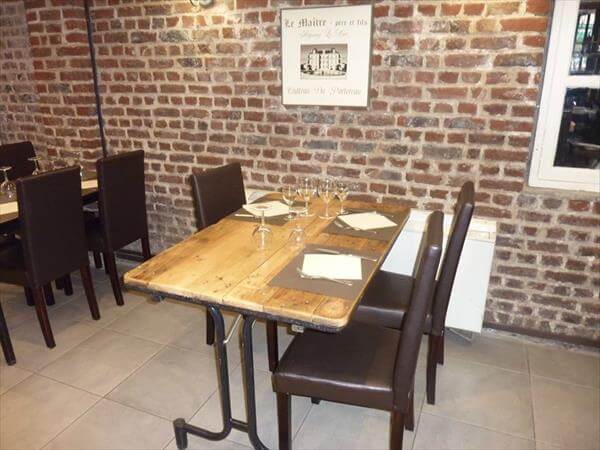 You may have some broken up and scrap pieces of industrial furniture get them renewed using the pallet wood just like this restaurant table. Metal legs can also be created if you are owing some industrial scrap.
Here you can you can see a whole row of pallet tables which have the metal legs and are doing great job in the chic atmosphere of a restaurant. This pallet inspiration can really increase you business trends.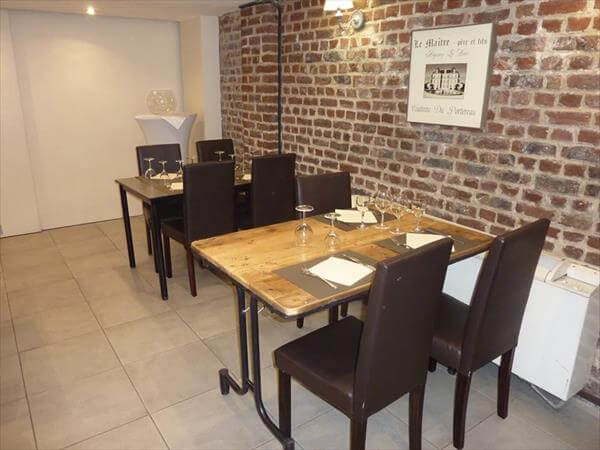 Wood and metal always create a great impact. This rustic topped pallet table has also bee trimmed with metal frame that make it really elegant and charming for home and office use.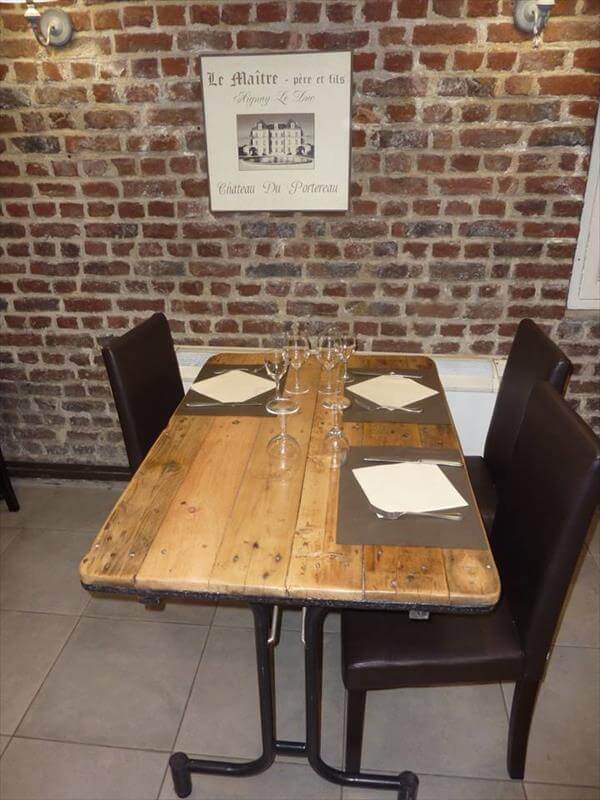 You can also use this table type for study purposes. You can create furniture for a class room using this great pallet idea. The sturdiness in all pallet products is just confirmed.
This handmade pallet table is much versatile it its character and can be proved utilitarian at multiple locations of home. Check out its unique behavior for outdoor DIY pallet patio furniture, is not it acting as a centerpiece?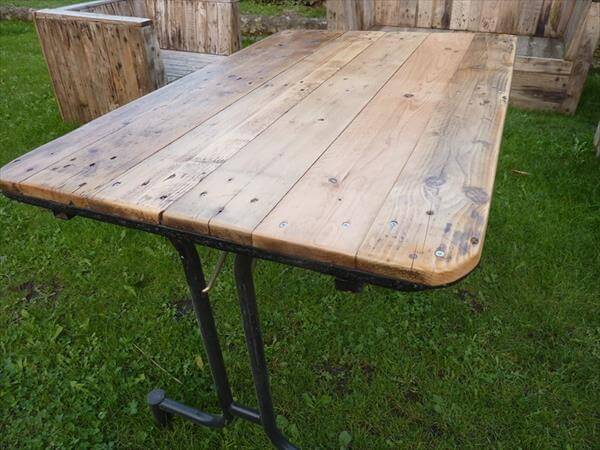 We have assembled this chic layout of table by drilling the holes through the wood to the metal then we added the screws for a lasting structure. The wooden dings, tool marks and nail signs are still on the pallet wood and make a great rustic history of wood which held much captivating and visually attractive.
You apply this technique for refurbishment of your home broken up pieces and crumbled wooden stuff of home. We have a great collection of DIY pallet bed ideas to make your home look cozy and appreciated in its trends.