Pallet wood is not only limited for home use only you can also reclaim it for office furniture, restaurant or coffee shop sitting plan and this time we have repurposed it for school furniture. We have resurrected this DIY pallet school furniture out of pallet wood which we have featured with lots of compartments. This DIY pallet ledge has recently been build to facilitate the little school going children in storing their books, bags and assignments.
This wooden ledge has been painted in different colors which held much precious to kids like red, yellow, blue and green. This is really a true DIY pallet wood furniture we achieved through wisely done upcycling aged pallets. You can use the same setup at home to build a DIY pallet shoe rack for mannered and functional behavior of shoes. There are many further alterations and modifications that you may do to raise it on personal desires like attachment of wheels or casters to facilitate its movement.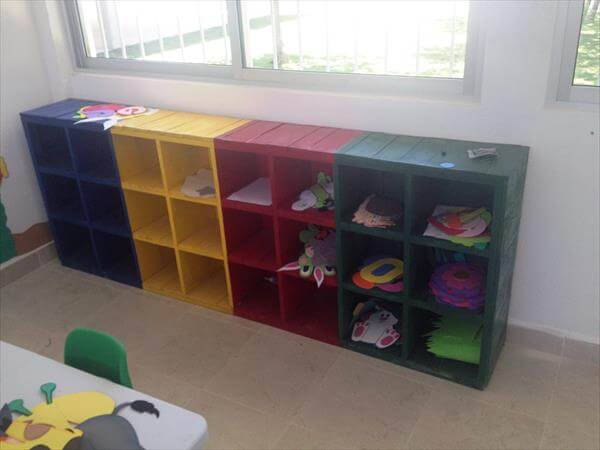 Visit the near one places which have the high probability of pallet to be found like the nurseries, building under constructions and shipping places. The last one option always work great to achieve a great supply of pallets without any cost.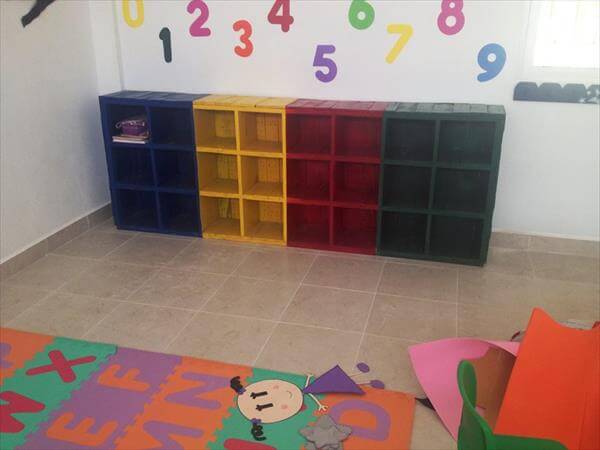 We have consumed about 8 big one pallet board for handcrafting of this nice and artful pallet behavior which will play a vital role in the kid's class room.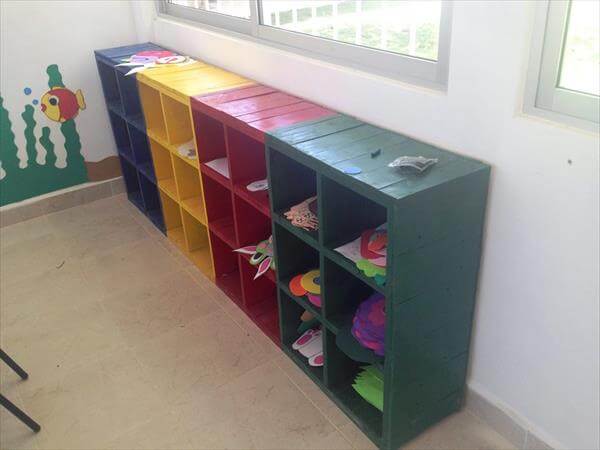 By following up the same dimensions and construction pattern you can build a DIY pallet media console table for your living room or media room.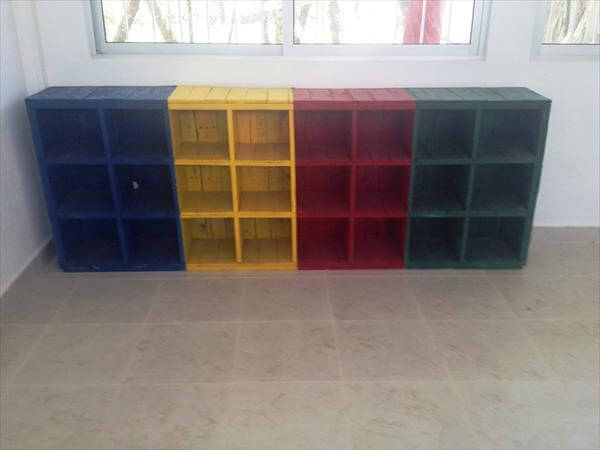 You can turn the shipping pallets in any according dimensions of your favorite one furniture commodity like DIY pallet chairs, pallet tables, pallet sofas, pallet swing and pallet beds. Pallet wood provides us a very cheap bypass to earn the trendy and ultra modern furniture objects which are just unbeatable in sturdiness and price.