Just look at the shape of pallet skid, is it not stimulating you to get something creative out of it? Is this rectangular shape not getting you inspired to do something really appreciating for home? Are you stile not captivated by the pallet? If you are lacking some of tips to make a step forward with pallet wood then this just a piece of cake inspiration of DIY pallet sectional sofa will be a great initiative to be skill full in recycling of pallet wood. Get the bunch of pallets and plan a section to get them there for a nice DIY pallet sofa platform.
Such an easy gathering of pallet can also make your happy with a tranquil DIY bed frame which will contain the same framework but some more twists to get some highly urged features. Pallet is wood have made its doors always open to you and is highly reachable. You can search for it from many source first is your own home dump, deleted wood and next comes the neighborhood and the surroundings. If still facing problems to find the pallet wood then shipping companies  and DIY stores will be the best source to get it almost free of cost.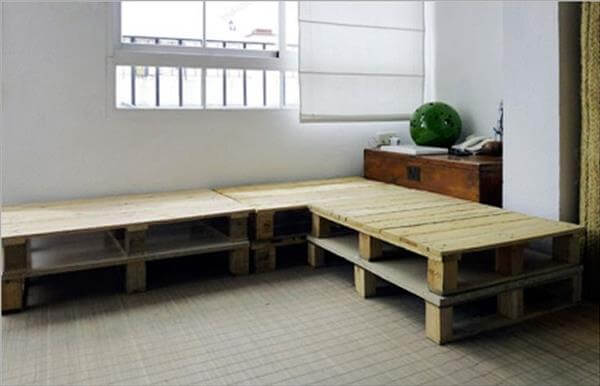 Sanded down the pallets and remove the one sided planks, and make a 2-pallet bunk shape in the corner of the sitting room and you are done to have a sectional sofa frame. A sand paper of medium grit would be the best tool to make the wooden surface smooth and rocking one. If you have happen to find the ugly looking pallets then make them cleaned with a soapy or detergent solution.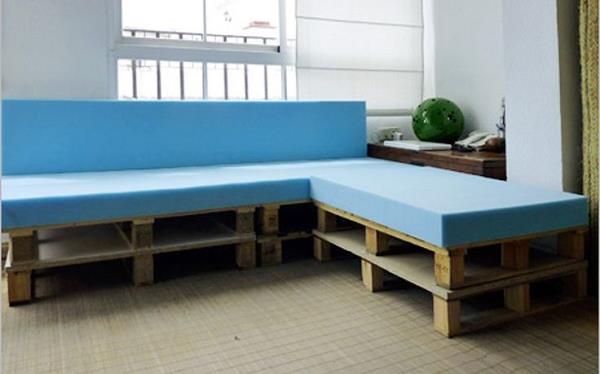 After making the frame for sofa out of pallet, which a seven year old child can do very well, added a supreme quality cushion on it to get relaxed and calm down on the serene sofa model at lazy after noon and at time after overworked. We have left the rustic surface blank which we love all.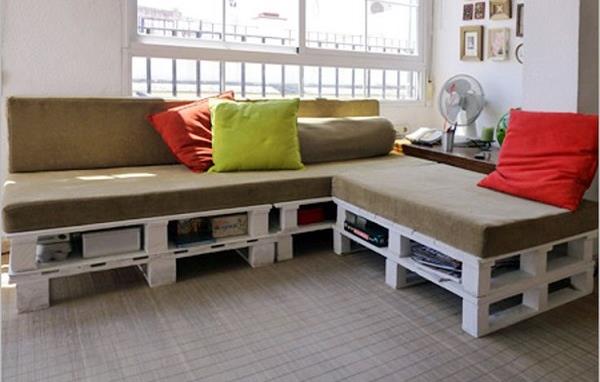 If not satisfied yet with that of rustic wooden appearance then get it coated with a color of your fantasy which may be any of thousands. A cozy inspiration we have given by getting the pallet white washed with water base chalk solution. To sort out that royal and deluxe valued comfort place a mattress or cushion with some randomly scattered pillow and enjoy this love handmade DIY pallet project on a budget which is favorable and is very friendly to your hardly earned money.