When we were on the way to home we happen to find a rustic pallet frame which was in condition of worn and torn and wan just about to decay. We came up home with this rustic wooden square. At next morning a garden need awaken the creative person in us and we restored this into a precious ans admired DIY pallet herb garden by patching it up with more wood. If look at this rustic and weathered pallet, it does not comes to sense to make something really cool out of it but we have got it cleaned and toned it up with nice paint shade to remove and hide this ugly factor from it.
Don't let go any bit and piece of crumbled and collapsed fragments of the wood of any type, they can be integrated at home to get multiple utilitarian objects for home acts and tasks out of them. We have crafted some nice DIY pallet vertical gardens, pallet planter, pallet potting table and also the pallet garden tool rack and pallet garden walkways out of pallet wood, which gives all that held dear to us always on a budget.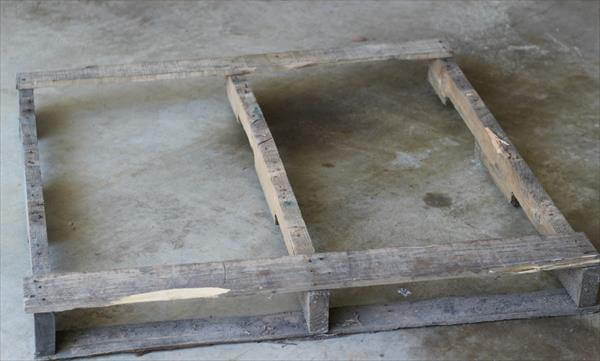 When ever you meet such a pallet make it sanded with that of sand paper or electrical sander if available and also get it washed first from the soap water to get it as better as possible. The pallet wood we found was very aged but still gave this nice pallet planter.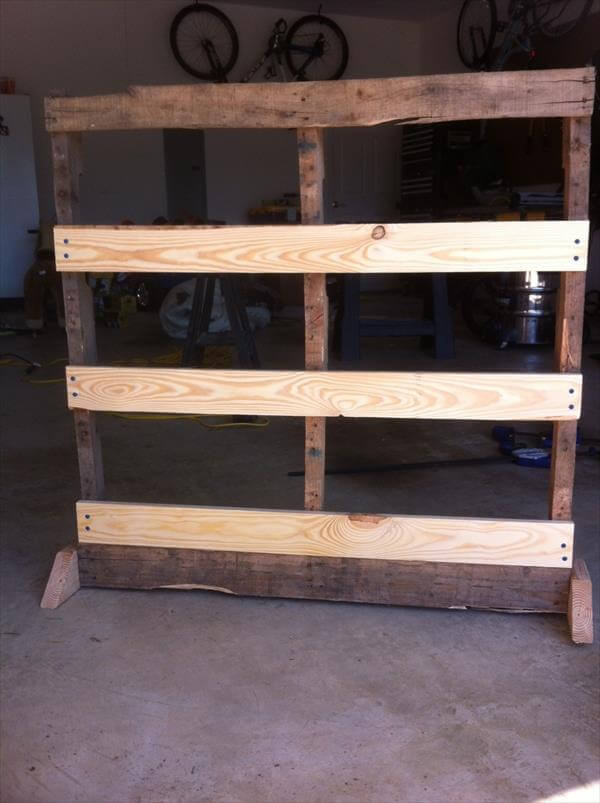 We have provided the shelves from the old wood remain which we found at home to make stand that of herb pots on it. To get them hidden we have added wooden slats at the front, which have also been reclaimed from home scrap and deleted wooden remains.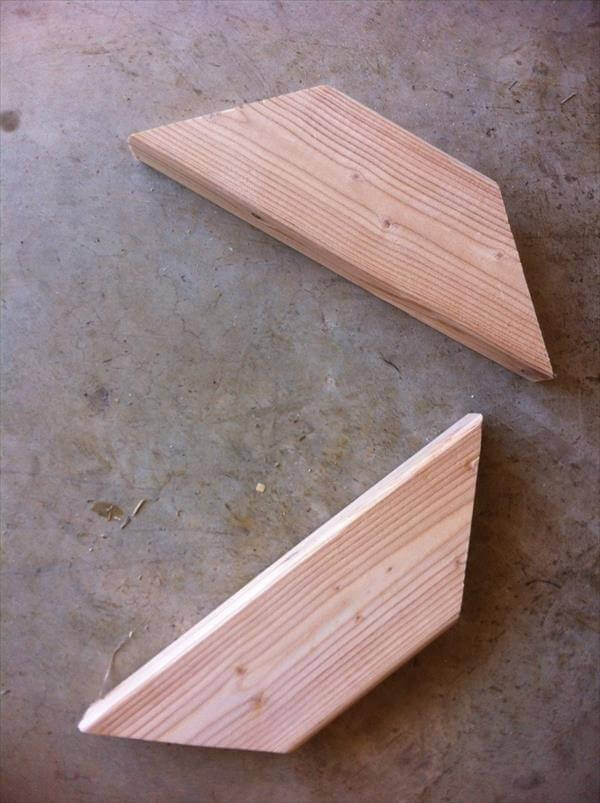 In our previous DIY pallet furniture project we were left with these angled cut wooden pieces, and here we found a perfect use of these which is to make our herb pallet garden well stand by adding them at its bottom to serve as a feet of it. This will make you get rid off to make it stand against the wall. Now you can make it stand any where at the pation, outdoor or balcony of home.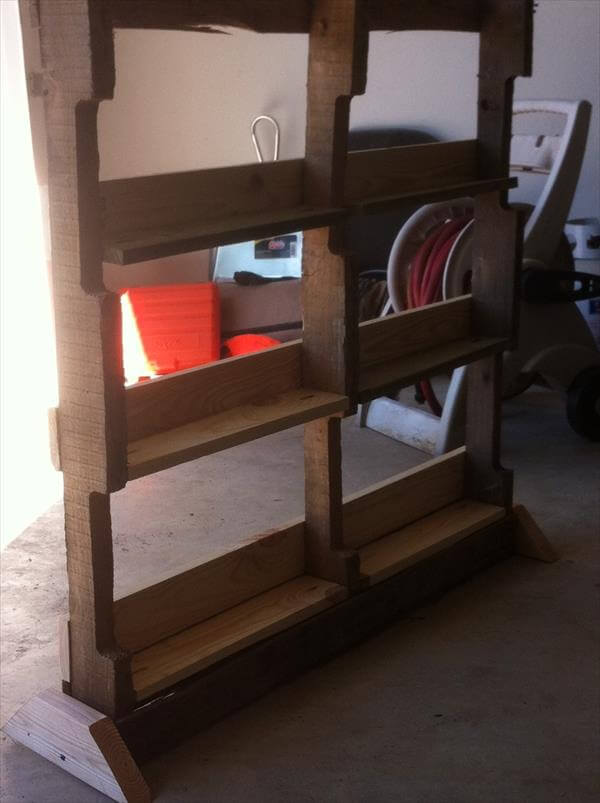 Here is the standing position after fixing the angle wooden cuts at the bottom with nails and screws. A nice idea to have ledged DIY pallet vertical garden out of vintage and aged wood. This rustic appearance is also looking pretty cool and goes as a perfect match to that of cottage and country style living.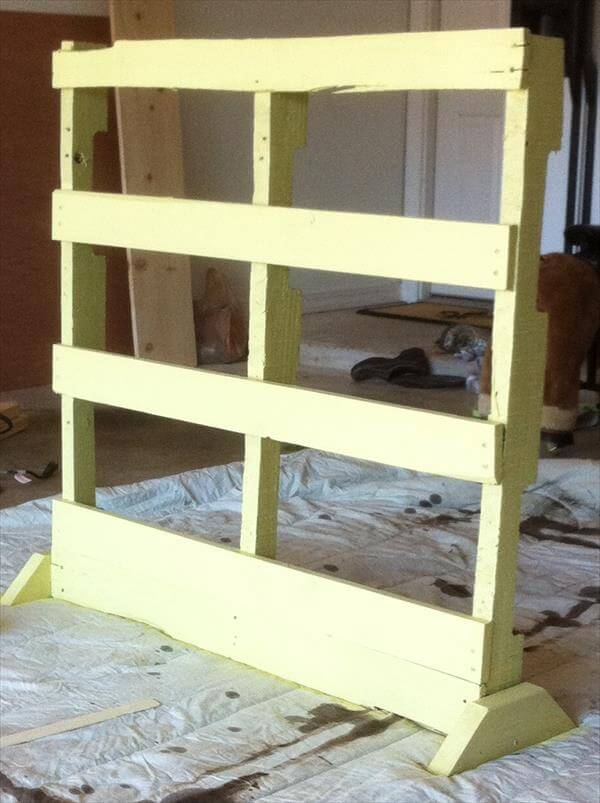 We have give it a nice pastel greenish shade which look very yummy and creamy. This hand painted color theme will also provide it a endured and lasting life. A paint is a nice idea to get a smooth, spot free and cavities free wooden surfaces which often make a bad impression to mostly of us.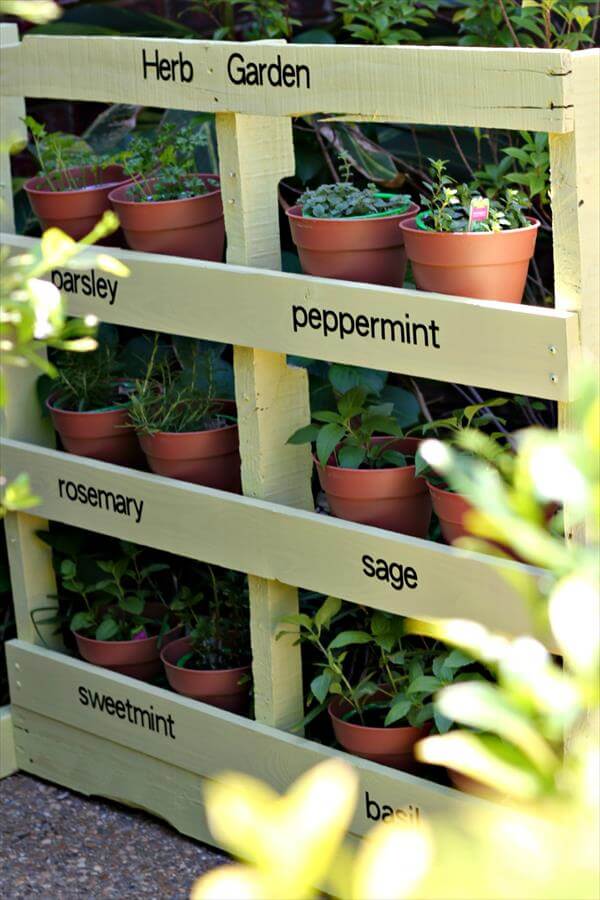 Now to finish it up add the herb pot which are hard to find and grow in it and give them some inscribed names at the front. If not try this vinyl labels which can easily be made at home too to display the name of the inner framed pot. Enjoy the lovely garden accent idea on a highly efficient and economical cost plan. A great piece of wooden recycling to spice up your garden, get it availed.