Headboard is the most worthy wooden pallet furniture to make an accomplished bed, without it the bed is just look like barren landscape. We have synthesized it for our loveable bed to make it raised in its trends and fad. In this beauty aspect of bedroom the crumbled and broken up wood, like pallet, provided us a great aid to do this. We love aged wood that predicts some prehistoric and traditional expressions which are most dignifying for shabby home especially bedroom interiors.
This DIY pallet furniture project is just in touch to that of rustic paraphernalia and is very thrifty in its nature. We have collected these pallets from shipping company that held just nearby in our town and we get it free of cost from their respectable dealers. We just have traveled to that place and came to home with a bunch of pallet skids fastened on our vehicle. If you are in the surrounding of such a shipping trades then this would be a blessing to get wood for home furniture for both indoor and outdoor.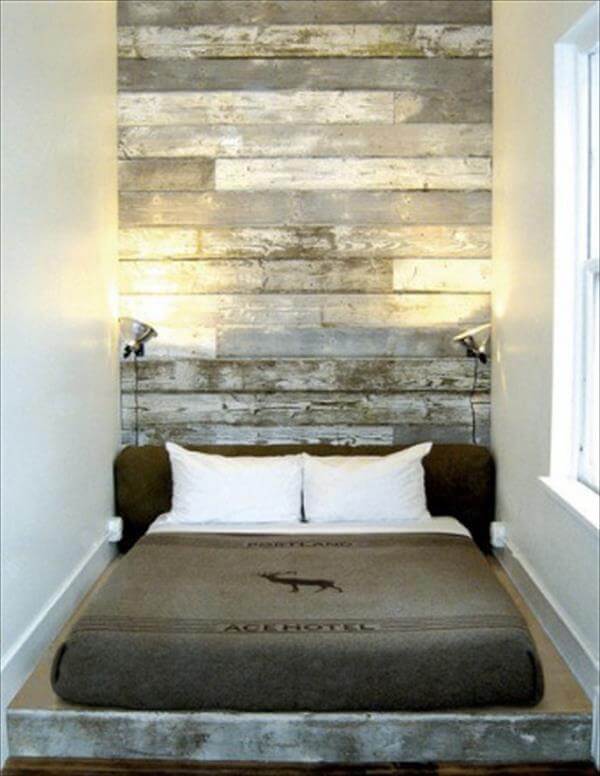 This time we have raised our bed's wooden background to the roof which is in pure rustic form which was that of pallet, just have given some modified cuts and reshaping otherwise it carries that vintage nature purely.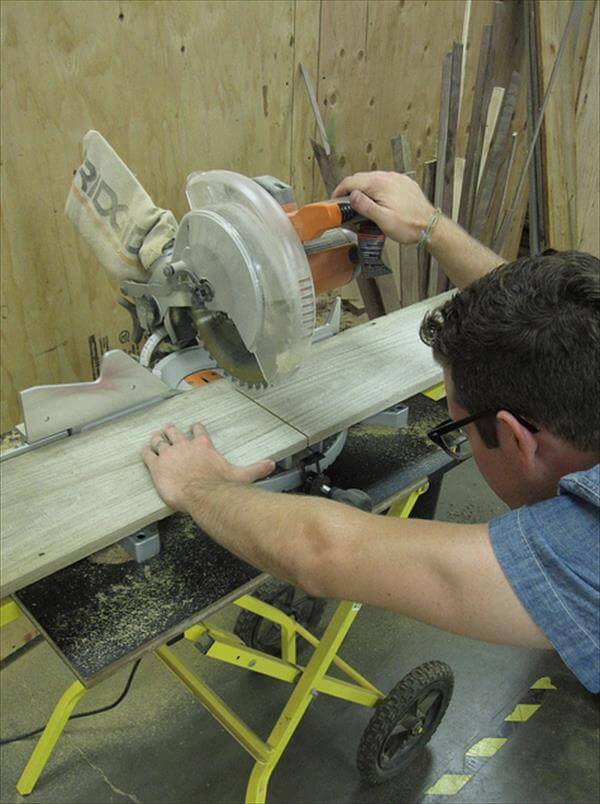 Make use of circular saw for precised cutting and sharp edging. This will take much less of your muscles effort and will give you the right way planks to be perfectly fit in that headboard pattern. Adjust it in your working place and have bunch of cut pallet planks in just a few minutes.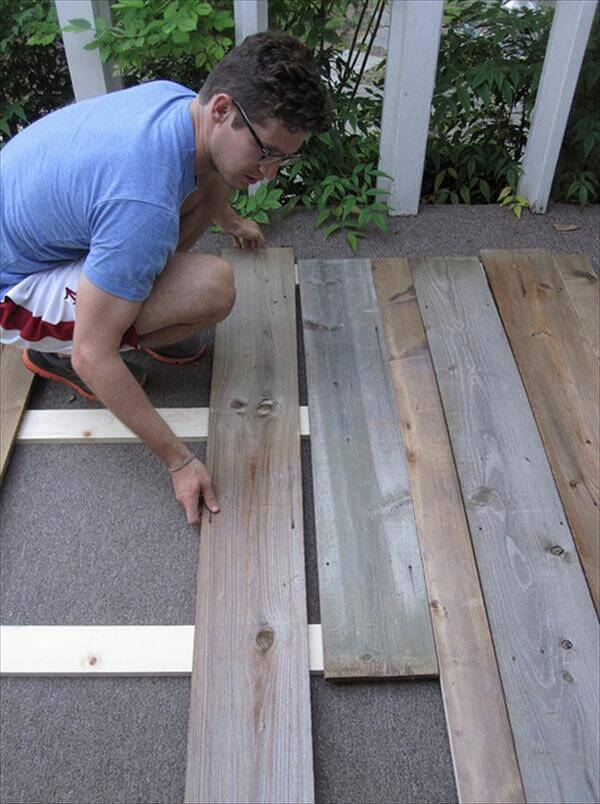 Now make stretched the outer boarder for frame of the headboard on the floor and start filling it like a puzzle game with pallets. Make it completely filled and use every leftover length with patching with another to make it accomplished  and perfect to rank up your bed.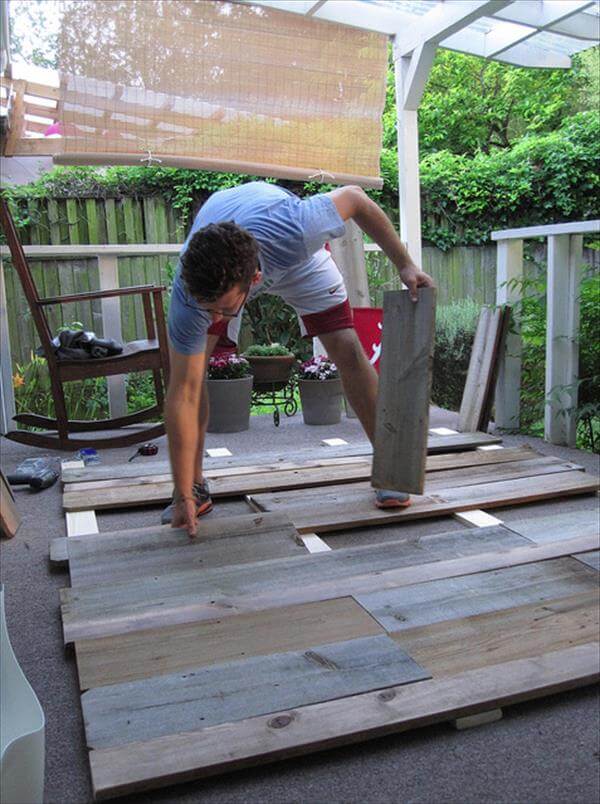 It may be uneven with outer sides, but it is not a very serious matter, the increased lengths can be removed just after the filling to recover that nice rectangular shape for our DIY king size headboard. Adhere with glue where you need for grip and inner strength of the whole headboard plan.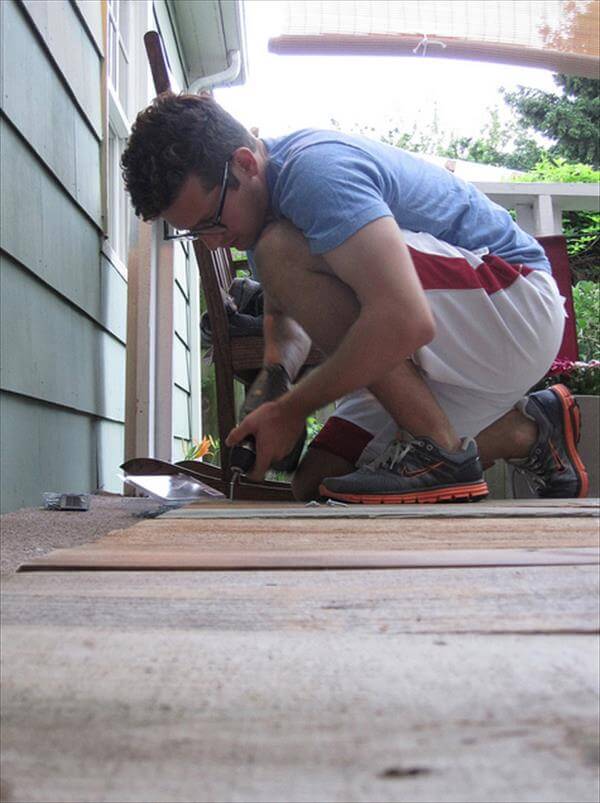 After filling it nicely you can sand them and can go through a complete reconditioning of it by making it washed with soapy solution and removing the unwanted edges from the sides of this rectangular shape. You outdoor and garden would be the best and comfortable places to do this job nicely in open and relaxing environment.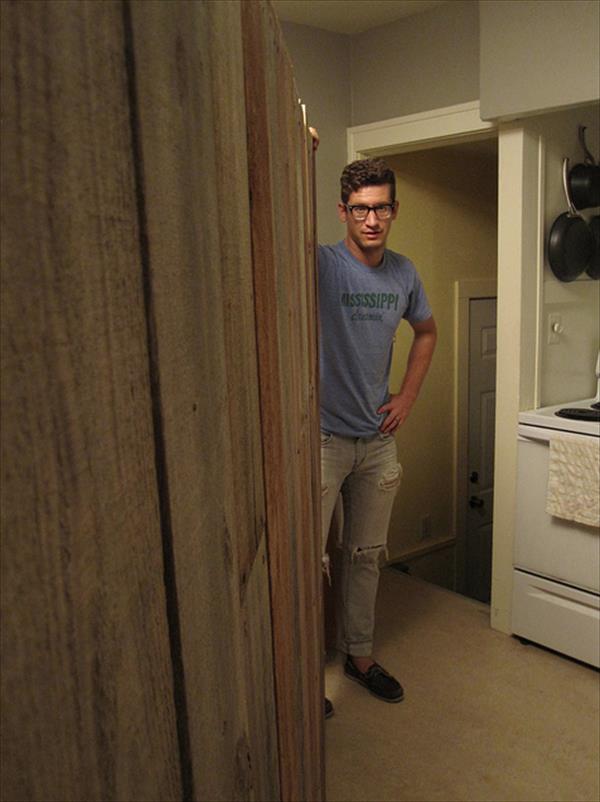 We have chosen this time some bigger dimensions for out DIY pallet headboard like that of king sized. This make your bed a complete overcoming and eye-opening delight and it can also do a lot more fun with its wide wooden area relating of garnishing and knickknacks.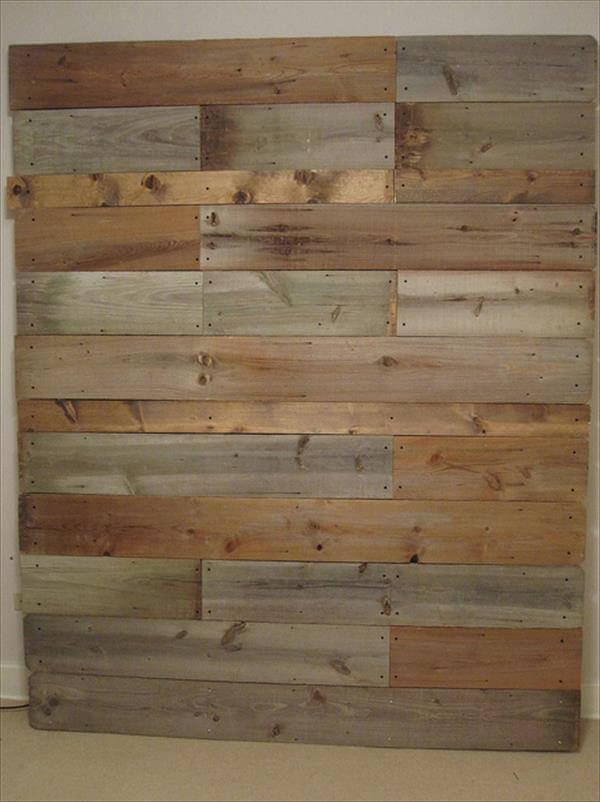 Get it onto your bed's head and enjoy the lovely enlargement and addition to your bedroom and its friendly atmosphere. If you are a painter then you can add it multiple effects by making artistic patterns and shapes of your favorite ones like that of birds, flowers and designs like that of mosaic and chevron styles.