The people are at wrong who take pallet a useless type of wood and ofter go for just to burn at home to get temperature and heat energy. A lot more worthy and dutiful can be achieved through pallet wood which is probably held and cheerful to all rustic wood lovers. Now we are with an amazing home exterior improvement which we made out of pallet wood. We have remodeled the home outdoor floor with pallet wood to get a highly captivating DIY pallet deck for best way ever sitting and modern home looks.
This DIY pallet project was needed a lot of wood to gain a DIY pallet rustic flooring, so get your hand onto the pallet wood where you find it accessible and get your dwelling cherished with nice and handcrafted wooden additions. We have also repurposed a DIY pallet sofa from pallet remains which were rested in this project. To get a perfect deck, the framework and construction would take 2 to 3 days.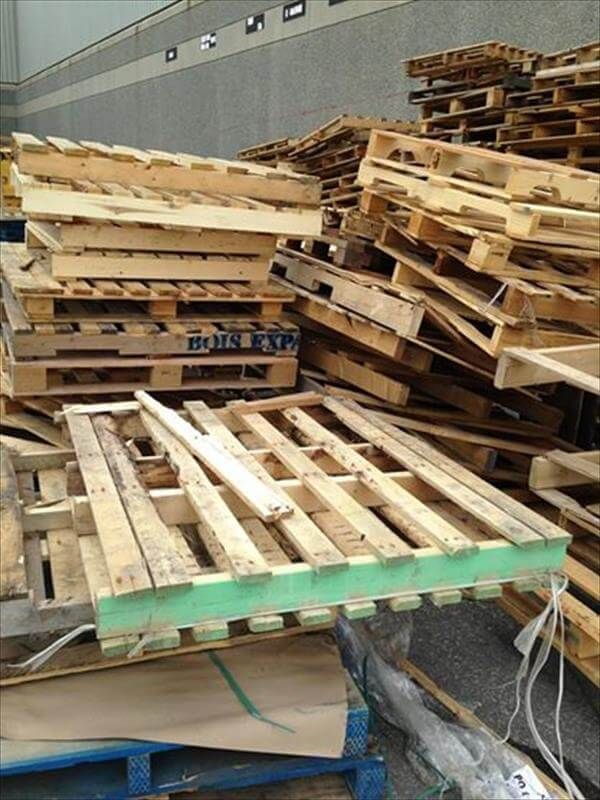 Pallet boards and skid large amount can be searched near building under construction or the shipping area or company would be the best plan to get a lot of pallet wood on a no-cost budget. Just go there and come home with a lots of pallets.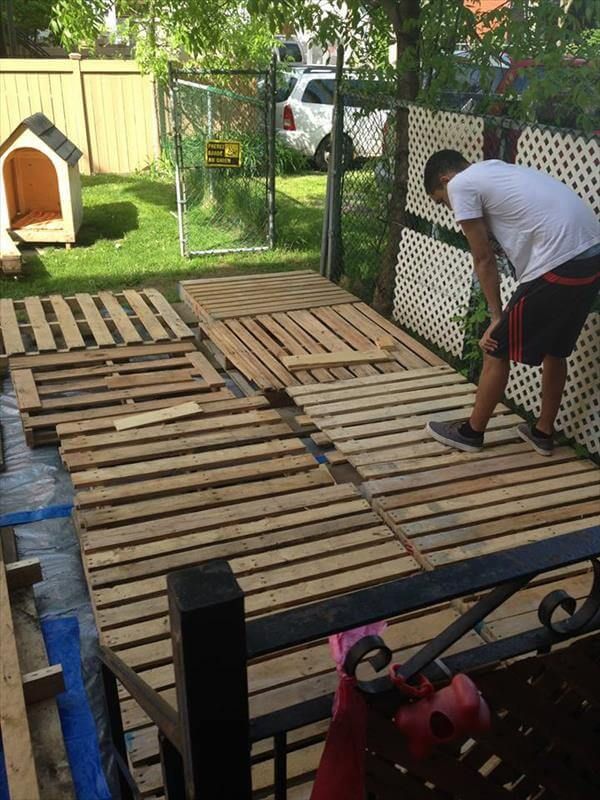 First of all we visit the home outdoor floor which was to be renovated and tried to capture a well plan to use the space for a deck. After having a plan we arranged the pallet skids to make a base, this tip also make us get with a well plan to use the space accurately.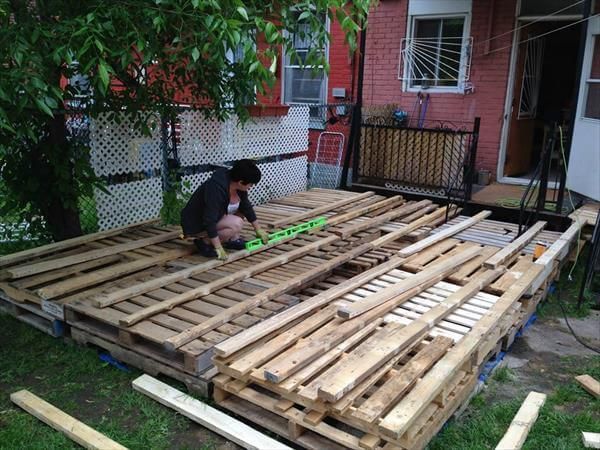 The base will raised it up a little bit to be off the ground and multiple pallet layers and arrangements can be used for lasting and dutiful deck. The skids arranged below will just provide a firm skeleton and now move on to get it hidden and enclosed with clever and precised use of pallets. Make multiple stripped up pallet planks laid on the base and estimate the required length of pallets to give it a complete fill.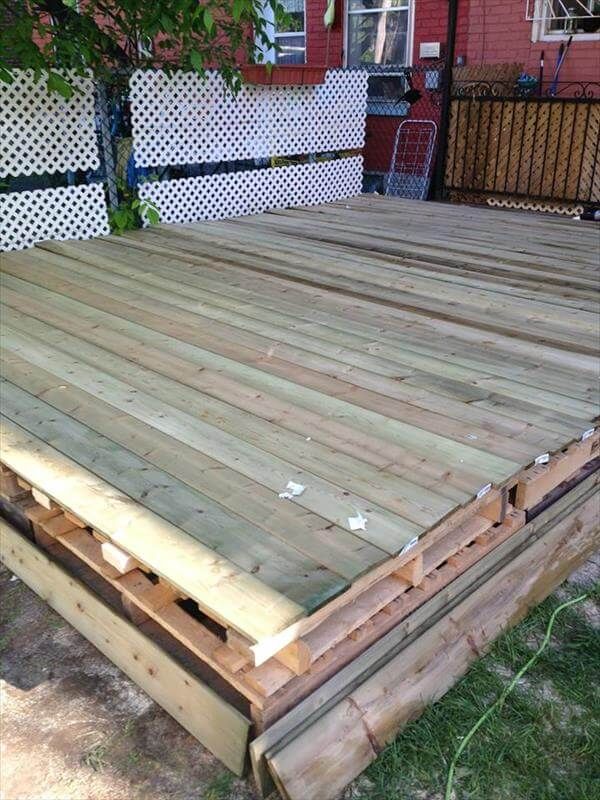 Fill up the base with a nice pallet set up to form a cherished and leveled top. You can use the leveling tool during the filling process to have it inclined to desired extent. Now the sides are still left to be enclosed and are just begging to be enclosed too.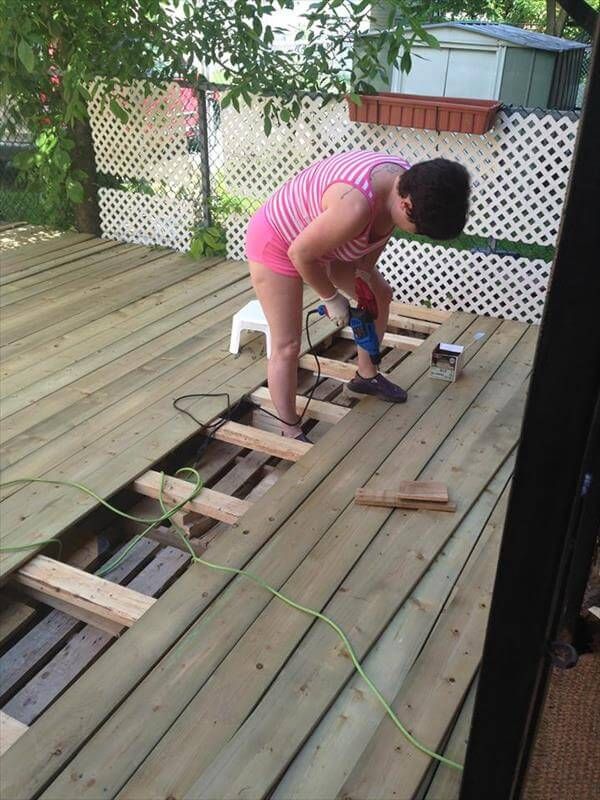 The upper level of pallets has been attached to the lower one with tight and firm addition of screws through screw gun. The circular saw would be a much helpful type of wooden tool to get cut offs of pallets according to desire and measured values. Angled iron brackets with nus and bolts can be taken in work for tight settlement of base and top.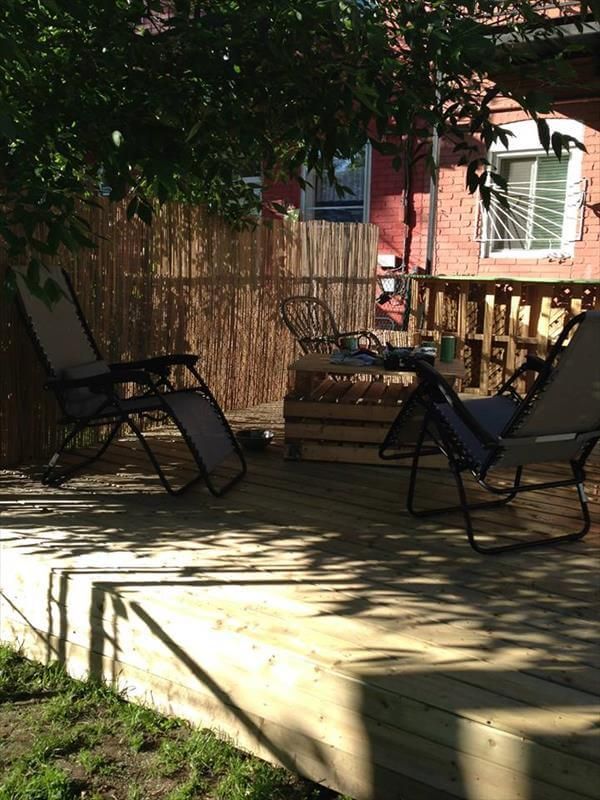 This is the preview of our work after a nice and appreciated enclosing of deck with pallets, more precisely you go to fill it up the more it will look nice and dignified. After doing this long timed but simple wooden project we were left with a great supply of pallets which we wanted to use to get some crazy DIY pallet furniture item and we did the same.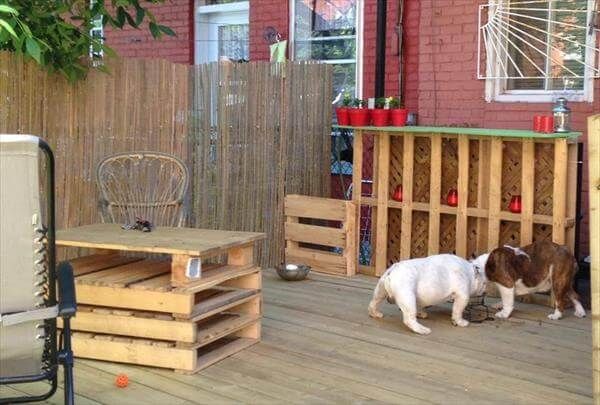 The leftover pallet skid came up with a rapturous DIY pallet potting rack and a nice bunk to be table for sure. If we get it at the mid of any home seating plan it will be a fetching and dainty DIY pallet coffee table in that case for perfect vintage sensation.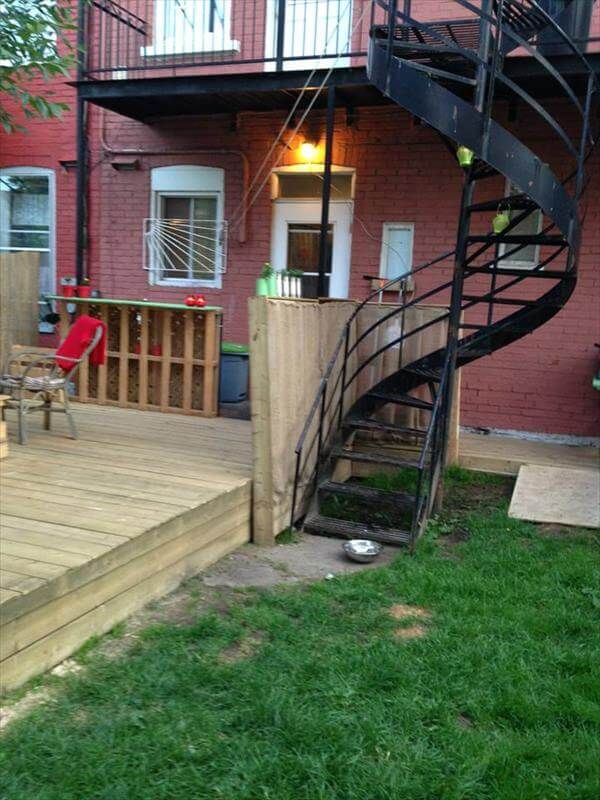 The selection of space which is  to be remodeled with pallet wood like in this project, will make or mar the beauty to it so thing several time while planning the area for deck. The nice and covered boundary and filling is the real beauty of deck while thinking in any single sense.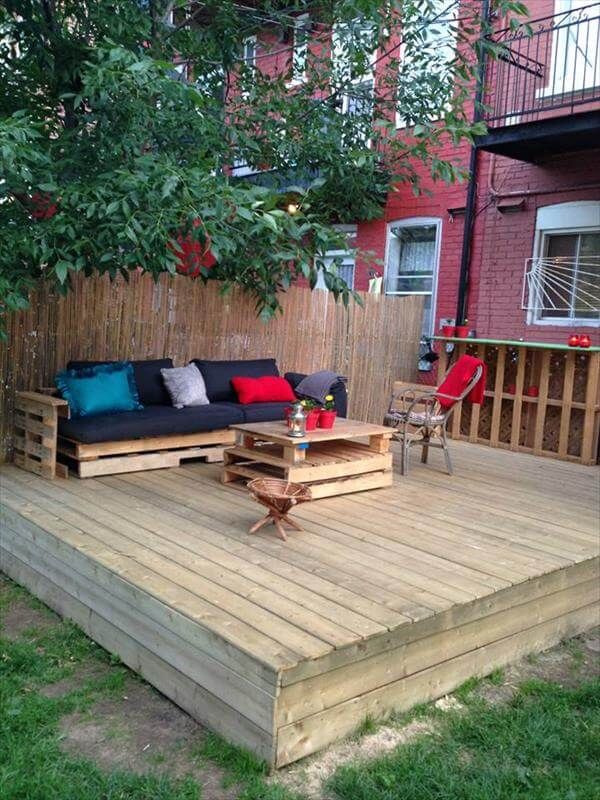 From rustic supply of remaining wood the idea of this DIY pallet sofa got on our mind and we got a rustic DIY pallet sofa that crumbled but endured pieces of wood. This pallet sofa is much free of complications and tangled construction twists and is super quick in the construction. We just want a nice dimensions to be seated because the comfort as a whole has managed with a serene and tranquil selection of mattress and cushion which matters a lot while we talk about the DIY pallet bed or sofa.