Mostly the industrial furniture becomes dull and boring after a long time service in home. Same we were facing with our vintage chest drawers and it really need to be refurbished. We wanted to remove the broken up pieces from the chest and make them renew again. Pallet wood really helped us a lot to stay on a budget and got this DIY pallet refurbished chest face with a little bit effort. We added new legs, a rustic but sturdy top, some molding and finally got it distressed with a chic paint layer.
This amazing 25 DIY pallet furniture can be applied to other household furniture to get them well-groomed again. Selection of pallet wood for this project held much beneficial to us as it is sturdy and is much economical in budget. You can even find the pallet wood free of cost from the shipping areas and local dumpsters. Do such a easy way DIY pallet projects at home and get back the lost serviceability of your collapsed furniture pieces.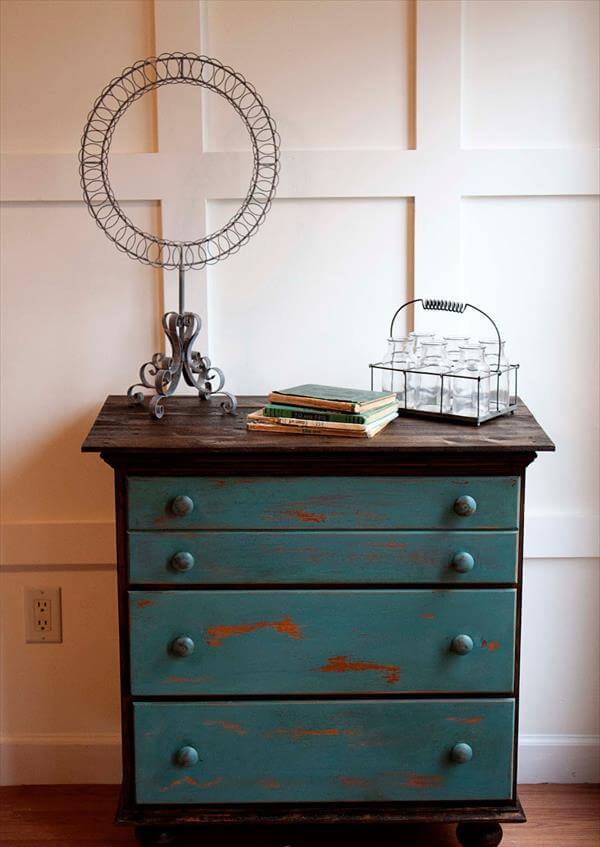 This is the chest we have remodeled using the pallet wood, we rebuilt its top, added some sturdy legs and redecorated it with charming moldings. Now we will tell you that how we did it.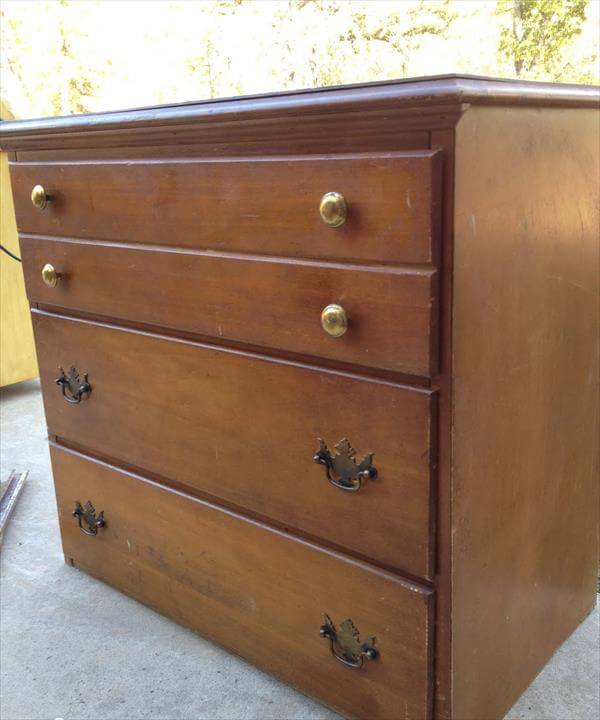 This the before preview of our chest which had to be modernized by pallet wood surgery. We examined it from all sides there were lots of wooden dings, imperfections and holes on it.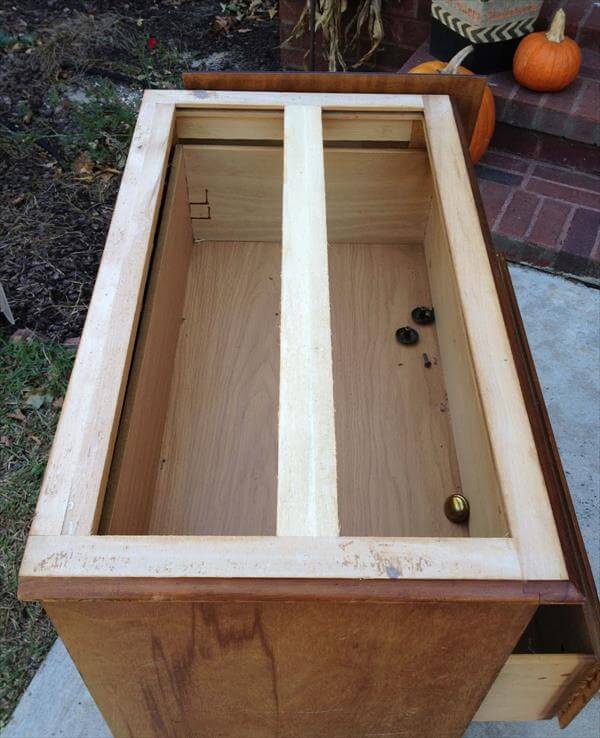 Firstly we removed the top which was looking not favorable. Do this step with care as the wooden splinters and uneven edges can harm you. Wear the safety gloves while tearing your old chest apart.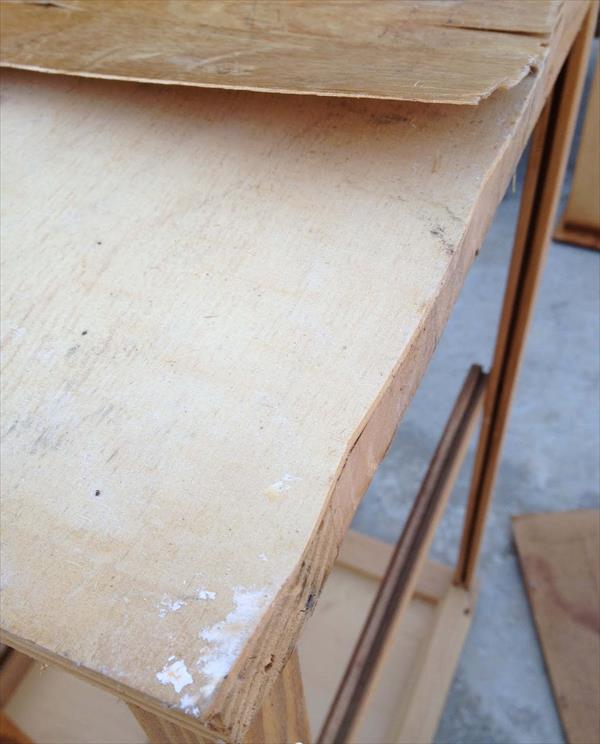 We also removed the sides and bottom which need to be repaired. We just want some chic looks of it back again so we removed the all which was looking imperfect and ugly.
Now we just need to remove the splinters, wooden dings and ugly spots from this skeleton so we passed it through the basic wood reconditioning steps like sanding and varnishing.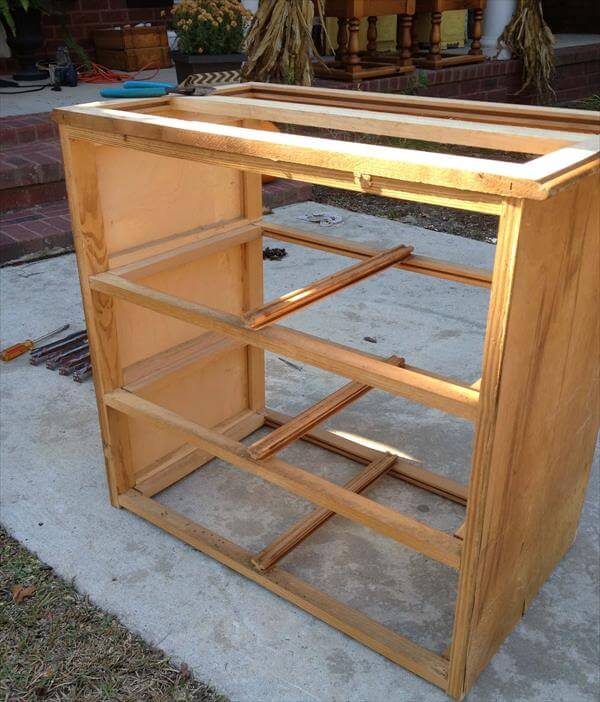 After removing the broken up patches and sides we got this rustic skeleton left to us. We applied some primary wooden operation on this rustic skeleton to make up the deficiencies of wood.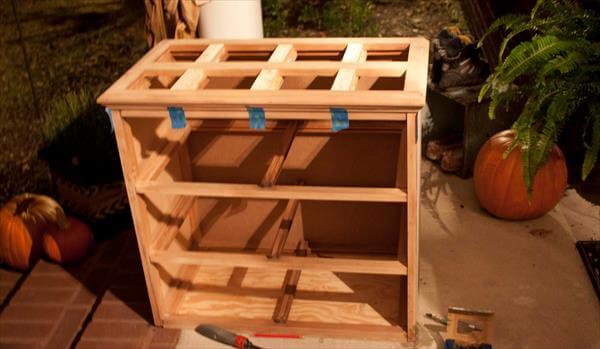 We applied the varnish coats and gritted the frame with hands. Then we added the moldings, bottom and top of our chest using the pallet wood. Pallet wood comes in board shapes to you need to dismantle them first. You can easily do it using the spy or pry bar.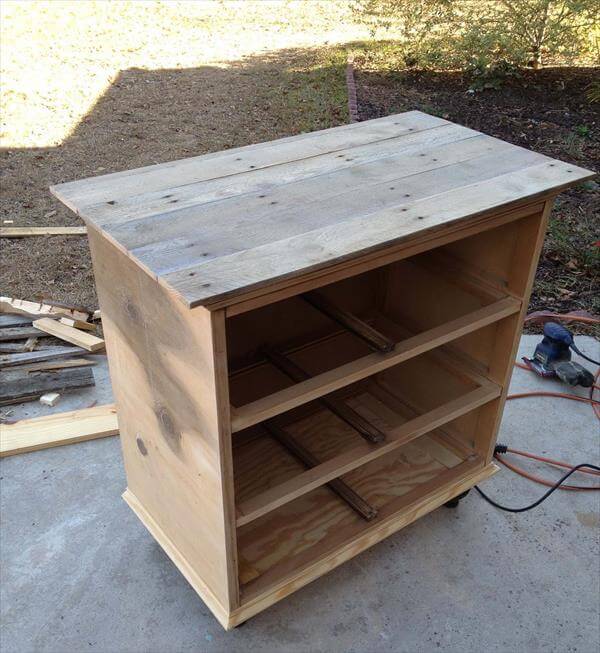 Here is the preview our refurbished pallet chest after getting it renovated with a sturdy pallet top and some raised and adorable legs. Now we just need to fix up the drawers back again.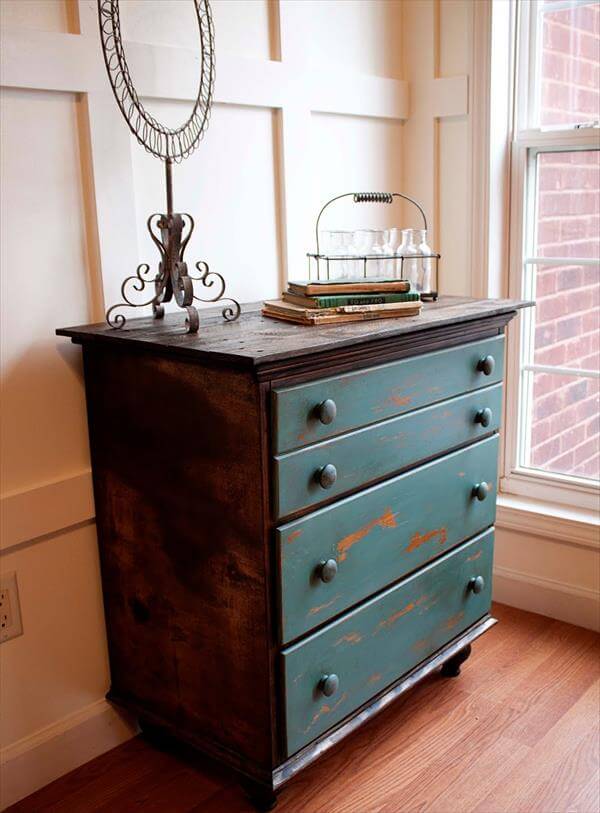 We put the drawers back in the chest and now we wanted to give it a really arresting type of finish so we choose the dark walnut stain to get an electrifying dark wooden shade.
To get it more visually pleasing we differed the paint of drawers for an stunning color contrast. We use the aqua paint for drawers and then made it distress to be highly vintage and antique in character.