A coffee table is the most vital component of your sitting and conversation as well. It is most commonly used type of table that we used for food serving, sitting plan decors and also for living room embellishments. However, if you visit the market you will find that manufactured designs of coffee tables are really pricey and can cause a heavy load on your pocket or wallet. If you are a person of average income and really finding the industrial furniture unaffordable then we have here some highly affordable and economical furniture plans for you especially that of tables.
Take a look on these inspiring structures of DIY pallet coffee tables, they are all made of pallets and are just perfect to be used in your living room or at patio. After constructing a table out of pallets you can give it great variations through wood polish, paint, stain or white wash. Select any hue of them for your favorite interior decors style like that of shabby chic, vintage, country cottage and modern.
Also check some great suggestion about DIY pallet patio furniture, bedroom furniture and even the kitchen and bathroom furniture.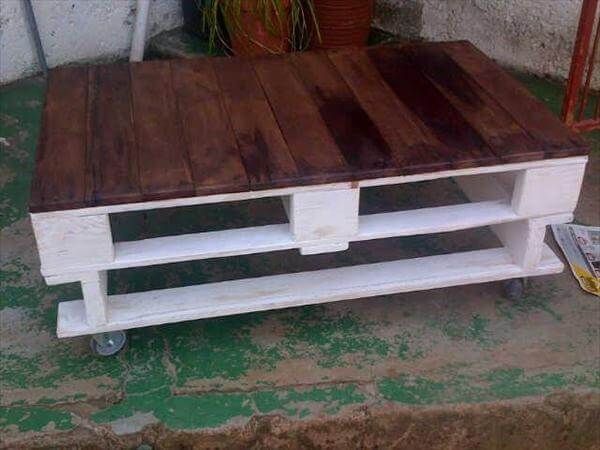 Check this easy-to-build coffee table comes on wheels. It has nicely been formulated with pallets and looks fetching in dual wood tone. The base has a shabby chic white color white top has a rustic dark brown appeal.
This handmade design of industrial pallet table will really be a cool addition to your living room and will surely support and entertain the comfortably seated people on living room couch.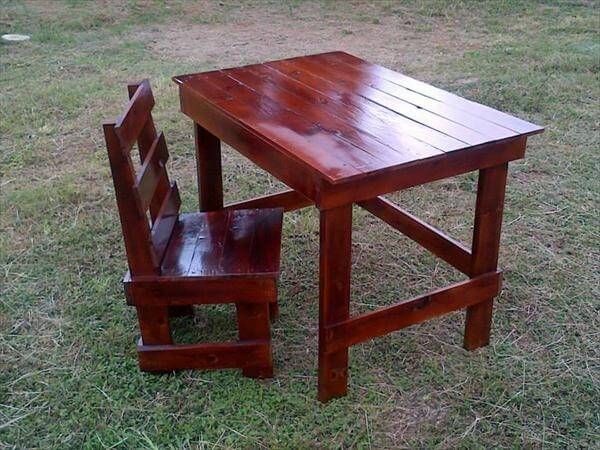 Here comes another simple yet modern type of table designed purely with pallets. Design is a standard table design but has been made sleek through stain and wood polish. Varnish or polyurethane coat can also be applied for such a semi gloss finish.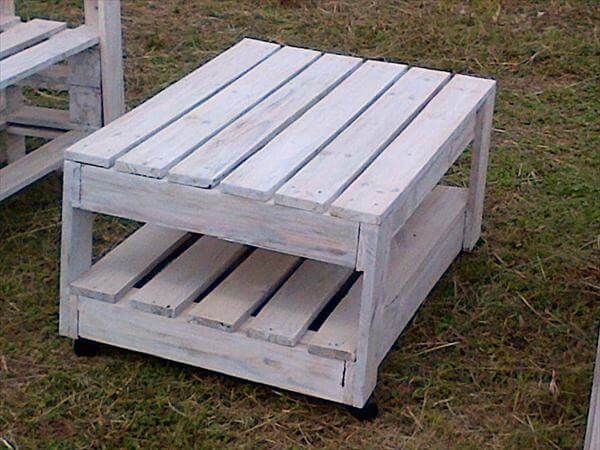 If you are really living in a shabby chic or vintage inspired interior then this distressed white painted pallet coffee table be a great addition to compliment great to your antique and rustic environment of home.It has 2 enjoyable levels and contain lot of storage space at underside the table that boost up its functional behavior.
By doing such a DIY pallet projects you can construct your own living room furniture like DIY pallet sofas, side tables, end tables and coffee tables and we have give some great suggestions and instructions here for each of them. Do check them to get yourself inspired from wooden creativity.