It only needs you to think like a genius to create to get highly jazzy and bizarre styles of furniture out of pallets. You will really be amazed at these furniture possibilities which can make a home more cozy and comfortable. We have given here some personally liked suggestions of pallet wood recycling that are not only budget-friendly and but also have been structured in modern and chic styles. Take a view of these 10 DIY pallet furniture ideas to make your creative vision more broad and wide. These DIY furniture ideas are relating to every room and portion of your home and will surely lead a better living on a budget.
Experiment with pallets with to gain this beauteous media stand with double tiered shelves to take care of your media. Create DIY pallet tables for study and for your serving plans assist the functional behavior of your home. Gain amazing styles of wall shelves and bookshelves by cutting down only lower third bottoms of the original pallet boards. Make the pallet deconstructed or disassembled to construct what you want like a pet bed, a bathroom vanity plan with storage, pallet sofa, pallet side table and many other furniture styles in your imaginations.
All these ideas are much easy to yield practically at home as there is no complicated construction twists in them, they are all visible and have well defined shape which everyone can give a try.
Pallet Media Console + TV Stand:
This amazing shape of stand with double tiered shelves is much easy to craft with pallets as you only need some sharp cuts.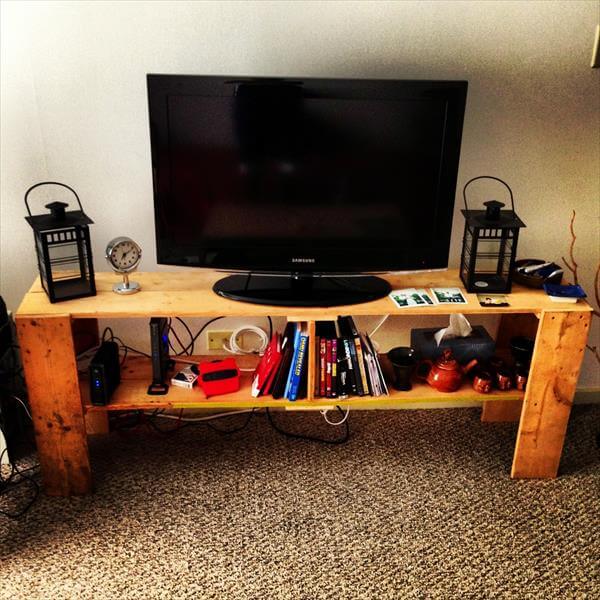 DIY Pallet TV Stand Ideas
Pallet Coffee Table – Study Desk:
Creative use of metal brackets and a productive style of thinking is responsible for this artful view of table, dare to try it as it is very simple too.
Reclaimed Pallet Wall Bookshelves:
Cut the very lower parts of the pallet skids with up to 2 planks to have well behaving and qualified setup of book and decorative shelves as well.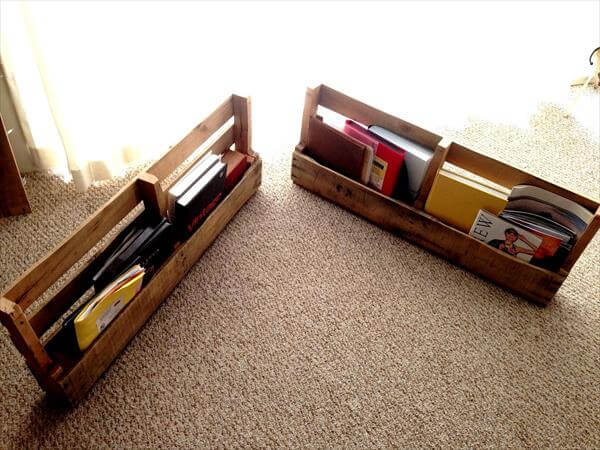 Pallet End Table or Side Table with Storage:
This table support can mostly been around the couches however, this is just like a piece of cake to get with pallets.
Beefy Pallet Sofa – Patio Bench:
Check this beefy use of pallets, is not it very beautiful and sturdy design for a sofa or bench? Get your pallets now to avail this gorgeous piece of furniture.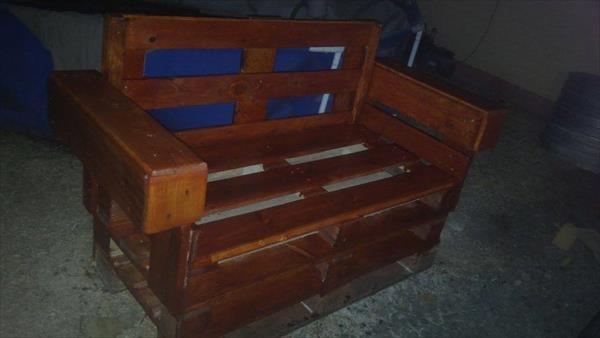 Colorful Pallet Coffee Table with Silicon Casters:
To get an inspired vintage touch to modern interiors, pallet wood can work very well for sure, this table will make you to recollect a traditional part of living.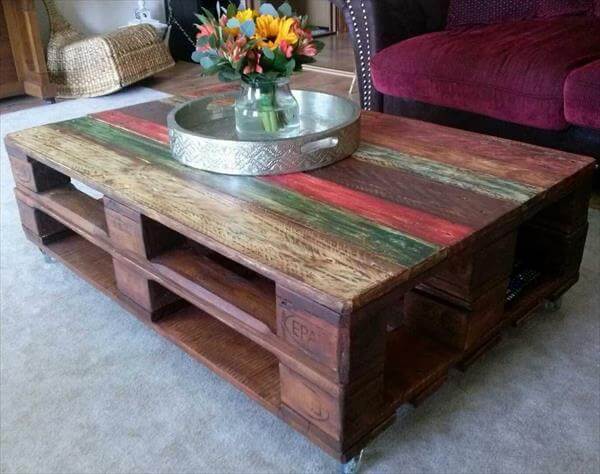 Raised Pallet Dog Bed:
Have your dogs tired after having fun with you all the daylong? Give them a comfy sleep to rest with this pallet pet bed.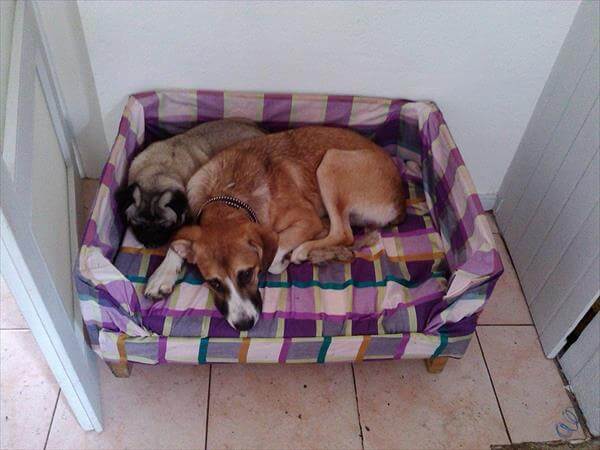 Pallet Living Room Furniture – Patio Sofa Set:
Be your own furniture setters, create nice sitting plans for patio, living room and even for your workplace and office.
Pallet Decorative Mantle + Towel Rack:
Make great contributions to your home wall decors as pallet wood is really handy to be easily converted into a shape of rack, shelf or mantle.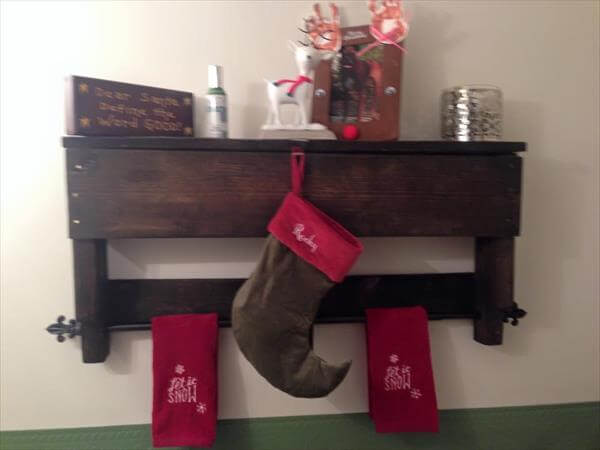 Recycled Pallet Basin or Sink Vanity:
Remodel your kitchen or interior of your bathrooms by making great wood enhancements and additions. This pallet wood vanity idea is the best example of what we are trying to say.
Get these superb and creatively designed demonstrations of DIY pallet furniture ideas to get a better living style on a budget.
There are tons of more ideas to welcome your unique requirements of furniture through pallet wood recycling. So do check them too for more bold and solid type of creative pallet furniture plans.