If you find the coffee tables with a simple wooden top and four wooden legs really a boring then you are just at a right place as we can show you some really feasible and fun ways to spice up the old things into completely new and stylish ones. A rustic wooden coffee table with matching legs can be turned into an industrial style modern DIY coffee table design with a single addition to the coffee table structure and they are the metal hair ping legs.
And to show you a live example we have with us this DIY pallet coffee table with hair ping legs to suit and fit the contemporary, shabby chic and modern living room spaces occupying the central style spot. An open face pallet skids has been used as the table top and supported on the metal hair pin legs to let you have an elegant yet appealing coffee table with a robust, durable and sturdy structure. House your books and magazines in the front open space making the most of this coffee table which have been only sanded to lend it a natural rustic finish.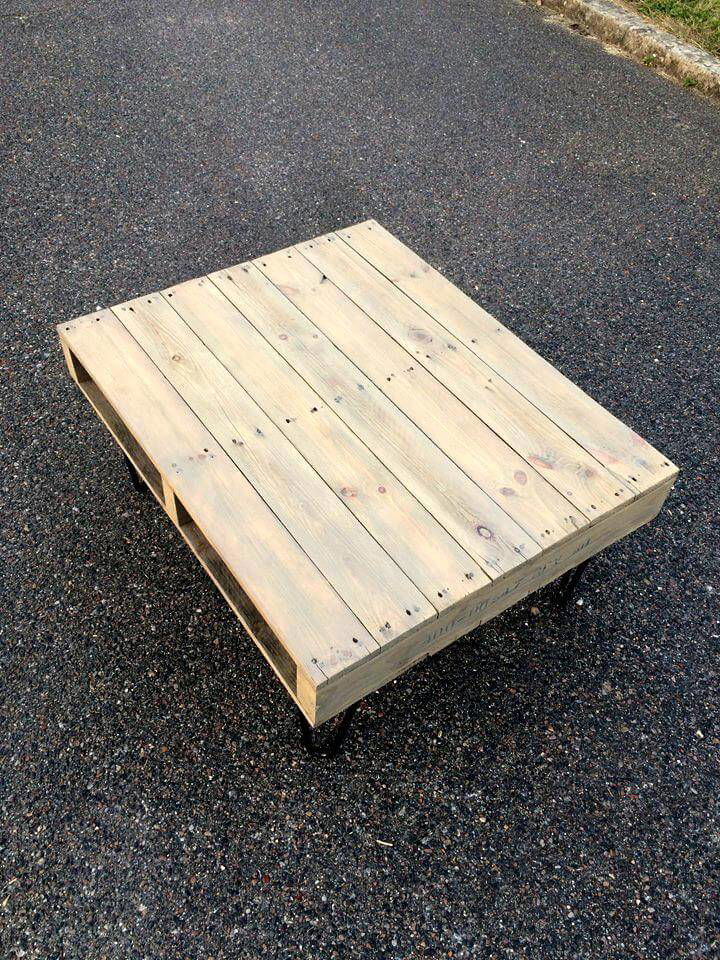 This pallet coffee table piece is really a feasible piece to build in your own home spaces with the hair pin legs to let you enjoy a shabby chic style coffee table piece for your gorgeous living spaces.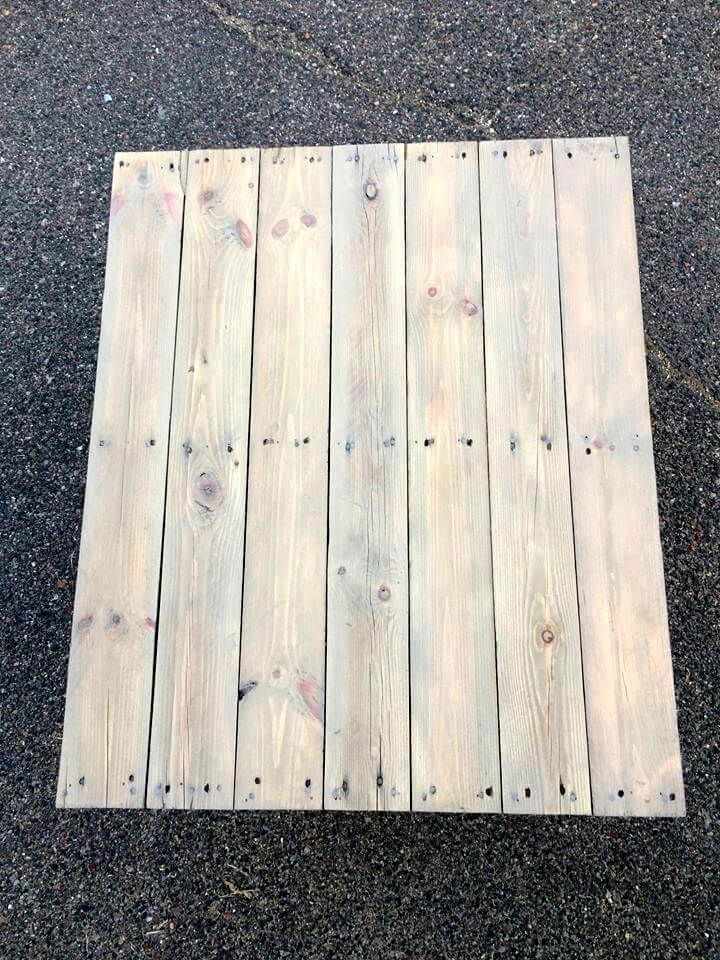 There are two ways to get this simple rectangular shape table top, one is the nailing of the long pallet slats to each other to shape up the top and the other is to use a double face pallet skid as the table top.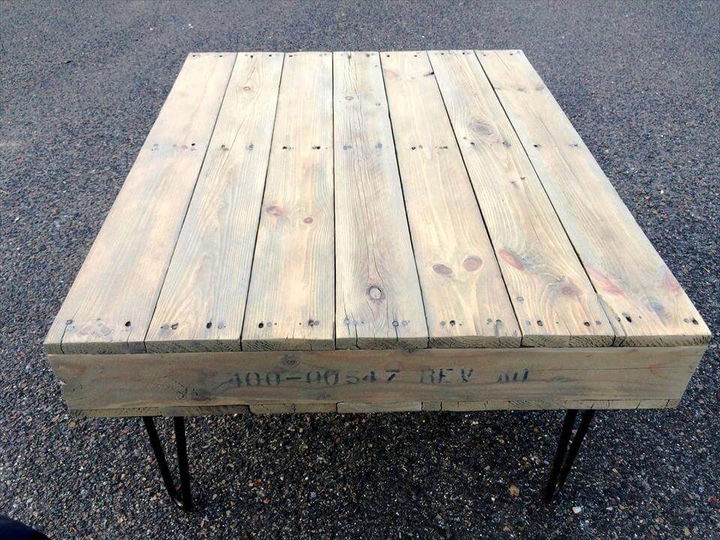 Here a full pallet has been used as the table top having been supported on the sturdy and durable hair pin legs making the table look really a modern style piece to let your living room enjoy an up to date possession.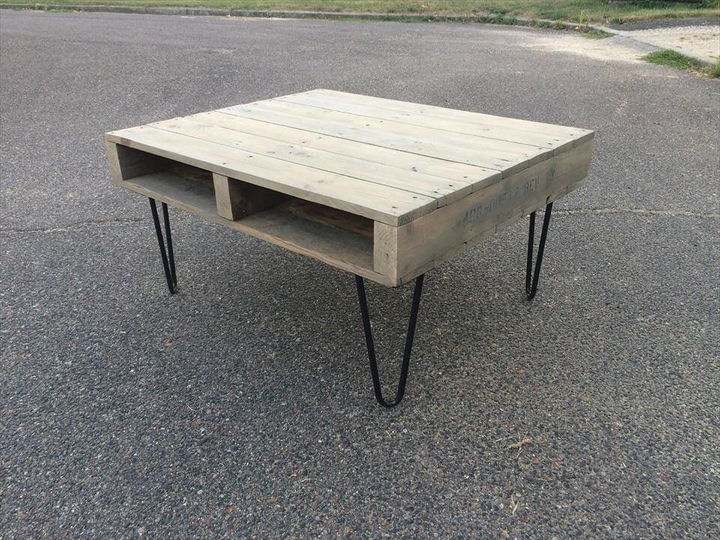 Here is how your coffee table would look with the hair pins attached and you can clearly notice the storage pockets in the table top to hold and house much of your knick knack stuff like the remotes, books and magazines.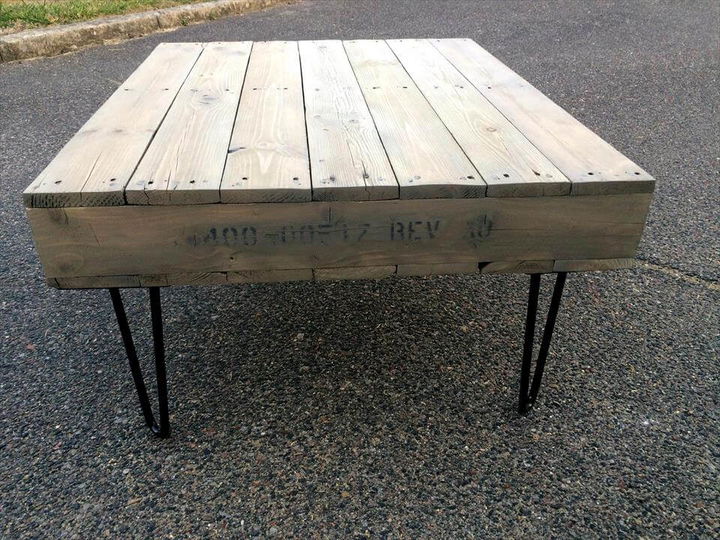 The rustic style coffee table on the metal hair pin legs is something that you would witness in the furniture markets and shops only but now using the recycled pallets you can welcome it in your spaces and that too at cost efficient rates.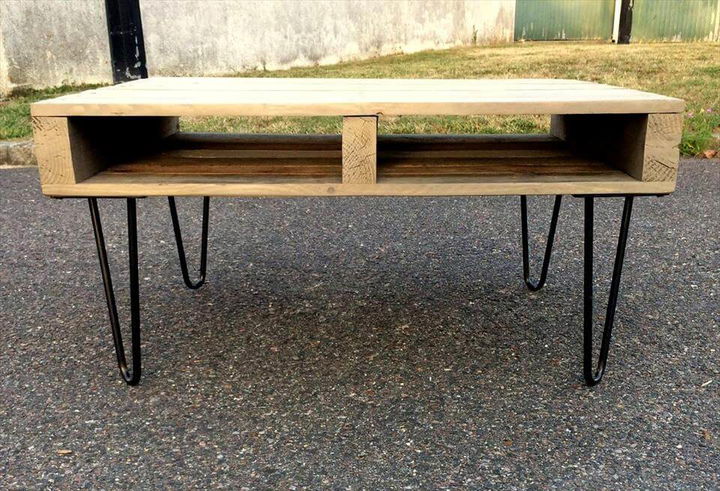 Here is the final look of the chic coffee table on hair pin legs with a sanding session making the wooden surface fresh and enriched in woody appeal and can be made to look more an enchanting piece with matching hues of stain with your living decor.
Made by DAVIDesign Créations L'Art de la Récup