Living room and seating room are mostly planned to have fun with family and friends. When we count for these fun and reliefs watching TV is counted in fundamental enjoyments of living room. To enjoy the standard watching TV dimensions we have recycled this DIY pallet media console and TV stand out of pallet wood reclaiming, done in wise way. We started these DIY pallet projects with much yielding and creative perspective of thinking and the final results made us really happy a lot.
We have used a stock of about 8 pallet boards to earn this highly need of living room and any media room. Before you begin this DIY pallet furniture work get a working place in home and we found our garage best for this purpose. We have also touched the home scrap items to give rustic and vintage metal touch to our final DIY pallet media console table, like the door knobs. We have reclaimed them from some collapsed furniture of home and we have only paid for casters in this whole project, otherwise whole project is almost free of cost.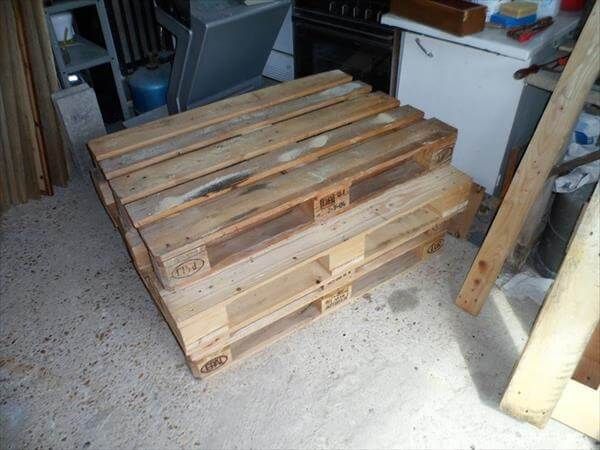 We clean the pallets to remove the ugly gunk from the external wood surface and then make them gritted a little bit to get that lost wood shine on wood grains.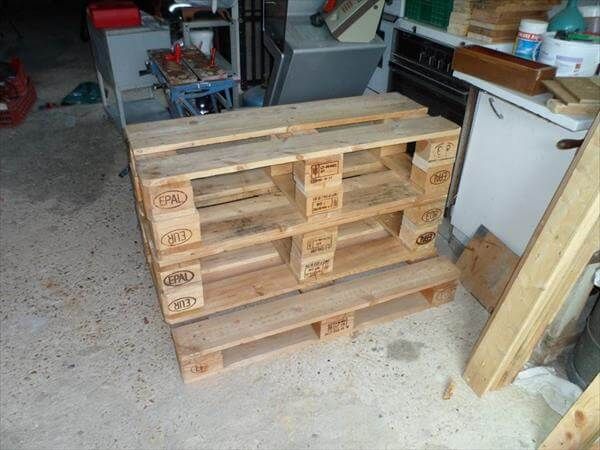 Cut the pallet into halves along length and arrange them into tired shape as give to have a table shape. After doing this step you will see that it will come up with 4 storage portions which we are required for our different media items.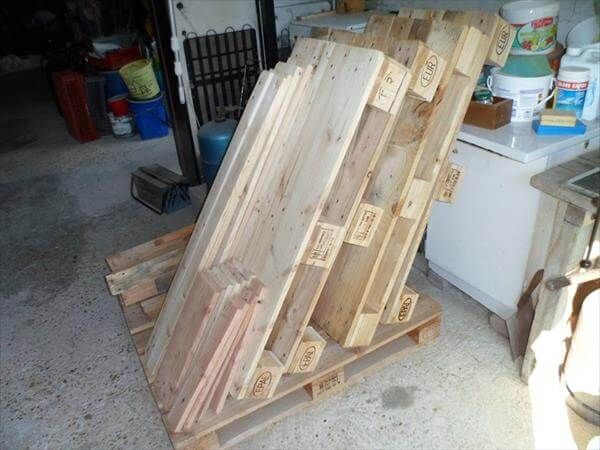 Now we just need to cover the above made table frame and for this purpose we will be needed a lot of wood so we dismantle the resting pallets and cut them in according lengths to get an enclosed table shape.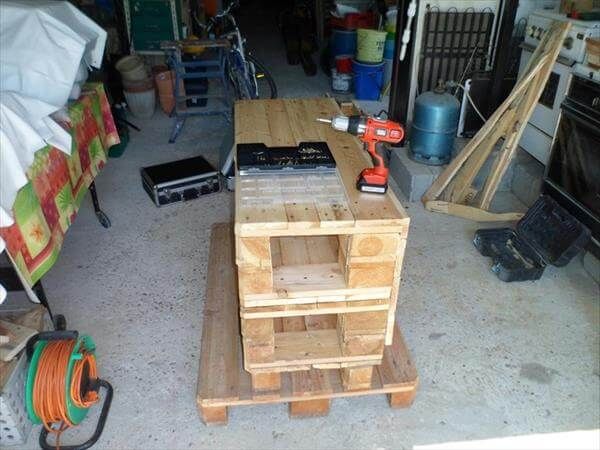 After the according lengths from dismantling of pallets we used them in equal lengths to cover the back and top of our table by adding the screws and nails where needed.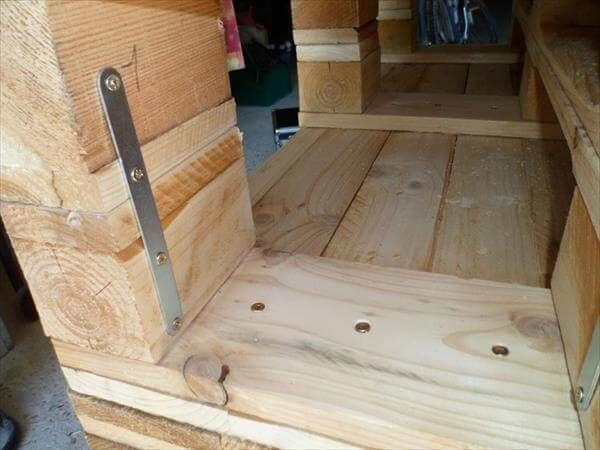 For inner frame support we used the metal brackets at inside with cross head screws to bind the boards tightly in a stable position. This will also provide a metal touch to out pallet media console table.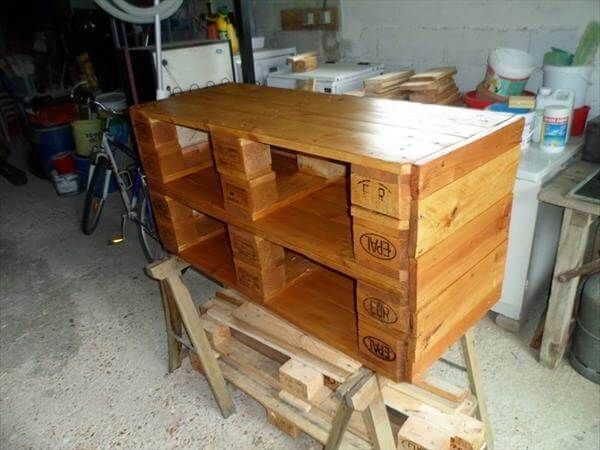 To secure the wooden integrity and to have more endurance and sturdiness we coated our table 2 times with varnish and walnut stain to have a light brown wooden theme.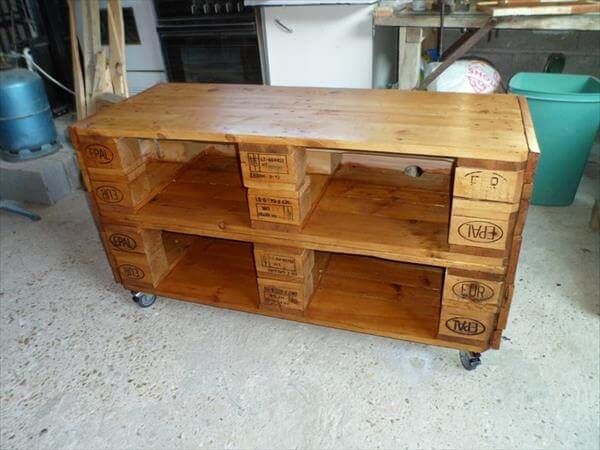 To get it effortlessly moveable to any direction in home or target room we have raised it on metallic casters which make the appearance more good looking and sweet tempered.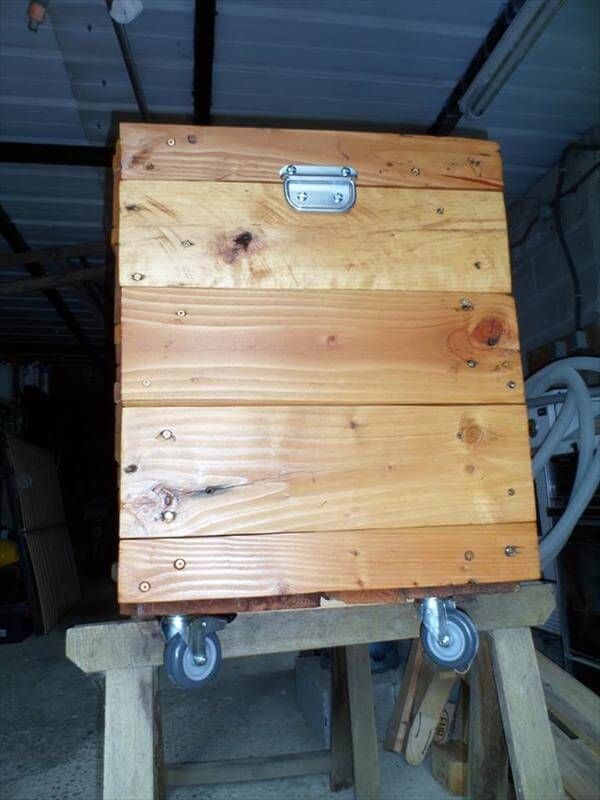 We have also added the side pulling handles to make it move or to lift it over whenever needed. This handmade pallet delight can add an unique character to any room.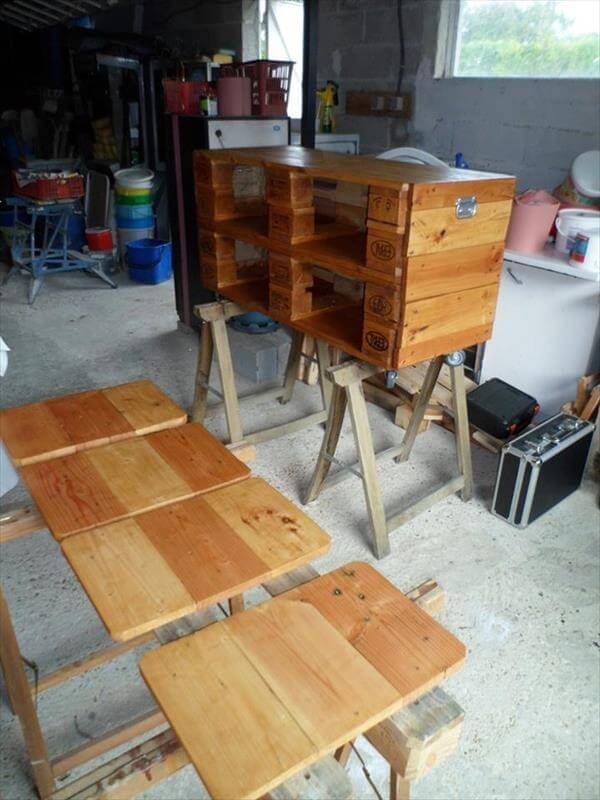 Now its time to most amazing addition that will accent the whole crafting work. Yes we are talking about the chic doors cover the pockets of the frame to get some really cool compartments to secure the media items.
We have prepared 4 equally sized door for our media console table out of pallet planks by cutting and aligning the separated up pallet planks.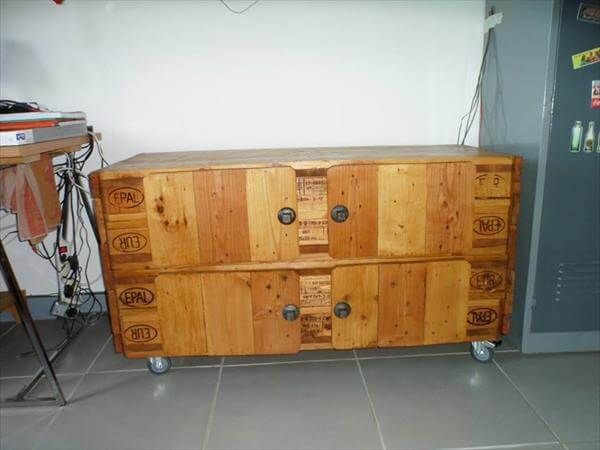 We reclaimed some vintage door handles like knobs to add door pulls which gives it traditional and vintage looks. The whole idea of this DIY pallet TV stand is much Eco-friendly in nature and is much obtainable.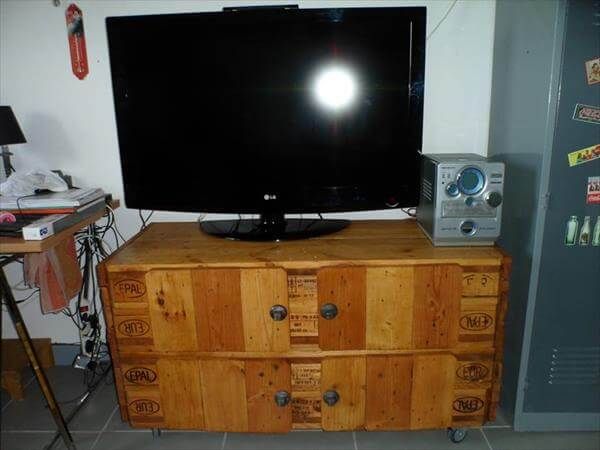 Make it positioned to any of living room or media room to get a perfect TV or LCD stand or holding. This handcrafted layout of Pallet TV stand can beat any industrial design in price and sturdiness and even in design. Your 25″ inches LCD TV can easily be managed on this rustic table frame.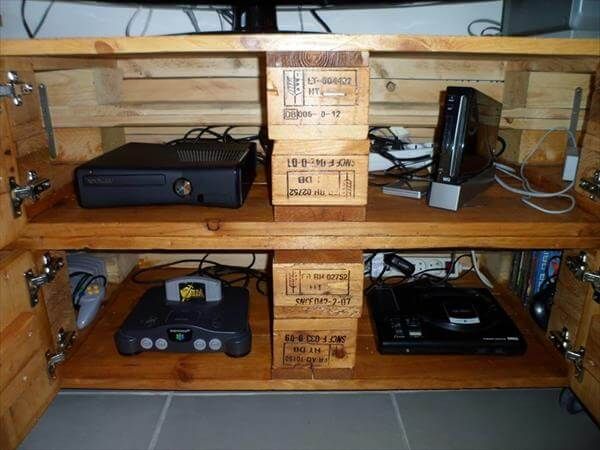 Here are some sample ideas and scheme about the media items which can easily get a secure place in this wooden media console. You video games, movies, DVD player and buffers can easily be positioned in this rustic frame. So get your hand onto pallet wood to make amusing pallet wood furniture object in just much less time.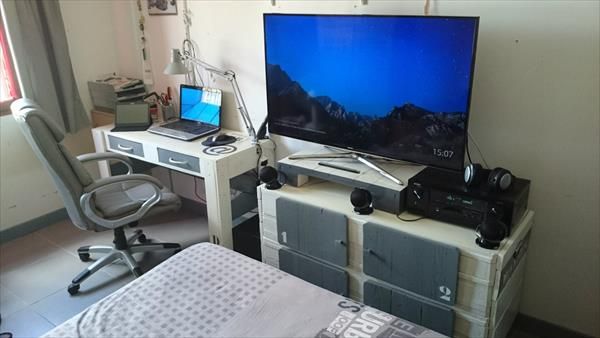 To get it personal desires we have painted it according to room them which is optional you can go with any paint shade in your own way. You can also try some really cool DIY dining table instructions, DIY pallet end table and side table many type of DIY pallet coffee table on our site. Thank you for standing by and keep visiting us for more chic and creative DIY pallet ideas.