To make furniture out of pallets is just a fabulous thought and people all over the world are making great changes in pallet furniture trends. Every time you will surf the internet, you will find something extraordinary and stunning made of pallets. This time we are also with a very nice recovery from pallets, this DIY pallet table with triangular metal legs is full of utility and functional character but will also be a great target to plan your items of decors.
The charming metal legs of this DIY pallet industrial table have been reclaimed from home steel scrap and end to wooden cube for a perfect triangular holding. This amusing type of table has been coated with mahogany stain up to 2 times and then has been given a clear coat of varnish. The cubes and the legs have been painted in black with anti-rust paint to ensure its stability for lifetime.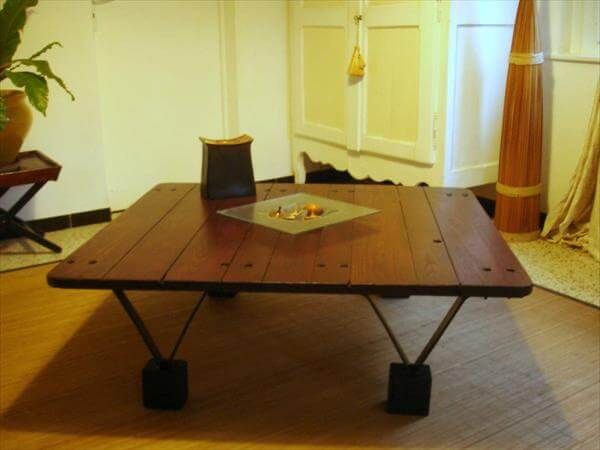 The design is much feasible but has been accomplished in genius terms of creativity. By taking this inspiring model in mind you can cook some more ideas to make some pieces of art, decors and furniture for home.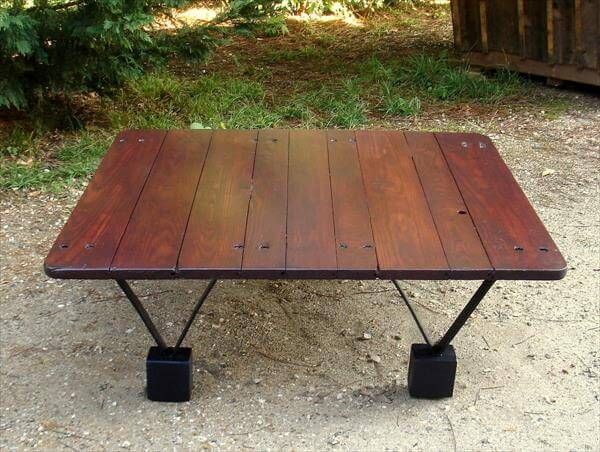 This beautified and stained appearance of pallet table can compliment any environments like rustic, vintage, shabby chic, urban chic, farmhouse or country cottage interior.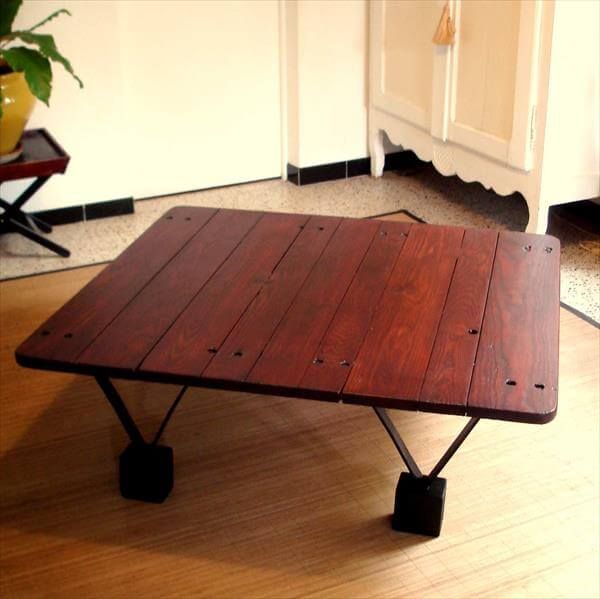 You can see the weathered wood nails and marks of nails holes on the top wooden planks that show the past condition under which this pallet has been treated but they also work great to create a vintage or mid century inspired character of wood.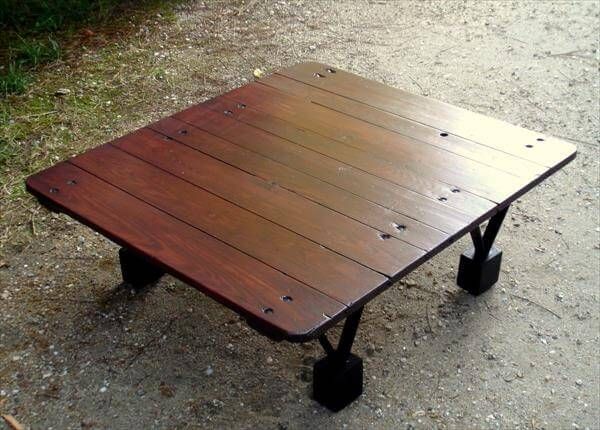 Wooden cubes have been used to secured the edges of triangular legs, they also go very true to make the floor protected and safe from scratches.
This highly hypnotic and magnetizing piece of DIY pallet furniture makes a great addition in pallet wood furniture ideas that can make bigger serviceable changes to home on a much cost-effective and wallet friendly budget.