If you find some sturdy home furniture without any cost then how would you feel? If you really wanna feel great to have such a nice furniture then you should go for recycling and reclaiming of shipping pallets. By using the same pallets we have reclaimed a DIY pallet coffee table out of them without consuming any big amount of money or muscle effort. We have raised this chic type DIY pallet furniture in aqua theme by making it painted with bluish chalk paint and then made it distressed.
Each rustic or modern home interior will find this coffee table very assistive and coordinating. We have build it just in peak value sturdiness that will make it a highly utilitarian companion for many years to come. The most amazing thing we have done to this pallet coffee table with wheels, is the attachment of casters which given it an arresting industrial feel along with reliable pulling and pushing.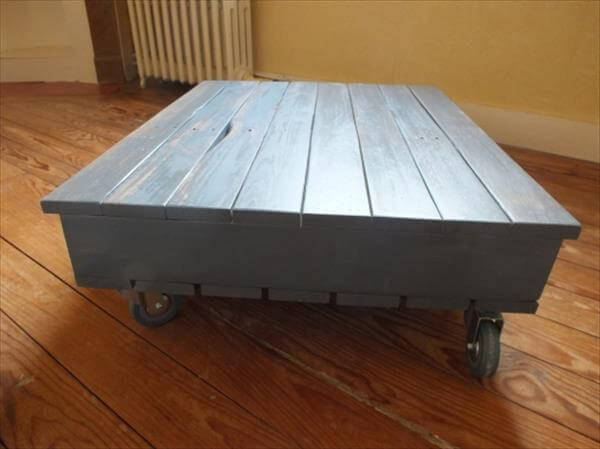 Tear the boards of pallets apart to get a pile of individual and separated pallet lengths and then make them held in according dimensions of targeted model. Give a soapy wash if necessary to all the pallets to clean the gunk from the wood surface.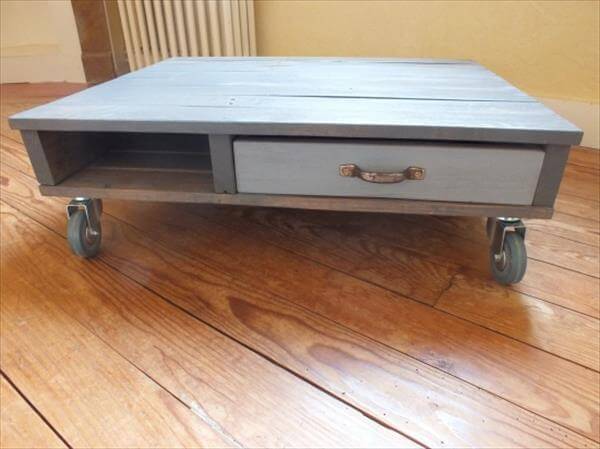 One of the great features which we have added to this rustic DIY coffee table from wooden pallets is its storage capability. We have fixed up a drawer with a vintage handle to store your private tools and books while using this table.
One great hollow space has been left to place the reading books and daily newspaper. We have assembled it from all sides using the glue and nails and it really came up with stable structure with this formulation.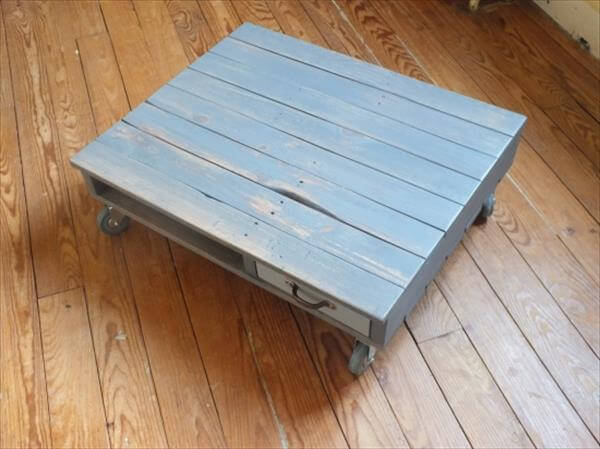 If you also have a will to get your hands onto such a nice DIY wooden furniture then don't wait to get some shipping pallets which are just the only major ingredient for this spectacular table recipe.